Elder MORENO: "SAMBO Gives you the Opportunity to Feel Life"
Personalities
19 September 2023
Aleksandr Solomahin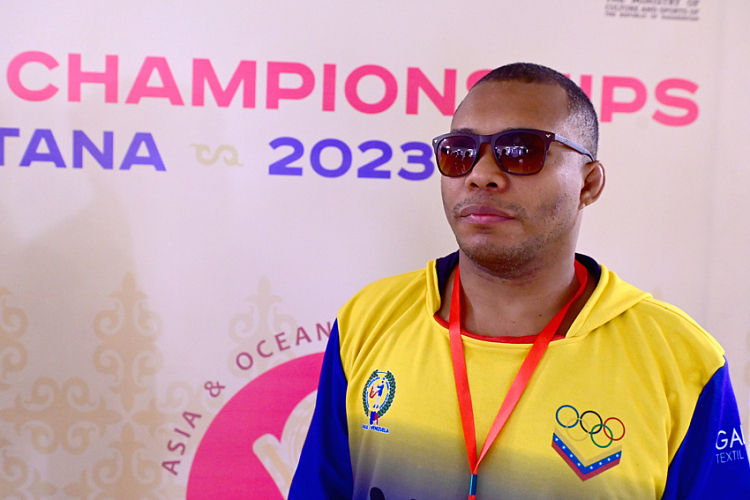 Venezuelan athlete Elder Moreno is these days preparing to perform at the World Combat Games, which will be held in October in Riyadh. At this multi-sport festival, he will fight for medals in the SAMBO tournament among totally blind athletes (category SVI-1). Selection for the Games took place during the Open Asia and Oceania SAMBO Championships for the Blind and Visually Impaired, held in June in Kazakhstan. In an interview for the FIAS website, the Venezuelan athlete spoke about the necessary experience of performing at SAMBO tournaments, the prospects of this sport, as well as its most important component.
You took 5th place at the Asia and Oceania SAMBO Championships for the Blind and Visually Impaired this year. Are you satisfied with your performance?
– In fact, this is a painful result for me, because I actually gave the bronze medal to my opponent. First of all, I lacked experience and some knowledge of the SAMBO rules – due to several nuances, I was not able to win this tournament. I committed prohibited actions that prevented me from winning a bronze medal.
Which opponent turned out to be the most difficult?
– The meeting on the mat with Viktor Rudenko was the most difficult. Firstly, my opponent turned out to be very tall, and secondly, he has an unique technique. For me, this fight turned out to be incredibly difficult, I made a number of mistakes, but after the fight I realized how much more I need to train and what to focus on. I plan to take revenge, I won't let it go so easily.
How long have you been practicing martial arts? Why did you choose SAMBO?
– I have been involved in various martial arts for a long time, but only recently a coach told me about SAMBO. This is a completely new sport for me, but I will devote significantly more time to it than to everything else. It is SAMBO that gives me the opportunity to achieve the goals that I have set for myself now. The immediate goal is to win a medal of any value at a major international tournament, and then we will move forward depending on the results.
I also understand that SAMBO for the Blind and Visually Impaired is a martial art that can be included in the program of the Paralympic Games, and this is also a very serious incentive for me to get into such serious competitions. Therefore, I will pay significant attention to SAMBO training in the near future.
Fifth place at the Asia and Oceania Championships guaranteed your entry into the World Combat Games. What are your plans for participating in this tournament?
– I am happy that I have the opportunity to participate in such serious competitions and I understand that SAMBO opens up new opportunities for me. And in general, it is very important for all of us that SAMBO pays so much attention to athletes with visual impairments. This allows us not only to play sports to maintain our health, but also to participate in major competitions in different countries of the world.
SAMBO today is a very serious, organized sport. Personally, I can only compare with judo, but I understand that it is just as well organized. It feels like SAMBO is a serious force in world sports right now, especially if we are talking about sports for the blind and visually impaired.
Have you ever used martial arts techniques on the street for self-defense?
– Basically, this was one of the main reasons why I started doing martial arts. Unfortunately, we have to deal with crime on the streets, including robberies and assaults. Now I have another additional self-defense weapon that is always with me – SAMBO.
The Asia and Oceania SAMBO Championships for the Blind and Visually Impaired athletes became the first international tournament of this level in this discipline. How do you generally assess the level of conduct and organization of the tournament?
– Everything was just wonderful, and I want to congratulate all the people who took part in organizing these competitions. I would really like to see as many such international SAMBO tournaments for the Blind and Visually Impaired as possible. The main thing we lack is experience, including experience of participating in international tournaments. This experience was not enough for me, but I realized that SAMBO is really a sport that opens up new horizons. And the main thing is that SAMBO gives you the opportunity to feel life: a normal life, like that of ordinary people. And this is the most important component of SAMBO for me.
[VIDEO] Blind and Visually Impaired SAMBO Motivation