A. Astakhov Memorial World Cup: the second day
Competitions
1 July 2013
Sergei Grishin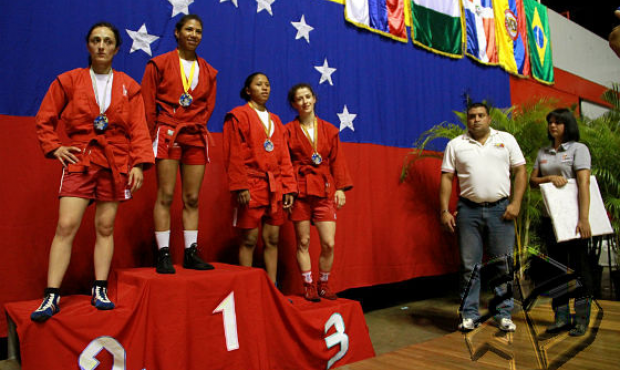 Russia and Venezuela – national teams of these two countries have become leaders in the team event following the results of all competitive days of the A. Astakhov Memorial World Cup. The Russian group took the lead at the tenth, anniversary, tournament with 17 gold medals. The Venezuelan SAMBO athletes added 8 gold medals to the common collection, which allowed them to stay on the second step of the podium. The Armenian and Belarusian teams were the third – the athletes of these countries have won one "gold" each.
More than 350 SAMBO athletes from Pan America and Europe entered the struggle for the medals of the tournament at the Belisario Aponte Gym. They all gathered in the Venezuelan Maracaibo to participate in the A. Astakhov Memorial and get resultant scores in the fighting for the victory at the 2013 World Cup. This stage is one of the four, the results of which will be used in the overall standings following the results of the year.
On the second and final day of the competitions the following athletes in the national team of Venezuela confirmed their skills: among women – Luisana Kampos (52 kg), Endrimar Rodriguez (56 kg), Ofelia Barrios (80 kg); among men – Luсas Borregales (62 kg); in Combat SAMBO – Ronald Parra (52 kg), Ramon Ortiz (62 kg).
As for the Russians, who on the first day of the tournament won six gold medals, further on 11 more SAMBO athletes raised the first step of the podium. The "gold" is taken away to Russia by: among women – Svetlana Kalyaeva (64), Olga Ryzhova (68), Anna Balashova (+80); among men – Sayan Khertek (57 kg), Ilya Lebedev (74 kg), Andrey Perepelyuk (82), Mikhail Starkov (100 kg); in Combat SAMBO – Samvel Markosyan (68 kg), Ibragimbek Dolgatov (82 kg), Murad Kerimov (90 kg) and Erik Grigoryan (+100 kg).
– The tournament was held at the highest technical and sports level. This is exactly what we have expected, – comments on Viktor Pirela, the President of the Venezuelan SAMBO Federation. – The Russian team, which is the number one in the world, confirmed its high level. The Venezuelan national team, as a major force on the American continent, also gave a taste of its quality worthy. And, of course, the Armenian and Belarusian groups' performance with the European and world champions among them was also very impressive.
It should be noted that the hosts of the tournament not only tried to create a good environment for the competitions, but really showed themselves at the height at the competitive part. Confirmation of that – is the referees' consentaneous recognition of the Venezuelan Luisana Campos, the champion in the weight category up to 52 kg, as the best female SAMBO athlete of the tournament.
– I am very proud of my achievement, satisfied with the work done this year and hope to continue to harvest the rewards. In November I plan to participate in the World SAMBO Championship in St. Petersburg, and I hope I can win a medal there, – said the happy champion.
Prepared by Alexander Solomakhin
www.sambo.sport