François MBASSI: "We Are Invincible Lions of Cameroon and Forest Kings"
Personalities
29 August 2019
Aleksandr Solomahin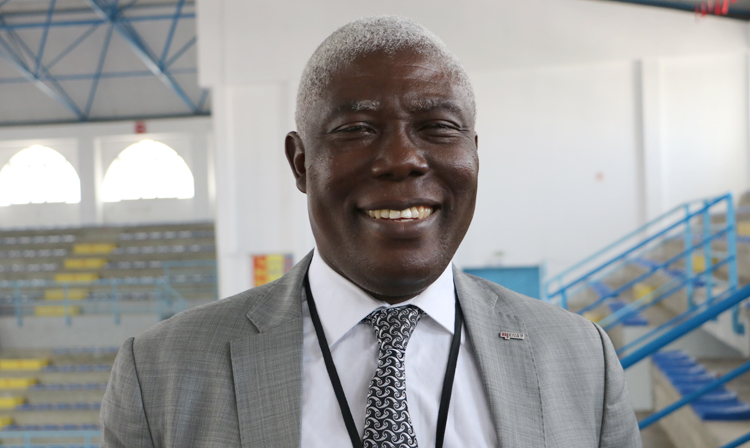 A large interview with the head of the Cameroonian SAMBO, Francois Mbassi, for the FIAS website.
- Monsieur Mbassi, how did the development of SAMBO begin in Cameroon?
- SAMBO came to our country owing to the efforts of Cameroonian student Jean-Paul Mbuelle who in 1996 was in Russia where he learned SAMBO. He liked this martial art so much that upon his return to Cameroon, he decided to introduce SAMBO in our country, too. Thanks to this man who, sad to say, has already left this world, SAMBO appeared in Cameroon.
- What date is modern SAMBO history counted down from?
- In 2011, Mr. Mbuelle died. In Cameroon, the SAMBO League established by him was still functioning, but in organizational terms, the development of SAMBO on the national level was not implemented rapidly enough. Thus, Cameroonian sambists practically did not participate in international competitions; they had difficulties traveling abroad. Athletes trained and competed only within the country - having great motivation, they had to stay within Cameroon. Most likely, this was due to the lack of necessary information among the leaders of national SAMBO on how all this can be done outside the country.
Following the death of Mr. Mbuelle, the President of the African SAMBO Confederation Dalil Skally came to Cameroon and invited me to head the Cameroonian SAMBO. At that time, I was the president of the National Nanbudo Federation, and in Cameroon, in order to give a boost to a sport, for it to function normally, it must be represented by a federation. Thus, it was decided to include the SAMBO League in the Cameroon Nanbudo Federation.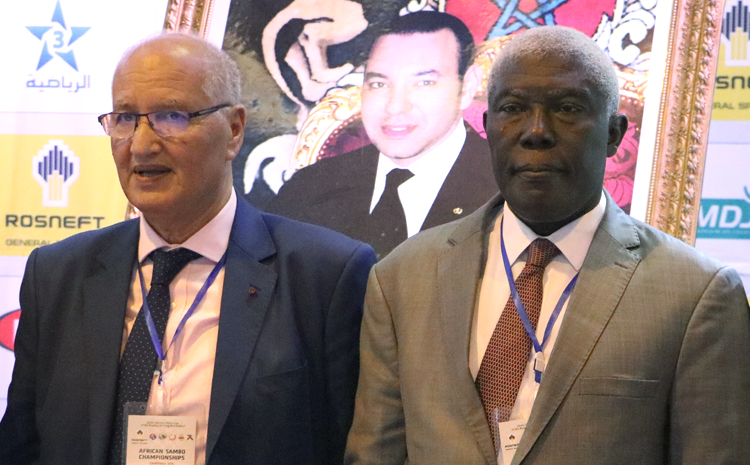 Due to this reformation, along with well-coordinated teamwork, a management system emerged, and our athletes started regularly participating in continental tournaments, in Championships and World Cups. Since then, Cameroon regularly performs at international competitions and shows the result, so a new stage of development of Cameroonian SAMBO can be counted from that time. Now we are recognized as one of the leading countries in African SAMBO, and the results that our team shows, including the organization and staging of the 2014 African Championships, have a positive effect on the development of SAMBO in Cameroon and give hope that in the near future the SAMBO League will transform into an independent Federation.
- What is the secret, how in such a short time could you become one of the trend setters in African SAMBO and a real threat for competition in the world?
- The secret of Cameroonian SAMBO is hard work. Since we are all believers, this is a work with God's blessing. Everything is by God's will. Our work does not stop for a moment, and only thanks to this we achieve the results that we have. Plus, the fact that we regularly participate in major competitions and gain experience in conducting competitions plays a huge role. We see how these things should be staged, we see how to do it properly, and try to choose the best, and also not to repeat the mistakes the others do. Along with continuous work, this gives the result that we have got now.
Also, every person who's involved in the development of SAMBO must have a strong desire and a will. The will to do better and develop, and the desire to win medals. When our athletes score high places and return with medals from major competitions - this is a big advantage for the development of SAMBO, because they become more noticeable, for the authorities, as well. This is not just a good result for an athlete, but also a bonus for all Cameroonian SAMBO. This encourages young athletes to practice SAMBO and achieve high results.
We also advocate rationality. We do not do anything by chance and do not improvise along the way. We've got a system where everything should be rational. And we expect the same from the competitions we attend and the events in which we participate. Rationality includes the issues of refereeing, stages of preparation, and so on. And we expect the same rationality from everyone else.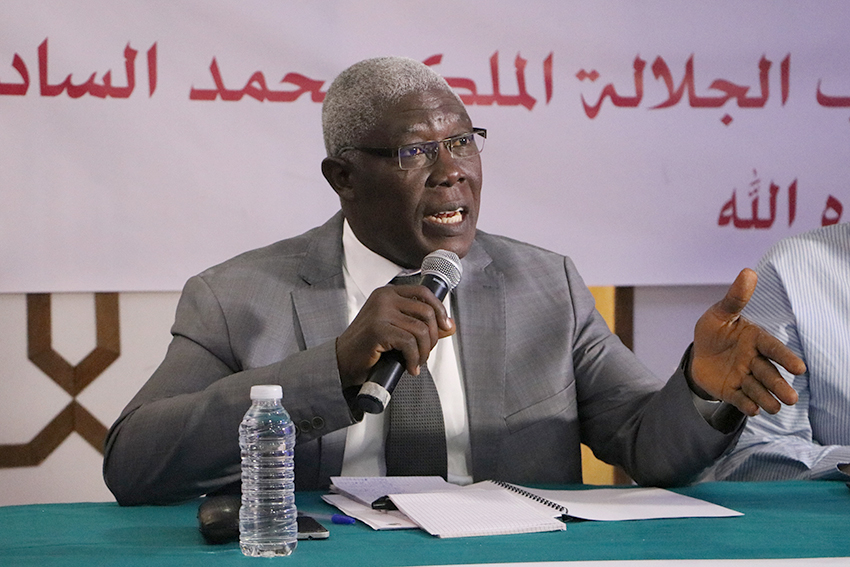 - Do Cameroonian sambists become celebrities when they come back home from major tournaments with medals?
- Certainly, when we bring back a full bag of medals, this does not go unnoticed. I should say that our team was at a reception with the President of the country after a successful performance at the World SAMBO Championships. So we can say that our athletes become famous when they achieve a good result. But everything needs work and a rational approach.
- The Cameroon team is known not only for their outstanding results, but also for their singing and dancing talents. Is there any special selection for the team based on these skills?
- In Cameroon, dance and song are part of the culture. We are trying to integrate this culture into everything we do, including sports. In our country, everyone sings and dances fairly well - we are all musically gifted. With us it happens all by itself, it is something natural that manifests itself and is not imposed in any way. Without these dances and singing at the SAMBO competitions, it would be a completely different situation, and with dances it is always more entertaining and funnier. We do this unconsciously, and it turns out that along with the sport we demonstrate our culture.
- Who is your favorite sambist in the Cameroon team?
- All members of our team undergo the same training. And they all demonstrate a pretty high class. During selection, we choose only the best ones, and if we come to a competition with 20 athletes, then we come for 20 gold medals.
The same holds true for the young athletes. For all of them, we develop training programs, they practice together, so we get a perfectly balanced team. I love them all, they are all my children.
Of course, I have my favorites, but I can't show it. As that of a family head, my attitude should be the same to everyone, since if you single out someone, then the others will not perceive it very well. Of course, there are athletes who lead the team, exhibiting their leadership qualities. This appeals to me, and I really appreciate it. I always notice this and support such aspirations. But I never exhibit this, and do not publicly give preference to anyone, to keep a good climate in the team.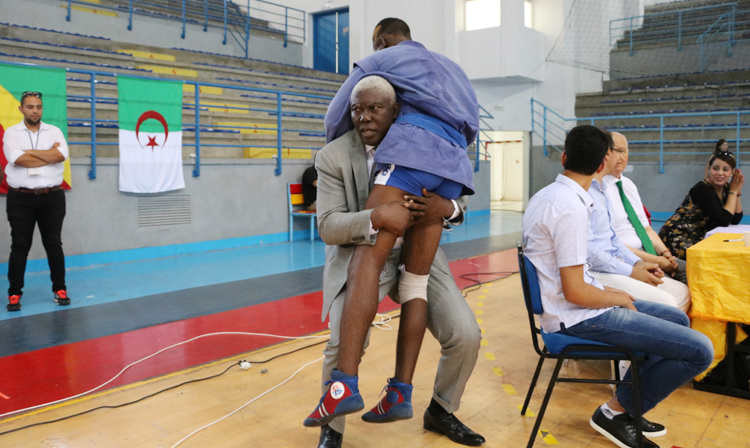 - How do you reward athletes who take top places and bring medals from major competitions?
- We have two types of rewards. The first one is not financial, but still very important. For example, every athlete who had won gold medals at the African Championships in the Seychelles received an honorary order from the hands of the President of Cameroon. This means state recognition which cannot be estimated in financial terms.
And, of course, we financially encourage those athletes who hit medal stands, and, depending on the medal value, grant them some kind of reward. It is important to motivate and encourage them. Maybe this is not as much as in football, but so far we are trying to give out what there's to give. We hope that our award fees would grow with the number of high results.
In 2012, at the World Championships in Minsk, we did not win any awards, and therefore there were no award fees. A year later, with our first achievements, the guys received their bonuses. Accordingly, if our results improve, then the fees will grow.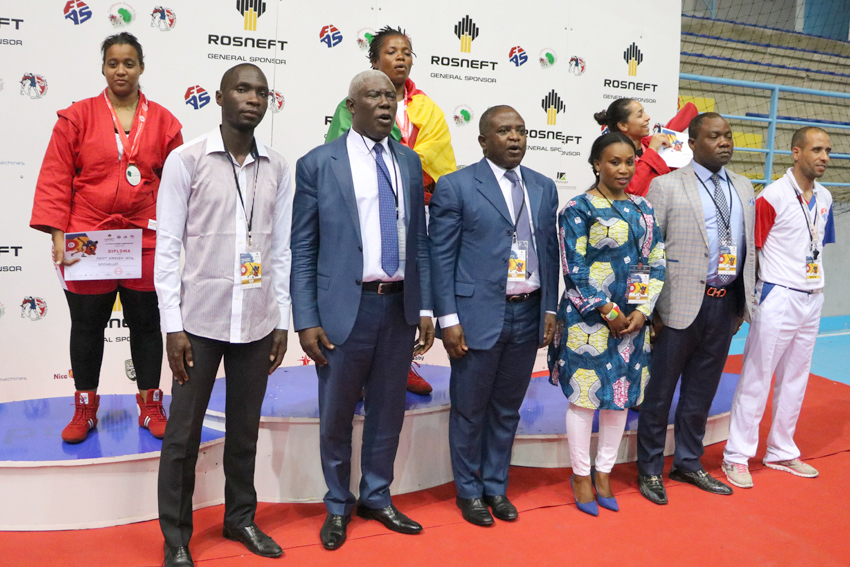 - From the viewpoint of the Secretary General of the African SAMBO Confederation, what do you see as the most relevant areas of SAMBO development in Africa?
- First, I must say that SAMBO is a sport that forms one's personality. It is necessary to maintain and promote the spirit of SAMBO in every possible way that helps educate immature minds properly, and not only in Africa but throughout the world.
Next is the organizational basis which includes both competitions and training. We need to pay more attention to organizational issues: we're trying to improve and amend them.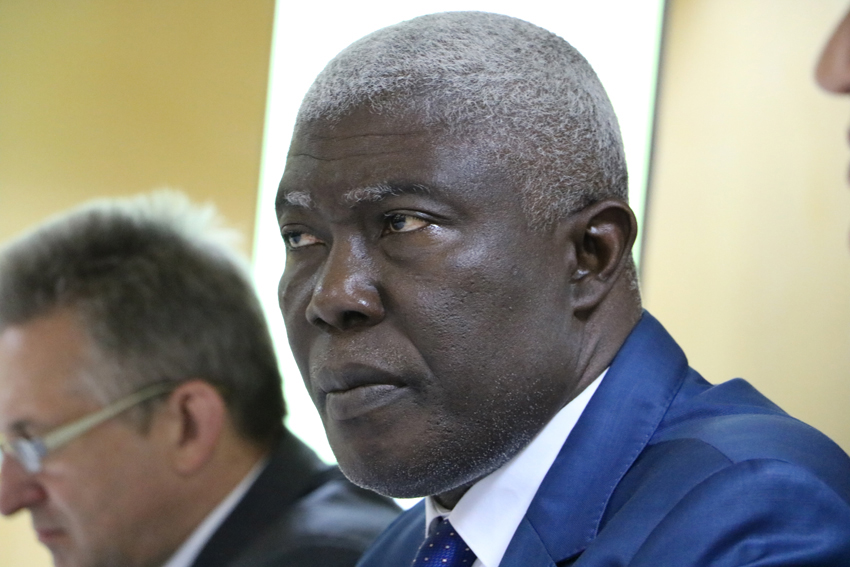 Third is training: holding seminars, training camps, and more. The fact that continental seminars for referees and coaches are being arranged in Casablanca is a huge step forward. Many thanks to FIAS and all the experts who help organize and conduct these seminars, because it is very important to do this in case we want to have good staff here in Africa. I hope that this practice will continue, and that it will bear fruit in the future.
We would also like to see FIAS analyzing our work and providing us with their vision and comments. Maybe we don't notice some things from inside. We would be happy to receive such an analysis and are ready to work on improving our positions.
- How do you feel about a fairly new sport - beach SAMBO?
- We really like beach SAMBO and, as you know, there are a lot of beaches in Cameroon. As soon as such sport emerged, it was introduced in Africa, we also staged demonstration events here in Cameroon. Whenever a novelty is introduced in SAMBO, we are ready to give it a shot and promote it. Moreover, we have all the conditions for beach SAMBO.
- Can you name 3 reasons why Cameroon is so great in SAMBO?
- The first is our fighting spirit, we are the invincible lions of Cameroon and the forest kings. We come with only one goal - to win. The second is management, good management, and rationalism. And the third is ceaseless work.