George MARKARIAN: "One Day I will Definitely Become a World Champion"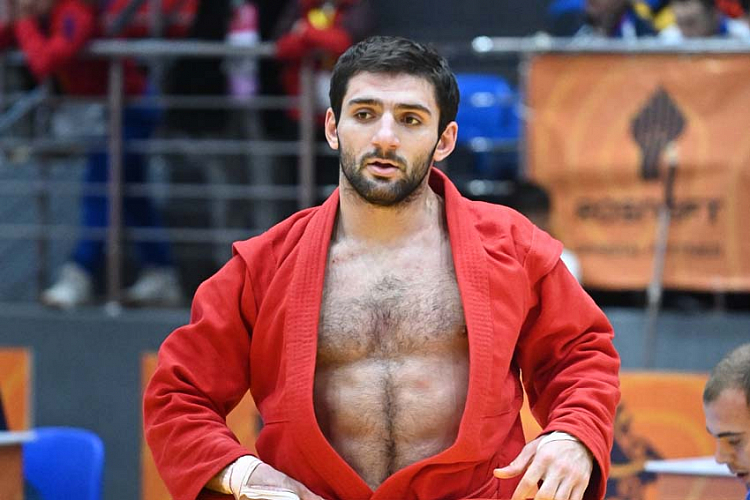 After finishing his performance at the 2022 World SAMBO Championships in Bishkek, Greek samboist George Markarian told the FIAS website about what prevented him from winning the tournament, the role of his father in his motivation and his main goal in life.
How do you evaluate your performance at the last championship?
– Badly. I prepared for the main tournament of the year for a long time, but before leaving for the competition I fell ill, and, unfortunately, I did not have enough time to fully return to my condition. Despite the fact that I won the first fight, I did not have enough time to recover by the second. But I'm not upset – still ahead.
As you know, the one who does nothing is not mistaken...
– It really is. I think one day I will definitely be able to win a gold medal and become a world champion.
In a fight with a Kazakh athlete, you confidently won with a score of 8:0...
– It really was a quick win. It's convenient for me to fight with a right-hander who goes on the attack and wants to win by his techniques. But with the Bulgarian athlete Ivan Harkov, to whom I lost, on the contrary, it was difficult for me, since he relied on tactics.
In any case, this is an experience, and you, of course, will do some work on the mistakes?
– I think, in this case, the moment of recovery is more important. If I had come out fresh, things might have turned out differently. I went to this World Championships for a gold medal. In Bishkek, Stanislav Skryabin, whom we had already met at the 2018 World SAMBO Championships in Romania, reached the final. Then I won the "silver" and this time, of course, I hoped for revenge.
You said that you went to these competitions for the "gold". As you know, your father Ashot Markarian is a two-time world SAMBO champion. How much do you want to repeat his success?
– At the moment, this is probably the goal of my whole life. I want to prove to my father that I am worthy of him, worthy of being his son. For me, this is a big responsibility, which in a sense even prevents me from fighting.
Is it related to his presence at the competitions?
– Usually, presence itself doesn't bother me. But, for example, in Bishkek, I lost the second fight, realizing that my father was looking at me from the stands. It broke my heart. I want to win the World SAMBO Championships as soon as possible, thank him for everything he has done for me, and already calmly fight for myself. So far, all my victories are for my father.
Is your father just an example for you or is he also a coach?
– I can't say that he is my coach. Sometimes at home we discuss various nuances and technical issues, but we never go out on the mat together to practice techniques. In fact, it is very difficult for me to perceive my father as a coach.
During the fight, you did not have a second, but your opponent did. Did it affect your performance in any way?
– Not at all. This is mainly due to the fact that I often move. Now I'm fighting for Greece, but before I played for Russia. Also, I have a very unpredictable fighting style. Sometimes even my personal trainer can't tell me how best to proceed. Therefore, I usually get all the advice from my father or coach only before the fights. The fact is that before the fight I can have one plan, but then I suddenly change it. Today, for example, in a duel with a Bulgarian athlete, I made a throw with a shin grip, which I usually do not perform. But since the opponent constantly retreated, I decided to go for this technique, feeling that it would bring results.
How much did the support of the President of the National SAMBO Federation Merabi Iliadis and the guys from the Greek team help you?
– Support of Merabi Iliadis always helps a lot. He is constantly in contact with athletes and is interested in their well-being. In the evenings we meet with him, discuss the past day and plans for the coming one. At the Championship in Bishkek, the Greek team was not represented in full, so I mainly communicate with Merabi. He is my coach and, one might say, even a friend. We are constantly in touch and always understand each other. His support means a lot to me.
How do you assess the World Championships 2022 in general?
– I liked it all very much. Despite the fact that the hall was small, the design and decoration are impressive. For the World SAMBO Championships, everything was organized with dignity and at a high level.