Italian Newspaper Milano Finanza Interviews FIAS President Vasily Shestakov
President
26 September 2013
Sergei Grishin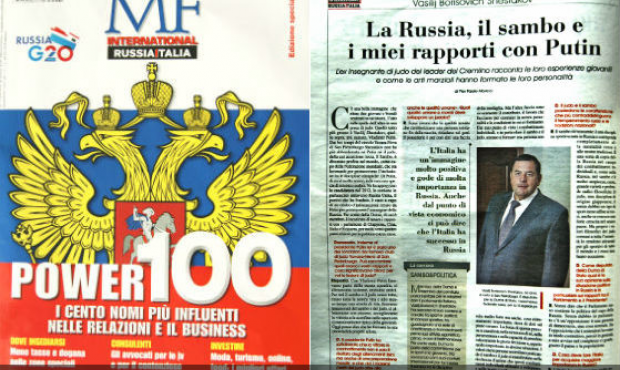 The authoritative Italian edition Milano Finanza published an interview with Vasily Shestakov, the FIAS President and Deputy of the State Duma of the Russian Federation, in a special issue devoted to the Summit of the G20 Heads of State and Government in Russia. FIAS website offers you the text of the interview.
Question. Mr. Shestakov, together with President Putin you were one of the founding members of the famous YAVARA-NEVA judo club in Saint Petersburg. Can you tell us about your relationship and what did judo lessons mean for the two of you at the time?
Answer. Vladimir Putin and I were part of the same team; we trained together and we were friends. SAMBO and judo were everything to us, they were our whole lives as well as being a school of life. We loved SAMBO and judo, we were happy to go training, and we won and lost fights with the typical maximalism of youth. Today, I can say that my personality developed right at that time.
Q. In a documentary, which you took part in as a consultant for the martial arts we have talked about, President Putin highlighted that victory during combat is not just the result of physical training, it also comes from moral preparation, and that "the greatestvalues of judo are not just physical excellence, but also human qualities'.' Can you tell us which moral and human qualities a judoka must develop?
A. I am sure that the human qualities that make up a person are with them from birth, it is in their genes Having them is justone side of the coin. But the other side is definitely made up of contributions, the work that we do to form our personality and the conditions in which we are educated. I believe that individual combat sports, especially SAMBO and judo, do not only help you to become a strong person, they also help you to become a person who is endowed with human qualities, which is extremely important. A person's strength is shown in their confidence, in their perseverance and their ability to quickly make the right decision, and very importantly, in different situations. The values that people learn when I they do SAMBO or judo can be seen in the wealth of their spirit that these individual combat sports usually develop, as well as in their goodness and generosity, without which we would not achieve any results in the sports we love.
Q. Do you think that the characteristics of judo and SAMBO are a manifestation of the Russian temperament and the country's traditions?
A. SAMBO definitely: This sport was born in Russia, so of course it completely mirrors the Russian mentality and our traditions. It is a sort of "copy" of Russia in the field of individual combat sports and, like Russia, SAMBO has a lot of breadth, heart, huge variety and profound philosophical roots Judo, which comes from Japan, is definitely not as akin to the people of Russian, although its popularity in the country is rapidly increasing. But the philosophical values of judo which are found throughout the whole of humanity make it 'an attractive sport for people all over the world, and Russians are no exception.
Q. As a deputy of the State Duma, what do you think about the political situation in Russia and in particular regarding the relationship between the Parliament and the President, especially after the present reforms made to the economic and social circles of life in the country?
A. I would like to say that the Russian Parliament supports the policies of the leader of Russia. Without doubt there is opposition in Parliament: this guarantees democracy, it is normal. I can tell you that both the opposition and its supporters work together constructively, so generally, in my opinion, they win over the country and the population for us as a whole.
Q. What must Italy do to gain more importance in Russia?
A. Italy has a very positive image and has a lot of importance in Russia. From an economic point of view, we can say that Italy is successful in Russia, as we can see from all the Italian investments made in businesses in Russia. In my opinion, a lot of this is due to the recognition given to Italy for its contribution to world history. In Russia, many people love and, more importantly, are well-acquainted with all aspects of Italian culture, whether it is its architecture, opera, cuisine or fashion. I therefore think that the best guarantee for successfully developing relationships between our countries is in the union of our cultures, which also generates reciprocal comprehension and a desire to come together. And I am convinced that this will happen.