Interview with the participants of The African Sambo Championships
Personalities
17 May 2017
Sergei Grishin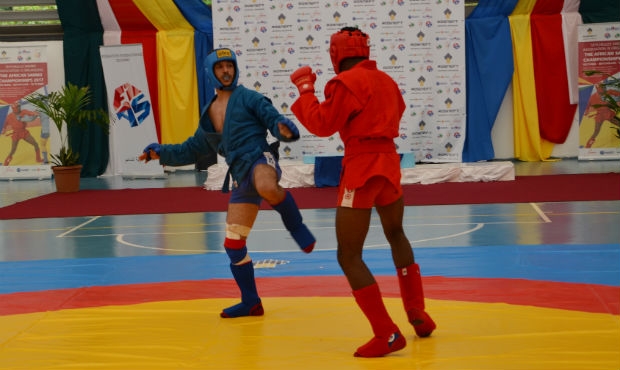 Epoune Batamag
What emotions have you undergone, having won the fight?
This is my third African Championship and today I am completely satisfied with the result. The experience I`ve gained is very useful for me; I will use it further in large-scale competitions, especially during the World Championships in Sochi.
You grinded out the victory in the dying seconds. What does it feel like?
It was a very difficult fight for me, since my rival was preparing for it not with some abstract rival, but with me in particular, he learnt a lot about my strengths and weaknesses. Last year I came up with the same situation, having lost the combat in the dying seconds, though advantage was on my side. I lost to a Moroccan sportsman too. Today I managed to make up for the previous year's loss to some extent.
Marouane Oulhaj
What happened? Why did you lose the last fight?
It was my entire fault, I made a small mistake, but my rival took full advantage of it. He had a lead throughout the fight, but in the final minute he also managed to gain another four points. If it had not happened, I could have won, I guess. Frankly speaking, refereeing put me out of my stride and maybe this particular thing eventually screwed me over. My rival took advantage of my emotional state and grinded out the victory. It is OK, since it is impossible to win all the time.
But for all that what exactly or who exactly prevented you from winning:  the referee, who put you off your stride, or maybe you just underestimated your rival, didn't you?
When I was wrestling in kneeling position there were situations, in which the referee, in my opinion, incorrectly interrupted the combat, but I do not intend to accuse the referee, since I made a mistake myself and I paid for it.
Saifallah Msallmi
Throughout the day, you displayed calm. Is it your normal state or is it a mask, which helps you to drive the rival mad?
In everyday life I am quite a calm person and I am not used to expressing my emotions impetuously. I am used to training, fighting, participating in competitions and in all situations behave alike. So there in no trick.
Indeed, I won a challenging fight, but I cannot say that I'm fully satisfied with my performance, I know my real level and I could have done better, but it so happened that in the morning I got injured, it caused me trouble, so I wasn`t in full strength.
What is your goal at the upcoming World Championships in Sochi?
Well, at the World Championships in Japan, I won a bronze medal, which, of course, left a mark of grudge on my heart, since I was eager to win a gold medal. I was ready for the tournament with the focus on results, but I failed to win. Moreover, after the World Cup, I was on a losing streak and my results deteriorated.
I am not satisfied with my results at the World Championships in Bulgaria either. My rival figured me out quickly, having discovered weak training in fighting basics, in mat wrestling in the first place. As a result, I lost that fight too, but these losses hardened me. I have been training with renewed vigour for the World Championships in Sochi, during which I have high hopes to gain necessary results. I will study my rivals and their weak points to win a gold medal eventually.
Paule Sitcheping
What do you feel after winning a gold medal?
I am very satisfied, since it is my second title, now I am a two-time champion of Africa. It is a pleasure for me that I contribute to African sambo development and popularization. I keep working hard, I want to raise the bar and become the world champion.
I`ve chosen sambo, not it`s not only my profession, it is also a great part of my life. After I retire I would like to work in the structure of African sambo, maybe as a referee or technical manager, anyway I know for sure that I will remain in sambo family.
Zakaria Mareem Yakha
How did the fight go? What do you feel now?
It was my first sambo contest ever, so I`m still not so fluent in the tournament policy, sambo rules and principles of refereeing.  Considering this factor, I`m very satisfied with my performance. I`m sure that I`ll be way more experienced when I take part in the next tournament, so I believe I`ll have much better chances to succeed.
During today`s competitions you wore special clothes, they were covering your hair and legs. Was it convenient? Is it an essential condition for you in general?
I`m a Muslim, so I`ve got used to wearing a head-dress while wrestling, it doesn`t cause any inconvenience at all. I`m proud, that I`ve become the first Egyptian woman to participate in a sambo tournament and I`m really happy to represent my country.
Ellusine Zuad
It was a spectacular fight, your opponent was really tough. You`ve taken some big head punches, however you remained standing and achieved a hard-earned victory. How did you make it?
That`s true, those punches really hurt me, but I avoided getting dizzy and remained standing as I`ve been preparing for this fight for a long time, it was all about concentration. The support, coming from my coach and family, provided additional motivation, they`ve been cheering for me all the time.
Have you been preparing to facing this particular opponent. He was considerably taller than you, so did you have to come up with any special tactics?
No, I didn`t know anything about this particular opponent and I`ve never met him before. I`ve been preparing for this tournament in general. I`ve remained concentrated, so I guess it was my attitude that helped me prevail.
Dominic Dugasse
You`ve become the first Seychellois to have won a gold medal at sambo competitions, that`s a major success. How did you make it? What kind of sports did you engage in before?
I`m a judoist. I`ve already taken part in Olympic Games twice: I represented my country in London in 2012 and in Rio in 2016. I failed to take a particularly high place on both occasions, however it was very important for me just to participate in those tournaments. The African Championships have become my first sambo competition ever, so I guess I`ve still failed to make a good display of all the skills I`ve learned so far. If only I had prepared better and if I had more experience, my performance would`ve been miles more spectacular.
Why did you decide to switch to sambo instead of judo and will your victory at the African Championships give a boost to sambo development in the Seychelles?
Well, I haven`t actually quit practicing judo, I think I`ll continue improving my judo skills, it was just really interesting to take a crack at sambo, so I guess I`ll keep on learning both martial arts. Speaking about my victory, it was definitely a milestone for sambo development in the Seychelles. I`m really glad that my efforts have payed off.