Issaca Qadri: "Without the support of the audience today, I definitely wouldn't have been able to do it"
Personalities
29 May 2016
Sergei Grishin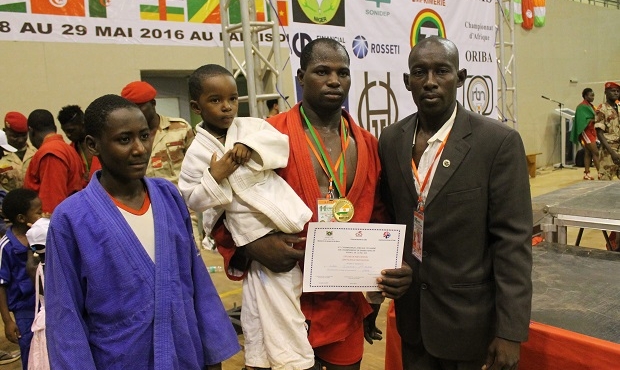 With the deafening support of his native stands the athlete from Niger Issaca Qadri has won a very difficult final bout against the Moroccan Khalid Louzira and became the champion of Africa in sambo in the weight category of up to 100 kg. About the technique that helped him to win, his love of sambo and the historical significance of this gold the representative of the host country of the continental championship told the FIAS's website.
"After the ceremony, I was told that I look too serious for a winner. It's because I work for the National Wrestling Federation of Niger, so it's my habit to always be serious. I may come across as harsh, even in a moment of triumph, but in my heart I'm currently incredibly happy with this victory,"- shared the champion.
Issaca Qadri said that he had used all the experience and technique, which he learned while wrestling, in the final match, which helped him win in sambo.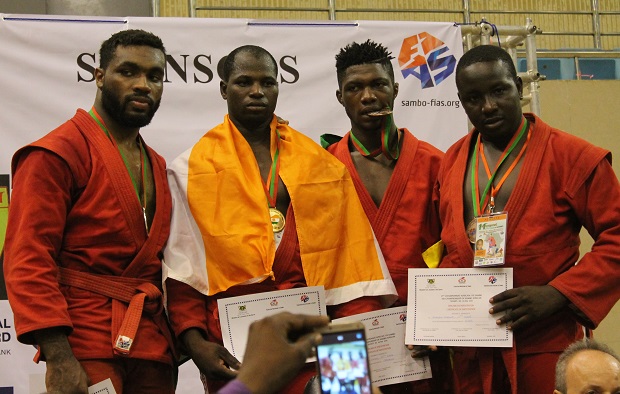 "I must say that I've started doing sambo only this year, so my start has turned out to be incredibly successful. When I learned of the existence of this single combat, it touched me deeply and I felt it's the one for me! Today's performance and the result achieved suggest that this is true, - says the athlete. - I should note that without the support of the audience today, I definitely would not have been able to do it. This is the thing that has driven me forward today, energizing and giving me strength. The combination of my fighting techniques and the support of the fans helped me to achieve such amazing results".
The representative of Nigeria also explained what a gold in the African Sambo Championship-2016 means to him.
"For me this medal is something very symbolic, it will always remind me of this moment - a moment when I came to sambo. A gold at an African Championship will be a part of my personal history,"- said Issaca Qadri.