Ivana Yandrich: "Now I can eat whatever I want"
Personalities
12 May 2016
Sergei Grishin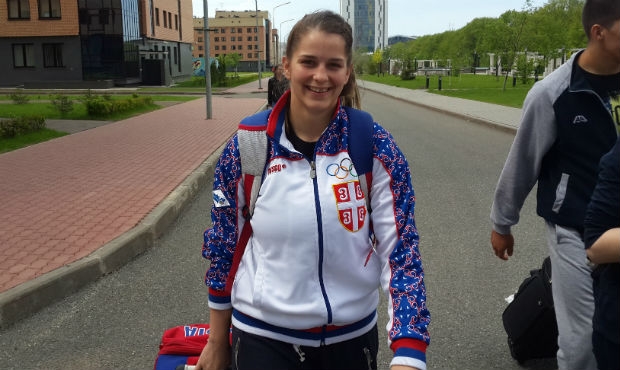 Serbian sambo wrestler Ivana Yandrich, the winner of the I European Games in Baku, announced in an interview to the FIAS's site that she is passing to a more "heavy" weight category. Upon her arrival in Kazan to the 2016 European Sambo Championship the wrestler also told us why she likes living in the Universiade Village and what food she can now afford to eat as a result of the change of the weight category.
"I just got off the plane and feel a little bit tired because we went to Kazan overnight. But I am sure that the championship will be delightful and held at a high level, - said Ivana. - I like that all the athletes will live in one place, the Universiade Village built on the eve of the Kazan Student Games 2013. We will have the opportunity to frequently meet and talk a lot. Usually, during such major tournaments athletes live in different hotels and not always have the ability to see each other beyond the competition".
Ivana Yandrich shared the news that she has moved into a higher weight class. Previously, she was in the 68 kg, now she will fight in the 72 kg.
"It is very interesting to try this weight, see if I can realize myself in it. Now I have to deal with new opponents and it's a new challenge for me. Let's see what happens,"- the Serbian athlete commented on her decision.
She also told us why decided to change her weight class.
"The 68 kg was all right for me when I was younger and it was comfortable. But now I feel that I don't have enough speed at this weight, my rivals are constantly faster. And in the 72 kg I feel comfortable and I do not need to lose weight which also has a positive effect on my state of health: I feel fresh and well prepared. If I succeed, I'll stay in the 72 kg category, if not, I can always return to the 68 kg. Another huge advantage of the transition to a different weight is that now I can eat whatever I want. More than anything I love pizza, I just can't live without it", - said the sambo wrestler.