Congress of the SAMBO Union of Asia was held in Lebanon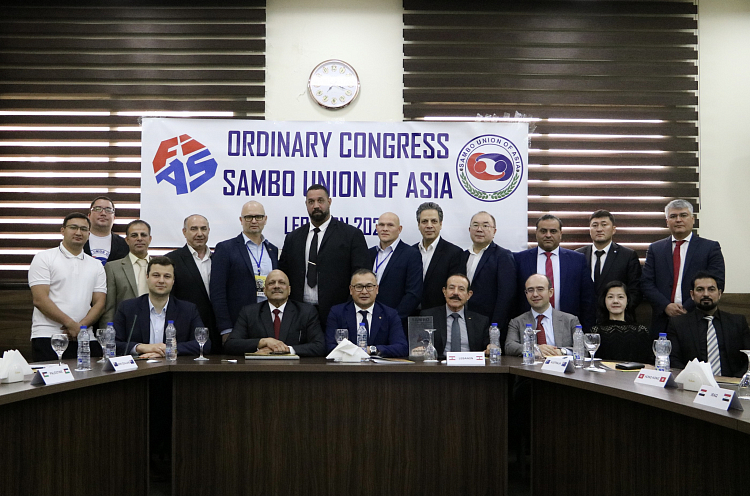 The Congress of the SAMBO Union of Asia (SUA) was held in Jounieh City of Lebanon on June 1 in a mixed offline/online format. It was attended by representatives of Australia, Bangladesh, Bahrain, Hong Kong, India, Jordan, Iraq, Iran, Kazakhstan, Kyrgyzstan, Lebanon, Maldives, Mongolia, Nepal, New Zealand, Pakistan, Palestine, Saudi Arabia, Singapore, Syria, Thailand, Turkmenistan, Uzbekistan, Philippines, Sri Lanka and Japan.
The Congress was moderated by the 1st Vice-President and General Director of the SUA, Suresh Gopi.
The President of the SUA Alamjon Mullaev addressed the audience with a welcoming speech. In his speech, he thanked the Lebanese government, as well as the Secretary General of SUA, the head of the Lebanese National SAMBO Federation, Francois Saad, for their readiness to host such a major tournament, as well as the high attention to SAMBO in the Republic.
He spoke about the achievements of the SUA in the development of SAMBO on the continent, including the inclusion of SAMBO in the program of a number of multi-sport competitions in Asia.
"We were able to achieve this success only thanks to our common joint and well-coordinated work," Alamjon Mullaev noted.
One of the main issues on the agenda was the inclusion of the National SAMBO Federations of Australia and New Zealand into the SAMBO Union of Asia, as well as granting them the status of permanent members of the organization. This decision was unanimously supported by all participants of the Congress.
In the final part of the event, the delegates voted for the proposal of the Kazakhstan Federation of Sports and Combat Sambo to host the Asian Sambo Championships and Asian Youth and Junior Sambo Championships 2023 in Kazakhstan.