Ukrainian Cup opened the season for cadets
Competitions
10 April 2017
Sergei Grishin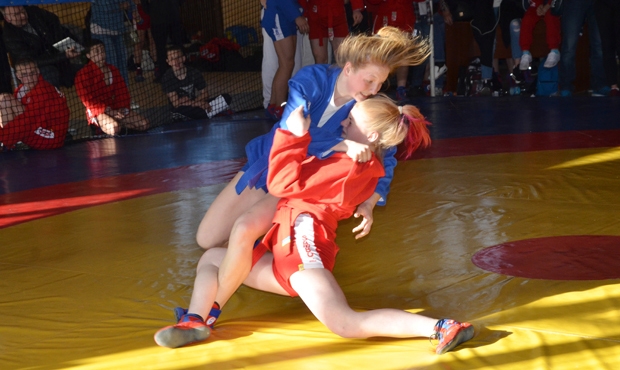 Ukrainian Cup fights among cadets (sportsmen under 16 years) were held in Kiev on April 9. The tournament was held as part of "Take the child from the street" social program, which has been implemented by Ukrainian National Sambo Federation (UNSF) since summer 2016.
The competitions gathered almost 200 sportsmen from 15 regions of the country. Sportsmen competed for 20 sets of individual medals and team cups. Following the results of the tournament senior coaches of teams of this age group Sergey Logvinenko (boys) and Sergey Shpilev (girls) started forming national team, which will perform early in December at European Championships. The final lineup will be determined at the national championship in Kiev at the end of October.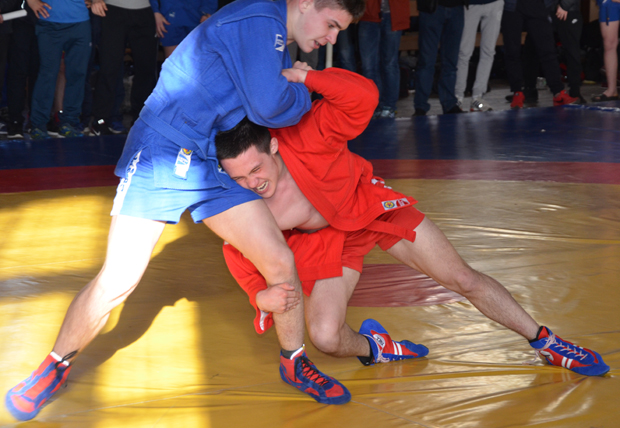 - I think that Ukrainian Cup was a success – executive manager of UNSF Yuri Skrypal says. – As it is known, official international competitions start from this age, like World Cup and European Championship that is why we planned not only the national championship, but also Ukrainian Cup among cadets. In fact, we try to focus extensively on young generation. For that end together with my brother Vadim we launched the "Take the child from the street" program on the base of our "School of the Skrypal brothers", Ukrainian National Sambo Federation gave its support to us.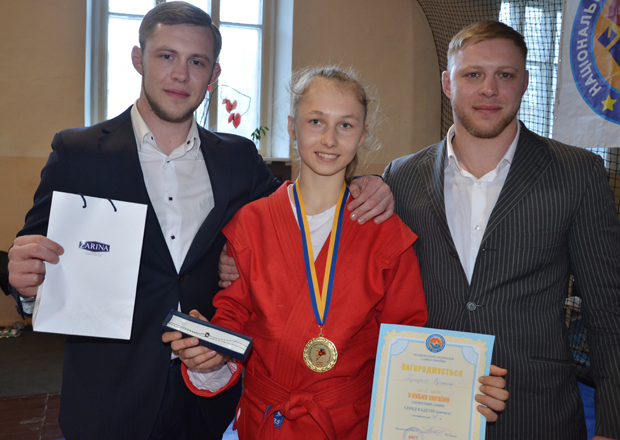 According to Yuri Skrypal, there have already been firstlings of this program: from the beginning of the school year in Kiev alone we managed to engage more than 300 children from low-income families, orphaned children and forced migrants. All of them train in "School of the Skrypal brothers" on a gratuitous basis.
"Not only do they attend trainings, but also competitions to rekindle dreams of becoming champions. We get support from our colleagues throughout the country - within the program's framework and with their own initiatives. For example, Victor Savinov – a six-time world and European champion, a present coach of men's national team and a member of FIAS executive committee has founded his own sambo school where kids from 5 to 8 years old train free of charge", - emphasized executive manager of UNSF.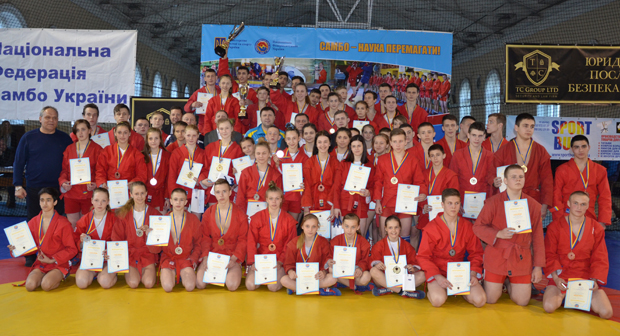 The results of 2017 Ukrainian Sambo Cup among cadets are as follows
Team standings
1. The Odessa region
2. The Kharkov area
3. The Dnepropetrovsk region
Winners and prize-winners in individual types of the program
Youth (W)
Up to 38 kg
1. Valentina ROMANOVICH (Dnepropetrovsk region)
2. Ekaterina GRIGORENKO (Vinnytsia region)
Up to 41 kg
1. Anna SIKISH (Ivano-Frankivsk region)
2. Daria ROMANOVICH (Dnepropetrovsk region)
Up to 44 kg
1. Veronika MITSKEVICH (Odessa region)
2. Olesya SALFETNIK (Zhytomyr region)
3. Alexandra PRISCHENKO (Vinnytsia region) and Sofia BORDINSKIH (Dnepropetrovsk region)
Up to 48 kg
1. Ruslana PREEKHREST (Kiev)
2. Anna Okhrimenko (Sumy region)
3. Tatyana KUNASH (Zhytomyr Region) and Valeria SOKOLENKO (Zhytomyr Region)
Up to 52 kg
1. Irina OGLI (Kharkiv region)
2. Julia VORONENKO (Sumy region)
3. Alisa KANYUK (Sumy region) and Anastasiya POPLAVSKAYA (Odessa region)
Up to 56 kg
1. Valery ZAKHAREVICH (Dnepropetrovsk region)
2. Maria BALATSKO (Ivano-Frankivsk region)
3. Anastasia GUMENKO (Odessa region) and Maria KUNEVICH (Ivano-Frankivsk region)
Up to 60 kg
1. Maria RYBACHUK (Odessa region)
2. Valeriya BIRYUCHENKO (Zhytomyr region)
3. Ivanna PROTSUN (Zhytomyr region) and Anna NEDOTOPA (Dnepropetrovsk region)
Up to 65 kg
1. Olga STUKALENKO (Odessa region)
2. Orina TARAN (Donetsk region)
3. Emilia CAMERON (Zhytomyr region)
Up to 70 kg
1. Vladislava TOROPTSEVA (Cherkasy region)
2. Valentina SHCHERBATYUK (Odessa region)
3. Yana TARAS (Ivano-Frankivsk region) and Diana MEDVID (Ivano-Frankivsk region)
Over 70 kg
1. Anastasia Zhilyaeva (Dnepropetrovsk region)
Youth (M)
Up to 42 kg
1. Daniil MOVCHAN (Kharkiv region)
2. Dmitry POLIKHANENKO (Donetsk region)
3. Alexander ISKRITSKY (Sumy region) and Maxim KAZNACHEEV (Kharkiv region)
Up to 46 kg
1. Kirill SOLOKH (Kharkiv region)
2. Daniil KALMYKOV (Kharkiv region)
3. Semen AGENKO (Sumy region) and Roman SHIYKA (Lviv region)
Up to 50 kg
1. Daniil MUDRAK (Vinnytsia region)
2. Anton KLEINOS (Sumy region)
3. Tagir MAGOMMAD (Ivano-Frankivsk region) and Evgeny FEDENKO (Odessa region)
Up to 55 kg
1. Maksim PARFENOV (Odessa region)
2. Daniil ISAENKO (Kharkiv region)
3. Nazar KOTLYARENKO (Cherkasy region) and Artem SHIPOSH (Dnepropetrovsk region)
Up to 60 kg
1. Sergey SAGAYDAKOV (Donetsk region)
2. Kirill KRASNIKOV (Kharkiv region)
3. Eugene TOBAKIN (Dnepropetrovsk region) and Daniil KANIKOVSKI (Odessa region)
Up to 66 kg
1. Denis KIZIMENKO (Kharkiv region)
2. Ilya PARAMONOV (Lugansk region)
3. Alexey SYTIN (Kharkiv region) and Sergey SHEVCHENKO (Cherkasy region)
Up to 72 kg
1. Nazar ZUBKOV (Kharkiv region)
2. Vladislav POGASY (Dnepropetrovsk region)
3. Victor Sklyarov (Kiev) and Vasily KUCHEROV (Dnepropetrovsk region)
Up to 78 kg
1. Timur Valeev (Zhytomyr Region)
2. Alexander TAROVITOV (Kharkiv region)
3. Zakhar LITVINENKO (Donetsk region) and Daniil SYTNYUK (Dnepropetrovsk region)
Up to 84 kg
1. David Allahverdiev (Odessa region)
2. Daniil KARLOV (Chernihiv region)
3. Vladislav TOCHENY (Donetsk region) and Igor BASANETS (Sumy region)
More than 84 kg
1. Egor KRYNIN (Kiev)
2. Denis SMIRNOV (Kharkiv region)
3. Artem POPUTNYAK (Kiev) and Vladislav RUDIY (Vinnytsia region)