Aleksandr Pushnitsa is a legend of SAMBO
Competitions
27 February 2013
Sergei Grishin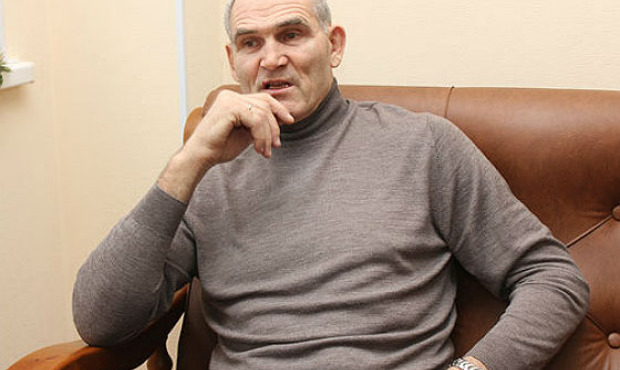 Aleksandr Pushnitsa, a legend of SAMBO, has been invited as a guest of honour by the International Sambo Federation to the SAMBO World Cup Stage "Memorial A. Kharlampiev" that will start up in a month. On the eve of visiting Moscow the ninefold Champion of the USSR, the sevenfold Champion of Russia, the twofold Champion of Europe and the threefold World Champion told the FIAS web-site about the place of SAMBO in his life, in his heart and at school named after himself.
– Aleksandr, what does SAMBO mean for you? When being asked such a question one can often say in reply – it is my life, my philosophy, a school of my life. What kind of a relationship do you have with SAMBO?
– I won't probably be original as SAMBO for me is a holiday, it's a pure pleasure. My soul together with my relatives and friends has always been nourishing on it. It may be compared to the entrance of an actor on the stage. If you take away his vocation, everything will be over as he will extinguish and he is non-existent any longer. It's the same for me as it has always been the very part of my life that has given me joy. And SAMBO has been such a holiday for me to the present day.
– SAMBO is always people too. It is the relationships that form as a rule in youth and last the whole life. Who are your people in SAMBO?
– It just happened that I've been fighting for quite a long time by common standards. That's why I've met more than one Sambo generation in my sports career. This friendship has survived the test of time and we still have very warm relationships. These are Michael Kokorin, twofold World Cup winner, now he is one of the Heads of the Saint-Petersburg Sambo Federation, and Viktor Chingin, another resident of Saint-Petersburg, World Champion and World Cup winner as well as Vladimir Yaprintsev, fourfold World Champion and Chairman of the Belarusian Sambo Federation today.
These are people whom I used to fight against and with whom I went through the number of get-togethers and competitions. And now we are still in touch with them, we share both personal and connected with work matters. They are great friends as they will always support you when necessary. They are all extraordinary people, therefore any their piece of advice is worth a fortune. I am very happy to have them.
– Aleksandr, please, tell us about your Omsk school that bears the name "Sports Club named after Aleksandr Pushnitsa''.
– With pleasure! By the way, this year our club turns 20 years old. The club is such a centre where anyone from 6 to 80 years old has an opportunity both to join in sports and to communicate. And it's free of charge. It's a playground of a kind for education, development and leisure.
I'm very happy that during these years our club has become the instrument that has restored once lost ties of generations. Here veterans of sports can share their experience with the youth, demonstrate something on the mat, narrate something instructive while having a cup of tea. In my opinion, it's amazing. I did not plan it initially, I just wanted to help the veterans of sports to stay in shape. And it resulted in such a "school of life" for the youth and a "place for leisure" for older people.
– What is your life like as a father and a grandfather? Do any of your children or grandchildren go in for SAMBO?
– I have four children and all of them are girls, two grandsons and one granddaughter. It somehow happened that none of them went in for sports seriously except for my next-to-last daughter. She is my pride in terms of sports as she is big on sport aerobics. She has already reached the standard of Master of Sports of Russia in her 13. It's a distinguished title which she cannot be awarded yet though due to her age. She was also first at the Championship of Russia and the World Cup.
– Aleksandr, today FIAS does a lot to become a member of the Olympic family. I would like to find out your attitude towards Olympic perspectives of SAMBO and towards modern development of our favourite type of sports.
– It is no secret that an Olympic status also means additional financing, advertising and a huge impetus for a type of sports. In my opinion, SAMBO is not an exception. We are all expecting this, keeping track of the developments and we importantly believe that this is not a pipe dream; it's a matter of the nearest future.
Of course, we are keeping track of SAMBO development in the world. I have noticed that the organizational level of world and continental championships has improved, i.e. decoration of gyms, discipline in the judiciary and now it is possible to watch all the broadcasts on the web site. On the whole, one can feel that work in this direction has been carried out.
And of course it is great that SAMBO has started to participate in big multi-sports events, such as the Universiade in Kazan and Combat Games in Saint-Petersburg. I am sure that it will help our SAMBO a lot to win the sports world as well as it will provide sportsmen additional opportunities for self-fulfilment which is essential.
This turned out to be an image of Aleksandr Pushnitsa, a legendary Sambo athlete, who appeared to be very open-minded and sincere person. Very soon you will be able to see him with your own eyes, to take his autograph and to talk to him at the World Cup Stage "Memorial A. Kharlampiev" which will be held on March 23 - 24 in Moscow (Russia).
Very soon the elite of modern SAMBO will gather at the Igrovoy Sports Complex in Moscow where the second SAMBO World Cup Stage this year is going to be held. On our part we are waiting for you at the competitions in Moscow as well as on the official FIAS web site which will be broadcasting live these competitions.
Natalya Yukhareva
www.sambo.sport