Maksym BABYCH: "Speed is my Secret"
Personalities
23 December 2021
Anton Orlov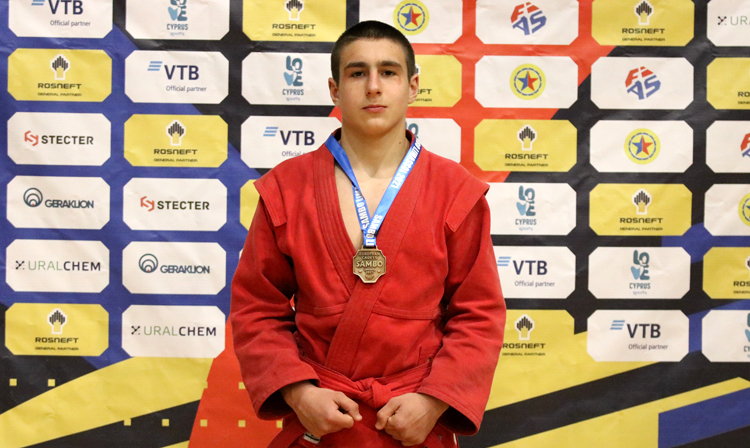 Ukrainian athlete Maksym Babych won a gold medal in the up to 64 kg weight category at the European Cadets SAMBO Championships, held on December 18-19 in Limassol (Republic of Cyprus). He shared his impressions of the tournament for the FIAS website right after the victorious bout.
Maksym, was it difficult?
– It was not easy, I competed in a new weight category for myself.
Did you have to "get up" or, on the contrary?
– I had to "get up".
Is this your first medal of such a high dignity?
– No, I have already become the silver medalist of the World Youth and Junior Championships, and won gold at the European Youth and Junior Championship.
Can we say that victories have already become a habit?
– You can (laughs).
Were there any surprises during the fights today, or did everything go according to plan?
– All the rivals were strong, all the fellows, all the worthy guys.
What was the most difficult fight for you?
– Perhaps with the Russian athlete Denis Druzhinin for reaching the final. It was very difficult.
How did you manage to win?
– Probably due to endurance and speed.
What do you do if you have to fight an athlete who cannot be defeated right away? What tactics are you using?
– If I feel that I can't beat my opponent due to my physical condition, then I turn on the breathing apparatus and try to work at speed. So speed is my secret, I do everything to get ahead of my rivals on the move.
At the same time, do you work as the first number?
– Yes, always. If you do not work as the first number, then retribution will follow.
How did you prepare for the championship?
– The preparation was not easy, there were many injuries, and the recovery process was difficult, but, fortunately, everything went well. Our team had a weekly training camp in Cyprus, we successfully passed acclimatization, did strength training and endurance training.
In recent years, the national team of Ukraine has noticeably improved and shows high results in international tournaments...
– I completely agree with you, because if you look at the results of 2-3 years ago, you can see that not everything was going well, and in the last year our team has really shown a noticeable growth.
Whose merit is this, in your opinion?
– First of all, the President of the National Sambo Federation of Ukraine Vadim Igorevich Rogach. Indeed, in order for athletes to improve their level of technical skill and physical condition, conditions are needed. And Vadim Igorevich managed to create them. Not every federation has the opportunity to bring athletes to the training camp a week before the competition, because it is not cheap.
Has the support of the team helped you to become a champion today?
– Of course, the most important thing in a team is a friendly collective. If the guys support you both before the competition and after, even in case of defeat, then this is team work, it really energizes. If at least two or three people help morally, it becomes much easier.
So is this another secret of yours?
– The psychological attitude to a fight is 50% of success. As you tune in, you will fight. You can't go out on the mat without good mood in any way. Already during the fight, physical work and technical skill are important, but before it – it is the attitude.
What is the next international tournament in which you will take part?
– European Youth and Junior SAMBO Championships (up to 18 years old).
How will you celebrate?
– New Year is coming soon, so you can relax a little and take a rest, and next year we are going to the training camp again.