Gordeev Memorial held in Bishkek
Competitions
1 March 2016
Sergei Grishin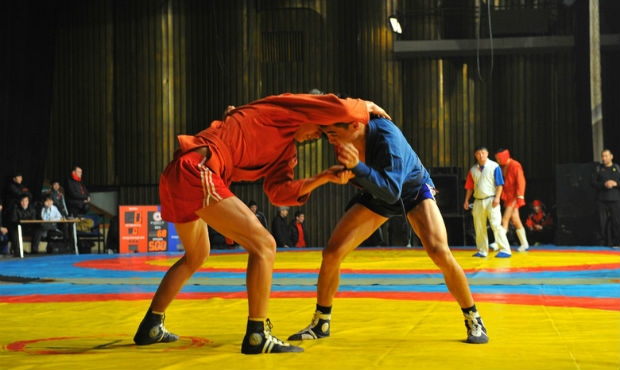 The 29th International Sport and Combat SAMBO Tournament dedicated to the memory of Vitaly Gordeev, Knight of the Order of the Red Star and peacekeeper, was held at the Sports Palace in Bishkek, Kyrgyzstan. As reported by Artur Son, head coach of the National SAMBO Team of Kyrgyzstan, more than 700 athletes took part in the competitions.
The athletes competed for 16 sets of awards. Competitions were held in 8 weight categories in men's Sport SAMBO and 8 in Combat SAMBO. Sambists from Kazakhstan competed for medals along with local athletes.
The organizers reported that honored guests at the tournament included quite a few people with experience in the uniformed services. It should be noted that veterans of the military and security forces make a significant contribution to developing SAMBO in Kyrgyzstan.
"Under the Constitution, we are obligated to defend the Homeland. To do this, we must prepare ourselves," said Major General Asanbek Alymkozhoev, a veteran of the Afghan war. "SAMBO instills the fighting spirit in defenders of the Fatherland like no other sport!"
It's well known that SAMBO is one of the most popular sports in Kyrgyzstan. Dozens of tournaments involving thousands of athletes of all ages are held every year. In 2015, Kyrgyzstanis competed honorably in all major international tournaments, including the Asian Championships and World Youth, Adult and Masters Championships.
They're just as determined in the new season. The next major international SAMBO competition will be held in Moscow during the A. Kharlampiev Memorial World Cup. The draft for the National Team of Kyrgyzstan that will go to Moscow took place after the Gordeev Memorial in Bishkek.
Vitaly Gordeev was one of the Soviet Union's most powerful sambists and was a member of the USSR National Youth Team. He died performing his military duty in Afghanistan. Every year athletes from countries of the former Soviet Union take part in the competitions in honor of this gifted athlete and courageous soldier.
Prepared from materials of 24kg.org and sambo.kg