"V.Gordeev Memorial": almost all "gold" of Kyrgyzstan remained at home
Competitions
19 February 2013
Sergei Grishin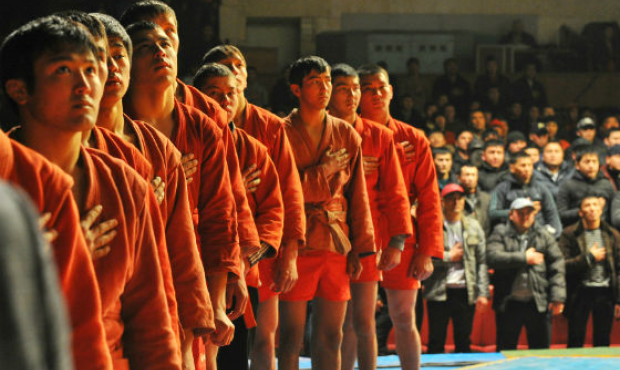 The International Tournament in sporting and combat SAMBO in memory of a peacekeeping soldier Vitaly Gordeev was held from 11 to 13 of February in Bishkek (Kyrgyzstan). The home team were not very hospitable in sports terms, allowing rivals from other countries to take with them only 2 of 18 competed gold medals. The combats for the "silver" and "bronze" were no less sharp: it was very difficult to fight for the top places against Kyrgyz SAMBO wrestlers who were enthusiastically supported by the crowded stands.
On the eve of the Tournament in Bishkek they expected an arrival of sportsmen from five countries. However as FIAS SAMBO Federation General Secretary of the Kyrgyz Republic Aydin Kulgozhaev said the home team with representatives of only four visiting teams: Kazakhstan, Tajikistan, Russia and Austria participated in the competition. For two days the participants sorted their things out on the mat in the honest sporting fighting. Men competed 9 sets of medals in sporting SAMBO and the same number in combat one.
Local SAMBO wrestlers demonstrated total supremacy which only a few guests managed to break. The winners of the combat SAMBO Tournament became the Russians Alexey Kabylkin (weight category up to 62 kg) and Kazakhstani Asylbek Alkei (up to 82 kg). In addition, the winners of the competition became the representatives of Kazakhstan Medet Kasimdzhanov (up to 68 kg, the 2nd place) and Sayat Shamshiev (up to 90 kg, the 3rd place) in combat SAMBO Tournament and Evgeny Makarov (up to 100 kg, the 3rd place) from Austria in the competition in sporting SAMBO.
In other categories the Kyrgyz SAMBO wrestlers took the first place. Combat SAMBO: Belek Barakanov (up to 52 kg), Nursultan Artykbaev uulu (57 kg), Mairambek Kazybekov (up to 68 kg), Urmat Mambetzhan uulu (74 kg), Nurbek Raimaly uulu (90 kg), Tilek Kurapov (up 100 kg) and Alymbek Egimbaev (over 100 kg). Sporting SAMBO: Bakbolot Tuleberdiev (up to 52 kg), Bakhtiyar Abdurakhmanov (57 kg), Salmoorbek Ergeshaliev (up to 62 kg), Ilgizbek Saipem (68 kg), Nurbek Janybai (up to 74 kg), Almazbek Akimbaev (up to 82 kg) , Meliz Joldoshev (90 kg), Ivan Vinyarski (up to 100 kg), Maksat Musabayev (over 100 kg).
The International Tournament in memory of V.Gordeev was held for the 26th time. We remind you that it was held for the first time in 1988 and had a republican status. In 1992 the first All-Union Tournament was held and in 1996 it acquired the title of the International. One of the most talented Kyrgyz SAMBO wrestlers of his day Vitaly Gordeev was called to the Soviet army and sent to the Democratic Republic of Afghanistan. June 13, 1980 his life dramatically closed. He was killed in an unequal battle with mujahideens. Vitaly Gordeev was posthumously awarded the Order of the Red Star.
Prepared by Aleksandr Solomakhin
www.sambo.sport