National SAMBO Championship was held in Georgia
Federations
1 February 2018
Aleksandr Solomahin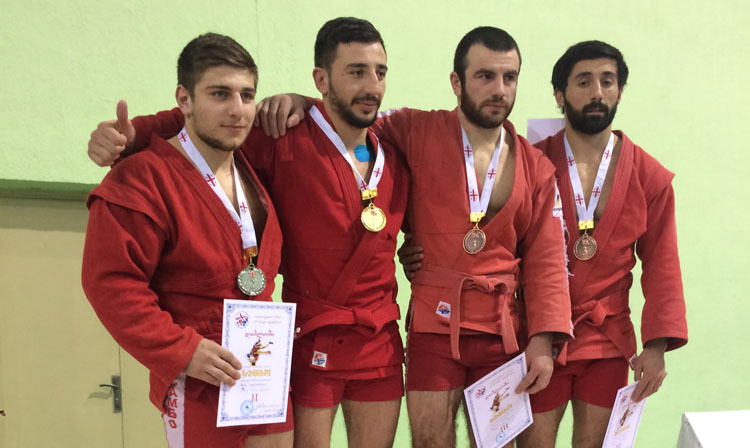 The National Sambo Championship of Georgia took place in Tbilisi. Over 200 athletes who represented 40 municipalities were fighting for the tournament medals at the 'New Tbilisi' Sporting Centre.
According to the press-service of Georgian National Federation of Sambo, the national team that was formed by the results of the tournament will soon set off for a training camp in Ryazan, Russia. Subsequently, the athletes are going to take part in the International Sambo tournament for the Prizes of the President of the Republic of Belarus that will be held in Minsk, on February 16-17.
Regarding Tbilisi itself, the city is going to host the World Youth and Junior Sambo Championships in October. Georgian National Federation of Sambo commits itself to applying maximum of efforts in order to arrange and hold the tournament by the highest possible standards.
Results of the National Sambo Championship of Georgia 2018
Men
52 kg
1. Givi Nadareishvili (Poti)
2. Dimitri Muladze (Khashuri)
3. Levan Berberashvili (Tianeti)
3. Georgiy Miruashvili (Gori)
57 kg
1. Gennadiy Chirgadze (Kutaisi)
2. Georgiy Chumburidze (Kutaisi)
3. Tamaz Kvernadze (Terdzhola)
3. Zurab Lokabidze (Gori)
62 kg
1. Vakhtang Chidrashvili (Telavi)
2. Saba Grigalashvili (Tbilisi)
3. Vakhtang Metivishvili (Khashuri)
3. Avtandil Kutaladze (Samtrediya)
68 kg
1. Mindia Liluashvili (Zestafoni)
2. Irakli Khergiani (Tbilisi)
3. Levan Kirkitashvili (Dedoplistskaro)
3. Giorgi Gugulashvili (Kaspi)
74 kg
1. Levan Nakhutsrishvili (Mtskheta)
2. Zviad Tevdorashvili (Sagaredzho)
3. Kakha Mamulashvili (Kaspi)
3. Georgiy Kankava (Kaspi)
82 kg
1. Besarion Berulava (Zugdidi)
2. Zaur Gagnidze (Rustavi)
3. Lasha Zurabiani (Mtskheta)
3. Dimitriy Kobauri (Dusheti)
90 kg
1. Paata Gviniashvili (Kareli)
2. Fridon Zurabinni (Mtskheta)
3. Vakhtang Saradzhishvili (Akhmeta)
3. Elgudzha Kushutashvili (Lagodekhi)
100 kg
1. David Loriashvili (Gardabani)
2. Georgiy Kobaidze (Tetritskaro)
3. Georgiy Setiyeli (Abkhaziya)
3. Kakha Gazashvili (Kareli)
+100 kg
1. Beka Berdzenishvili (Kaspi)
2. Rezo Tsulukidze (Batumi)
3. Ambrosi Konkroshvili (Tbilisi)
3. Kaki Kutkhashvili (Kareli)