News from the President's SAMBO Cup in Edinburgh: tournament press conference, members of the US and French national teams, and much more
Competitions
12 September 2016
Sergei Grishin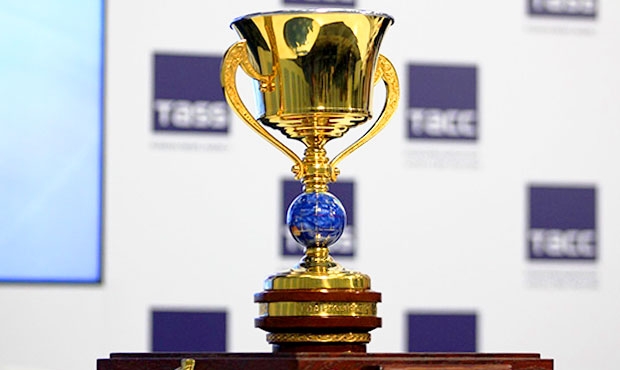 As we reported earlier, this year, the British President's SAMBO Cup will be held in Edinburgh, Scotland. The tournament starts on September 24 in Meadowbank Sports Centre, Edinburgh's main sports complex. Rosneft Oil Company PJSC is the General Sponsor of the President's SAMBO Cup in Edinburgh. TASS Russian News Agency is the tournament's main media partner together with the International Sports Press Association (AIPS) and Rossiyskaya Gazeta. This week, we received details about the organization of the upcoming tournament. Read about them here.
All teams competing in the tournament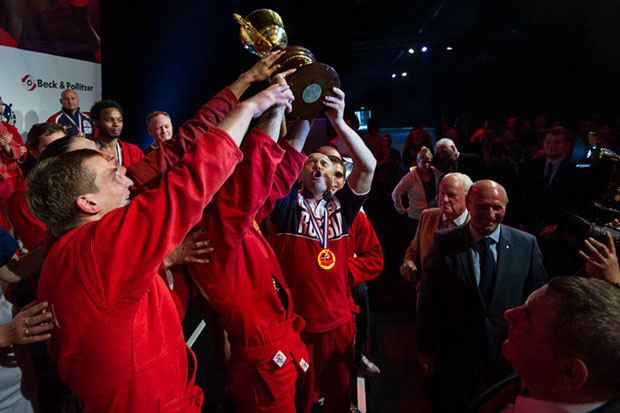 We now know which teams will compete in the tournament. In 2016, Italy, Spain, France, Holland, Ghana, the Commonwealth countries and Scotland – the host of the tournament – will be fighting for the main prize – the gem-incrusted Challenge Cup of about 10 kg. We remind you that the Russian team won the cup in both previous tournaments.
Combat SAMBO tournament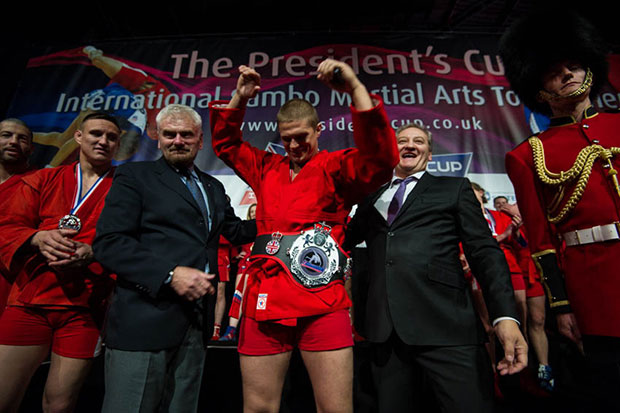 Starting last year, the organizers added another sports event with show elements to the President's Cup – the Combat SAMBO Grand Slam. Last year's Grand Slam in Manchester was held in the light heavyweight class – 100 kg, and it was won by Russian Mikhail Mokhnatkin. This year, the organizers decided to hold the tournament for combat sambists in four weight classes: 62, 74, 82 and 90 kg. Combat sambists from Trinidad and Tobago, the USA, Australia, Slovenia, the UK, France and Russia have already confirmed their participation in this part of the tournament. It's worth noting that the US national team is represented by very strong athletes with backgrounds in MMA along with SAMBO. Like last year, cash prizes will be given to the winning sambists.
Tournament press conference
The tournament press conference will be held on the competition day, September 24 at 10 am in the Sheraton Hotel. Special guests and the organizers of the President's SAMBO Cup 2016 will answer journalists' questions. The actual sports event will start with the opening ceremony at 13:00, and the final fights and awards ceremony will begin at 17:00.
US Combat SAMBO team
-62kg. CHMIELESKI Evan Mitchel
-74kg. JAJOUTE Johnson C
-82kg. SABATINI JR Patrick Daniel
-90kg. PURCELL Erik James
French team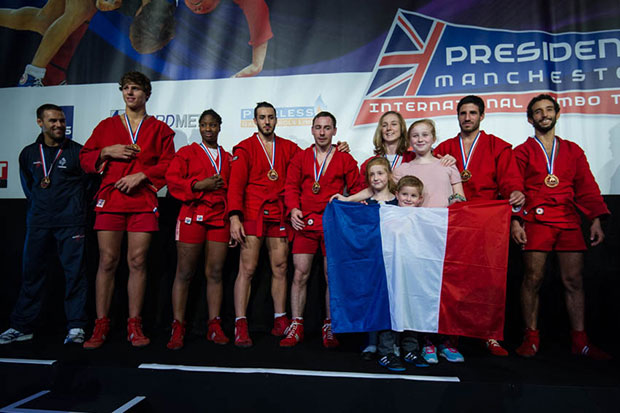 President's SAMBO Cup
-62kg DUPUIS Anthony
-68kg N'GUYEN Benjamin
-74kg CAVALLERA Ludovic
-82kg RIBERE Julien
-90kg JOURDAN Valentin
-52kg  TBC
-56kg SANCI Solenza
Combat SAMBO Grand Slam
-74kg COMTE Florent
-82kg SCHMITT Charly
-90kg TBC