What winners of the 2nd day of the Pan-American Championships in Colombia were talking about
Personalities
12 July 2017
Sergei Grishin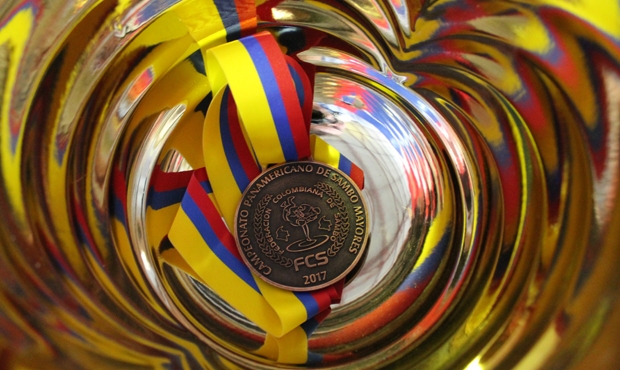 On the 9th of July, during the second day of the Pan-American continental championships in the Colombian city of Guadalajara-de-Buga, winners and prize-takers were determined in 13 weight categories. Gold medalists shared their brightest emotions in exclusive interviews to FIAS website correspondents. Primary sponsor of the tournament is the Rosneft Oil Company.
Jose Giron (Venezuela), winner in the under 57 kgs weight category among men: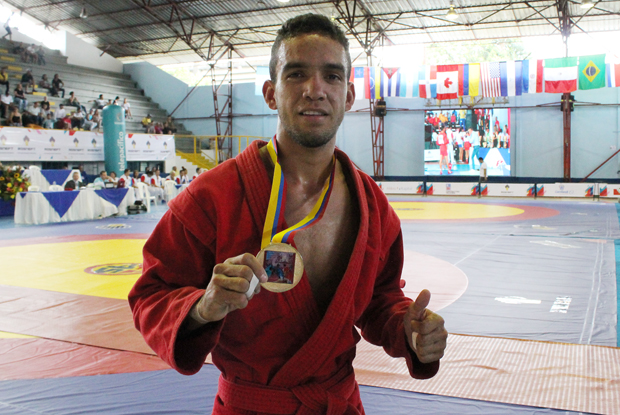 «Despite the fact, that I won the finals in advance, the fight itself wasn`t easy at all. However I`ve been training a lot and God has helped me to win a gold medal for myself and for my country. Last year I took part in the World Championships in Bulgaria and I only took the fifth place. Hope this year I perform better at the World Championships in Sochi. I`ll do my best during the training camp, I`ll work hard until the very beginning of the tournament».
Sayra Laguna (Nicaragua), winner in the under 60 kgs weight category among women: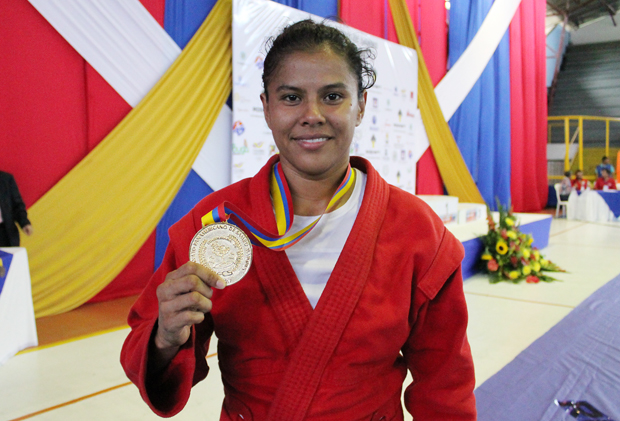 «I feel great, I`m very glad to have won a gold medal at such a big tournament. It`s a fantastic feeling, I can hardly describe it! It is my fourth gold medal, earned at the Pan-American Championships. Hope I can keep up this tradition in the future. Our national team is very strong, I`m sure other girls can compete for the most prestigious prizes as well. Nicaraguan athletes are particularly good in two weight categories. They have high potential and I consider their chances to win prizes at the future tournaments to be pretty good. About five years ago Nicaraguan SAMBO made a huge leap forward, now everybody sees that we`ve made great progress. I want our whole national team to win the Pan-American Championship, it`s my dream actually».
Lucas Borregales (Venezuela), winner in the under 62 kgs weight category (combat SAMBO):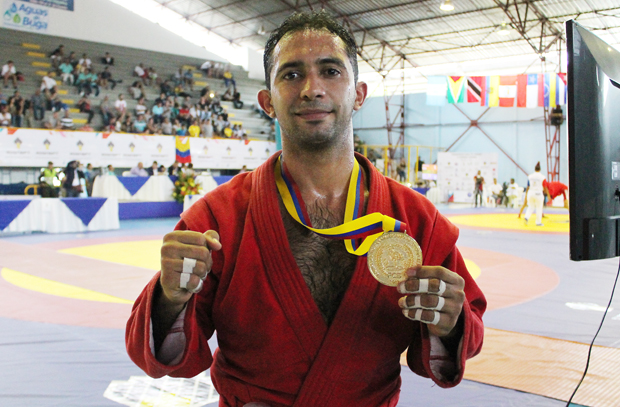 «I`m very satisfied with my results as I`ve managed to win two gold medals within two days. During the first day I took part in sport SAMBO competitions, while during the second day I switched to combat SAMBO. I managed to achieve such results due to hard training, attention and concentration. I want to thank my family for their support, it helped me earn two gold medals. I almost always look calm as I don`t like being expressive, but I`m still very happy.  
I love combat SAMBO, as every fight is accompanied with an adrenaline rush. In sport SAMBO it`s essential to come up with a tactical approach and work on your techniques, so it`s really interesting too. Comparing these two sports, I`d rather prefer sport SAMBO.  
Our national team traveled to Guadalajara-de-Buga by bus, it was a very exhausting trip. Probably that`s why our results were not quite significant during the first day. But then we analyzed the situation and our athletes finally got a chance to recover and prepare for the upcoming fights, so during the second day we won more prizes».
Sandra Timana (Venezuela), winner in the under 68 kgs weight category among women: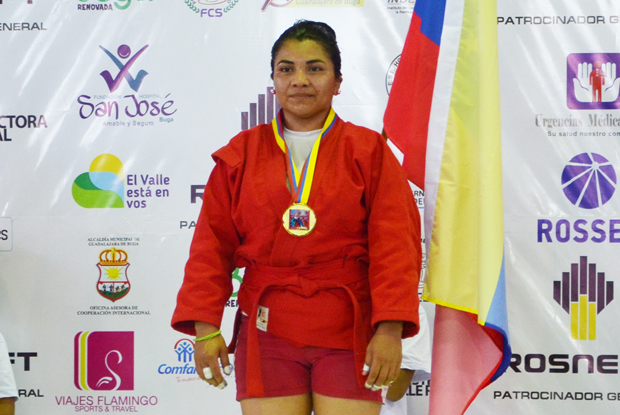 «Today I`ve managed to earn a gold medal, my opponent turned out to be really skilled, so the fight was close. I realized that it was going to be a real challenge as soon as we stepped on the mat. If you train a lot and participate in a large number of competitions, it only takes you a few seconds to evaluate the opponent`s skill. This fight was no exception. We`ve never met before, so I didn`t know what to expect from the Peruvian athlete. This fact contributed to my confusion. Now, after achieving such an important victory, I feel happy as a clam at high tide».
Daniel Aguirre (Colombia), winner in the under 82 kgs weight category among men: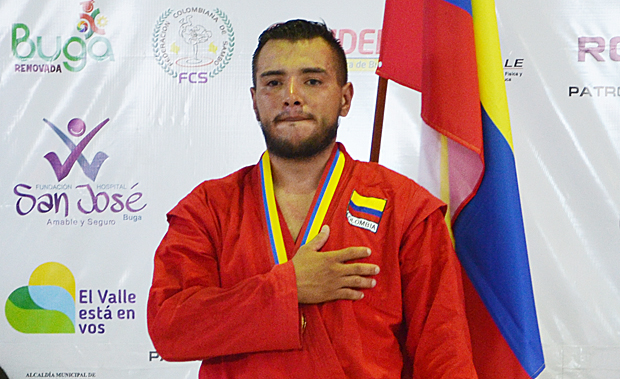 «The fight turned out to be really hard. I didn`t only have to show all my skill, it was also important to come up with suitable tactics. At first I had no idea how exactly I would fight, but then I took a tactical approach and won. It was very important for me to earn a gold medal at the Pan-American Championships, as it`s a big achievement for me, my team and my country. I also want to thank the fans, their support pushed me forward and helped me win».
Mirtha Nieves (Cuba), winner in the under 80 kgs weight category among women: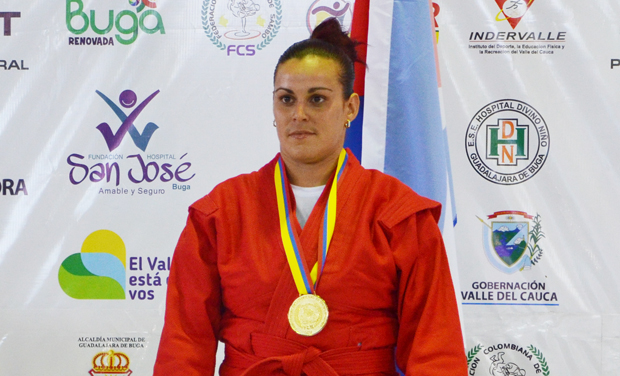 «The fight wasn`t particularly difficult as I`ve been training hard and I had a winning mindset. Don`t get me wrong, I don`t want to humiliate my Venezuelan rival, she showed considerable skill, but I still prevailed. I`ve neither competed with Andrelys before, it`s also worth mentioning that I`ve participated in the Pan-American Championships for the first time in my life. However, everything turned out all right».
Michale Sullivan (the USA), winner in the over 100 kgs weight category (combat SAMBO):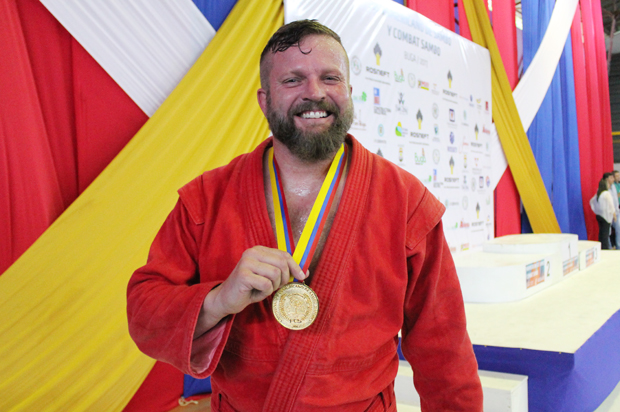 «I`ve managed to win a gold medal at the age of 47, so I`m not just happy, I`m super happy! In the finals I faced a really skilled Colombian sportsman. It was a close fight and I`m delighted to have prevailed. We all know, that boxing and wrestling are well developed in Colombia. So combat SAMBO is really convenient for Colombians as they`re free to combine striking and wrestling techniques. During the fight my opponent`s skill and commitment really astonished me.
I believe that a recipe for success comprises the following components: constant hard training, perfect understanding of the rules, realistic evaluation of your skills and self-confidence. I live in Colorado, there are many tough guys. They always give me a beating, so I don`t consider myself strong (laughs). Jokes aside, I don`t only work on my physical strength, it`s essential to work on your skill and techniques if you want to win. I used to practice Brazilian Jiu-Jitsu before, but then some Russian guys came to our gym and showed us SAMBO. I fell in love with this sport and decided to try my hand in it. And now, after years of hard training, I`ve finally won continental championships. It`s an amazing feeling!».