What Prize Winners of the First Day of the 2017 World SAMBO Championships Were Talking About
Personalities
11 November 2017
Aleksandr Solomahin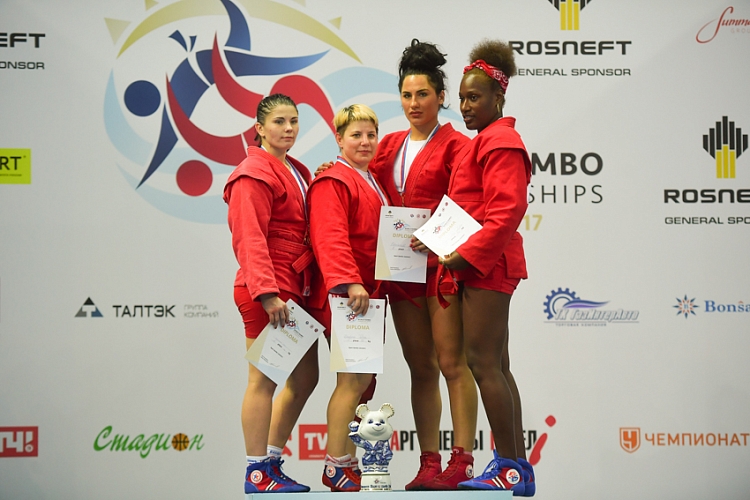 The 10th of November, the first day of the World SAMBO Championships in Sochi, is over. The outcome of the competitions had brought the names of prize winners in nine weight categories. Sambists have shared their emotions and impressions in the interviews for FIAS website.
Milene Wojciak (France), Bronze medal in the under 48 kg weight category among women: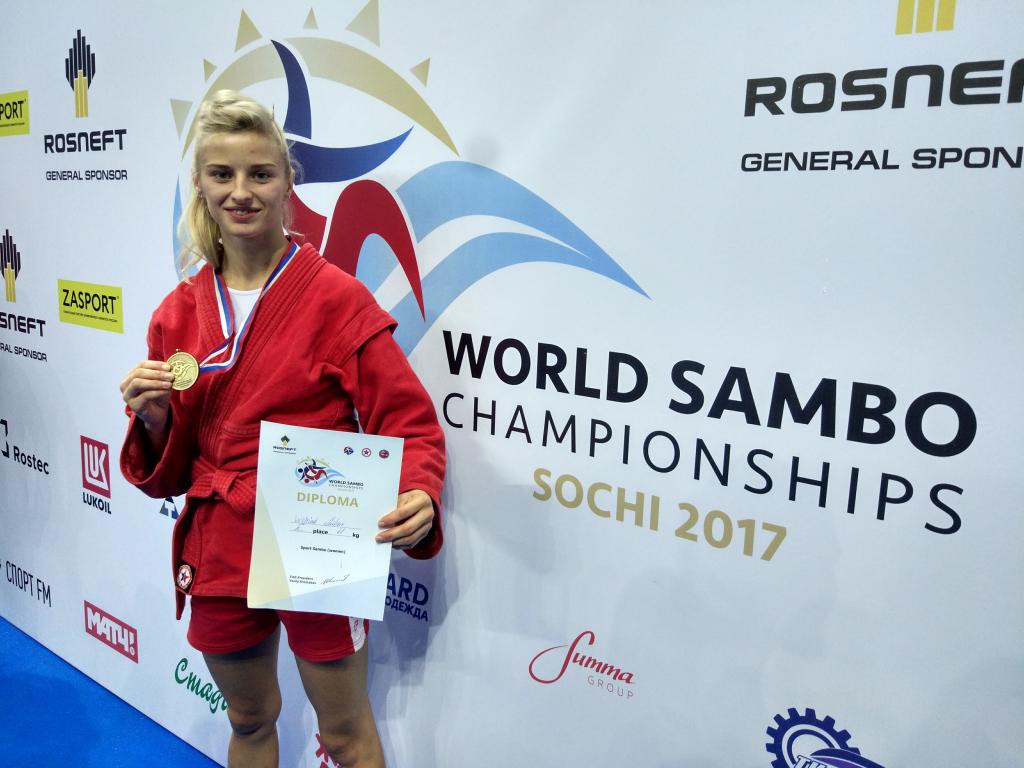 "I am incredibly happy, as I've managed to win a medal at the main SAMBO tournament of the year, the World Championships. Of course, deep in my heart I was always hoping that I'd do this, yet in the end, when I got on the podium, it was a really nice surprise which I'd given to myself. So far, this is my greatest achievement in SAMBO, while earlier I'd won Bronze at the World SAMBO Championships among students. I love SAMBO very much, because it is unpredictable, and everyone has a chance to win in competitions. Also, SAMBO is an excellent sport for girls who want to look stunning."
Maria Molchanova (Russia), Gold medal in the under 48 kg weight category among women: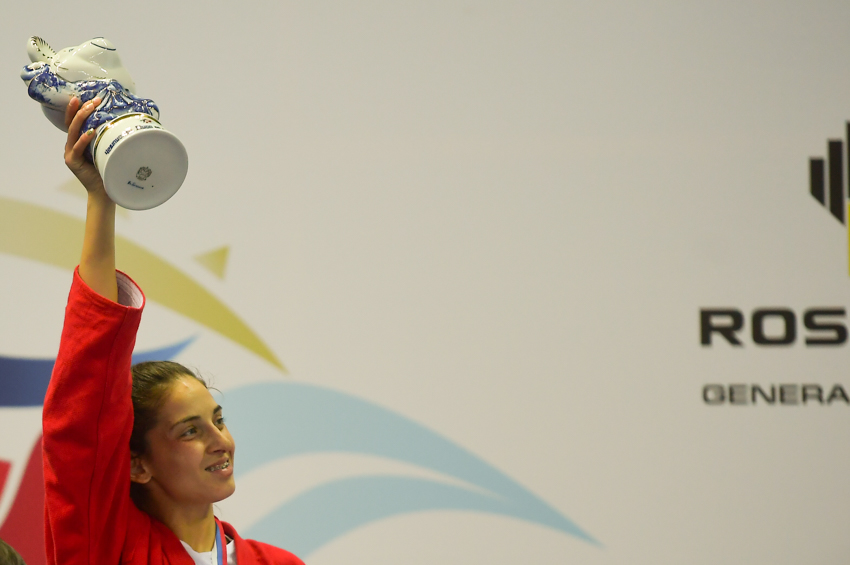 "Today I've achieved the most long-awaited victory in my career, although I had won Gold at the World Championships in 2011 in Lithuania and in 2013 in Saint-Petersburg. But after that I won Silver twice, and then I didn't make it into the national team at all. So, after winning the national championships and thereby getting my chance to go to Sochi I was training as hard as never before. And I'm not going to rest on my laurels, I want to become the strongest sambist in the world once again! This tournament gathered the real cream of my weight category: Leila Abbasova, Belarus, last year's Silver medallist, Maria Guedez, Venezuela, the 2015 world champion, Novikova, Ukraine… So psychologically it was pretty challenging, but now I know for sure that it`s easier to win at home!"
Laslav Soki (Romania), Silver medal in the under 68 kg weight category among men: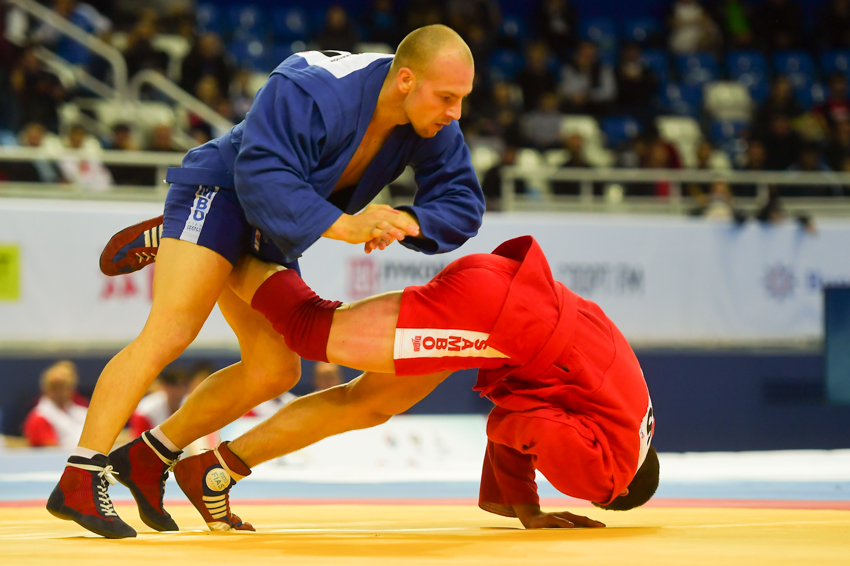 "Of course I'm content with the medal yet I was hoping to win Gold. I've reached the World SAMBO Championships' finals for the first time. I'm sure I've had a good chance to win this fight, I was strong enough for this, and yet I failed. I knew that my opponent was very tough, we'd been sparring partners for several times at a training camp in Russia. So I knew it would be difficult, besides, there were some new tricks in his technique. Though I've lost my finals I'm glad to be here in Sochi, the 2014 Winter Olympics host city, and to compete on the same arena with Olympic champions. I hope SAMBO becomes an Olympic sports soon, too."
Mukhtar Gamzaev (Russia), Gold medal in the under 57 kg weight category in Combat SAMBO: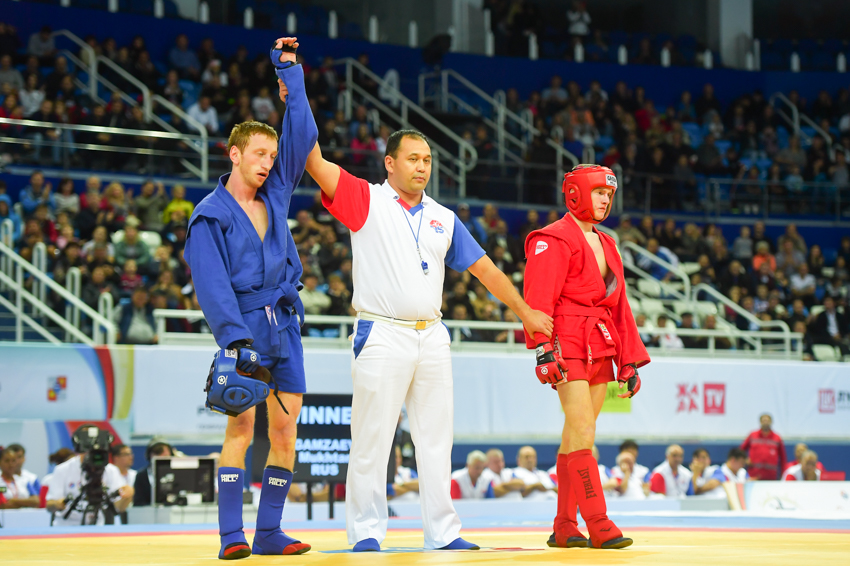 "I was competing with one thought: to win, to become the first. I was preparing for this event for quite a long time, for six years I was competing at the national championships and at last managed to qualify for the World Championships. And I was practicing a great deal and hard enough, under the guidance of my coach. The most dramatic moment of the finals for me was the episode when my opponent's performed a hold that brought him two points. At that moment I came to realize that I had to win at any cost. I was tired already, yet I had to win. That was the moment when I pulled myself together, I had nothing to lose, I was at the World Championships, it only happens once in a lifetime. It was important for me that the tournament was held at home, in Sochi. I felt the support of my family, of the audience, and of course it was a huge responsibility, greater than that of my opponents as I was competing at home. I was analyzing my opponent`s fighting style, I had watched a couple of his fights, but all this was not too important for me as I was entering the arena with one thought: to become champion!"
Anastasia Shevchenko (Ukraine), Gold medal in the under 60 kg weight category among women: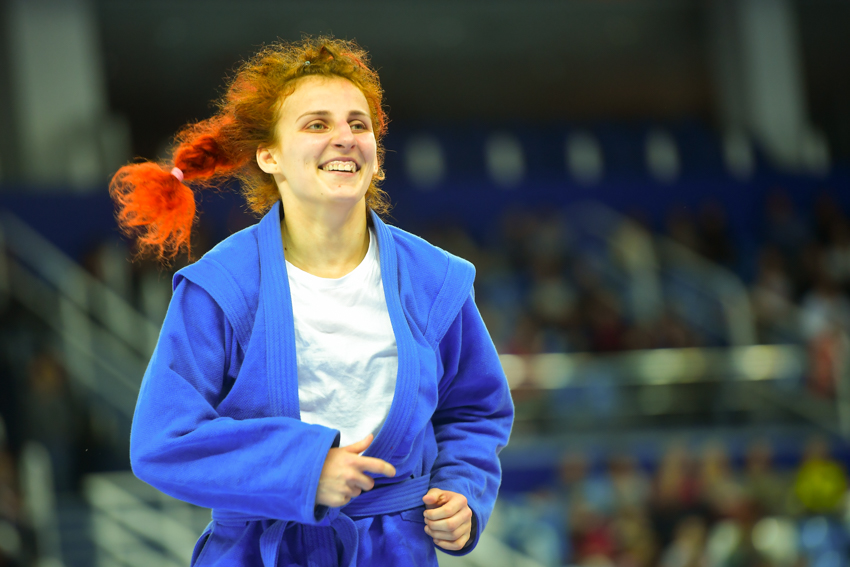 "I was the second at the World Championships last year, and now I've become the first at last. I'm so grateful to all who was rooting for me, who was supporting me, these are ineffable feelings indeed! It's curious that an armbar had brought me most of my victories at this tournament. I was losing the finals but somehow I contrived to exploit a small mistake of my opponent from Belarus and to win. Perhaps, I just wanted to win so much and not to let down all those who were cheering for me, my country, in the first place.
I want to dedicate my victory to my coaches. I'm very grateful to them and I`d like to thank Vladimir Vitalievitch Kapustin, Alexey Nikolaevitch Bakshynev, Oleg Anatolievitch Zaika and Evgeniy Nikolaevitch Bondaruk, coach of the Women's Team of Ukraine. I'm going to compete at the Championships of Ukraine this year, but even now, when looking back, I can say it was definitely my year: I became Champion of Europe in May, and now I`m World Champion!"
Malena Diaz (Cuba), Bronze medal in the under 72 kg weight category among women: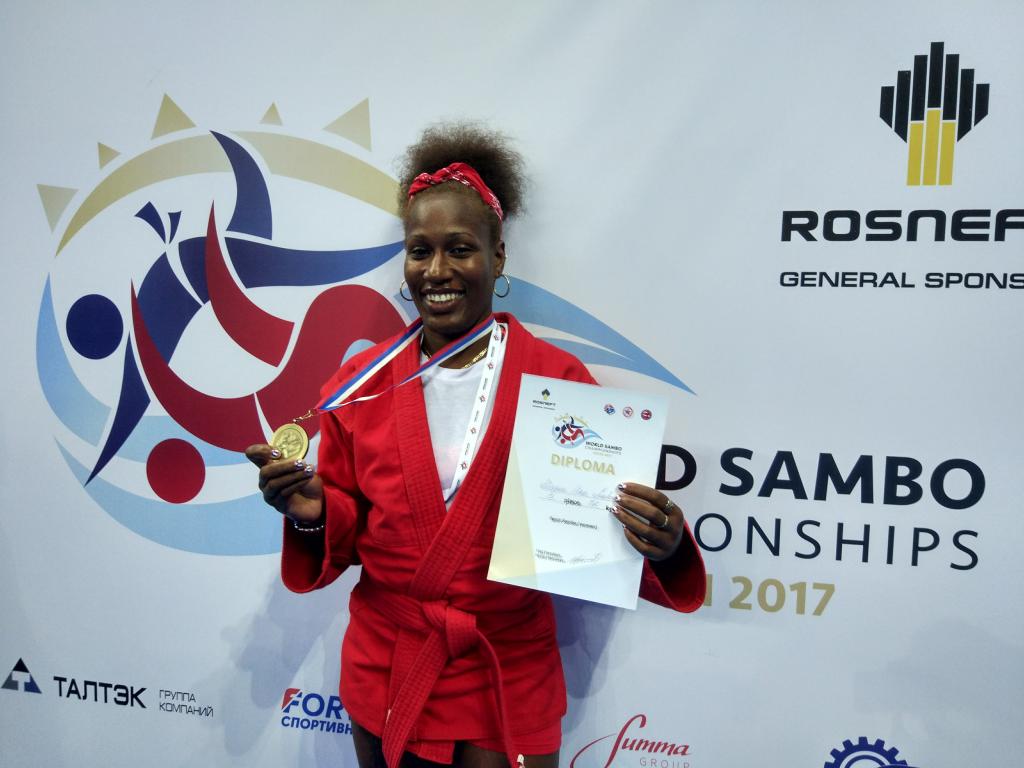 "This is the first medal not only for me but also for Cuba, in the modern history. Besides, this is the first and the only medal of the World SAMBO Championships for Cuba that was won by a woman. No doubt it is very important for promotion of SAMBO in my country. It took three attempts to win a medal, while at two previous championships I failed to take any prizes. I changed my weight category from 80 kg to 72 kg, I believe it helped me succeed. I enjoy SAMBO very much, and I want to dedicate my victory to President of our national federation who believed in me and was helping me out at hard moments."
Vladimir Balykov (Russia), Gold medal in the under 68 kg weight category among men: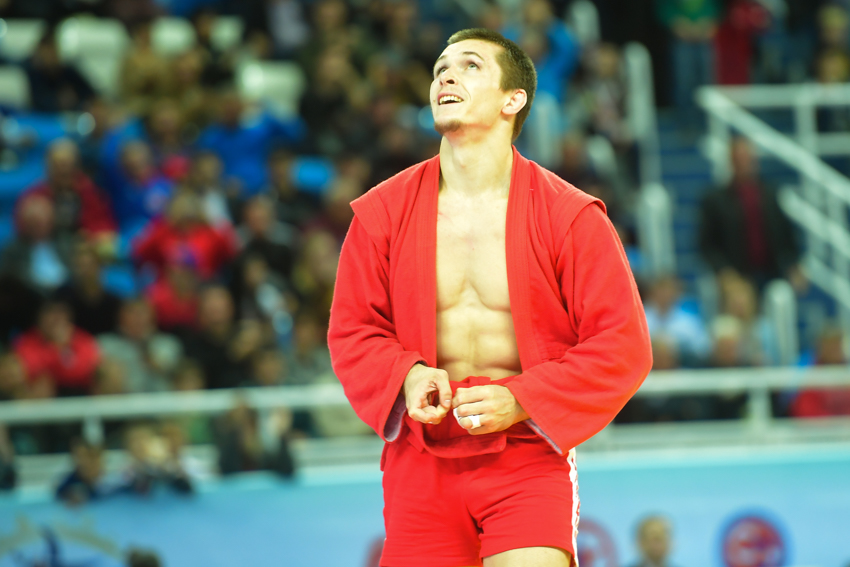 "It's astonishing, to win the first Gold in my career at the first World Championships at home, in Russia, in Sochi. The way everything is organized here is great, scrupulous, modern, full of care. They look after us, athletes, like after small kids here, transfer, feeding, everything is arranged in accordance with the highest standards. It was pretty difficult to predict the competitions outcome in my weight category, it was a blind draw as they were all pretty tough guys in our group, with a champion of Europe, and a champion of Asia among them. And every time it took me quite an effort to proceed to the next round. I was reaching semi-finals with a narrow lead of 1-2 points, but then things went charmingly, and I won my Gold ahead of time".
Beknazar Raimku (Kyrgyzstan), Gold medal in the under 74 kg weight category (combat SAMBO):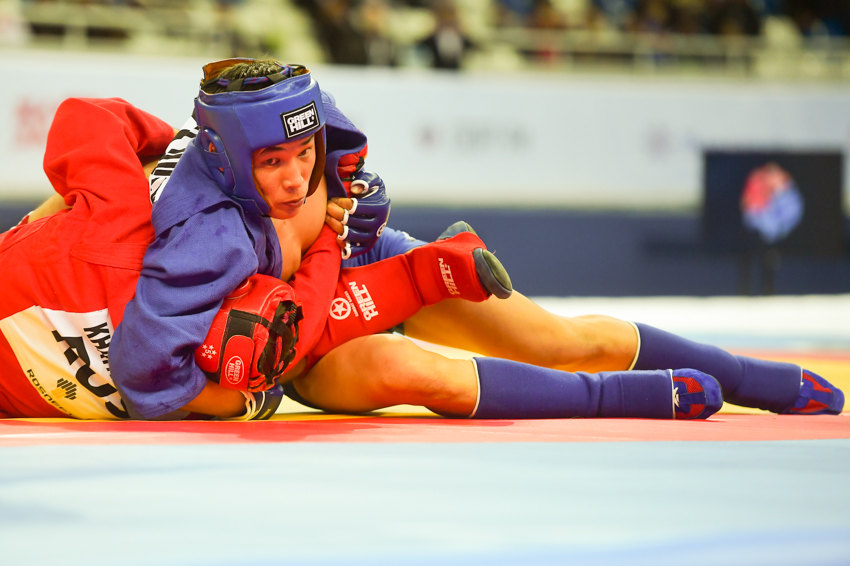 "I was not thinking on whether I'd be a champion or not. I was just moving forward step by step, getting myself ready for each fight that came next. And as a result, I managed to earn my Gold. I've never met my opponent in the finals before, I knew absolutely nothing about him and didn't make any special preparations. I just went out to show my best. This year I had won Gold first at the Asian Championships, then at the SAMBO tournament during the Asian Indoor and Martial Arts Games, thus, I came to the World Championships in Sochi being confident in my strength. On the whole, I've earned three Golds at major tournaments this year. This is a prize for my parents and fellow countrymen!"
Vadim Nemkov (Russia), Gold medal in the under 100 kg weight category in Combat SAMBO: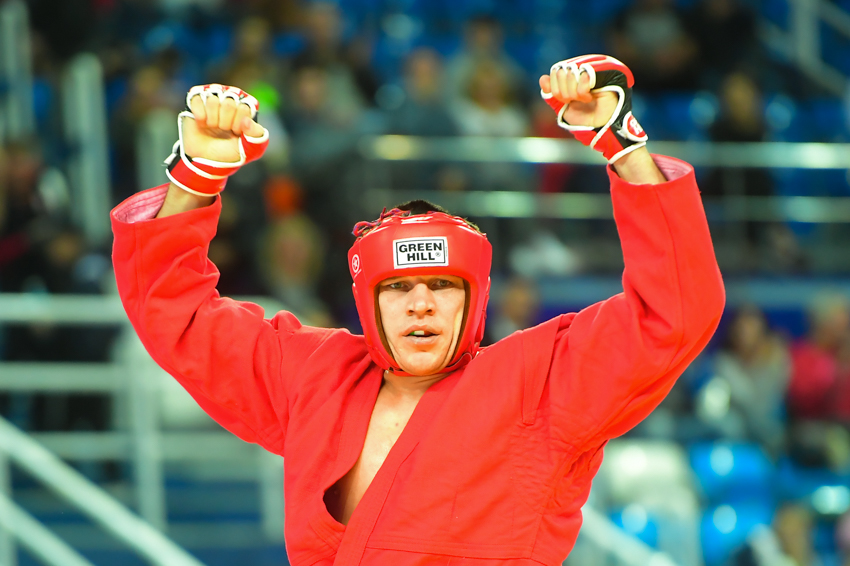 "The third victory at the World Championships is the sweetest one – I've won all fights ahead of time! I dedicate my victory to my daughter Polina, she was born on the 20th of October, so I only spent two days with her, then I set off for the team training. I've already competed at the World Championships in Russia, it was in 2013 in Saint-Petersburg. Then I was the third, but I thought I was compelled to be the first at home. Here, in Olympic Sochi, I've corrected that mistake. God it's inspiring! Now we'll take a little break after the World Championships in Sochi, and then start negotiations with Bellator, hope my next fight takes place in January. Until now, I manage to combine professional and amateur sports, and I don't plan to choose between them."