Reflections of the Prize-Winners of the 1st Day of the African SAMBO Championships in Morocco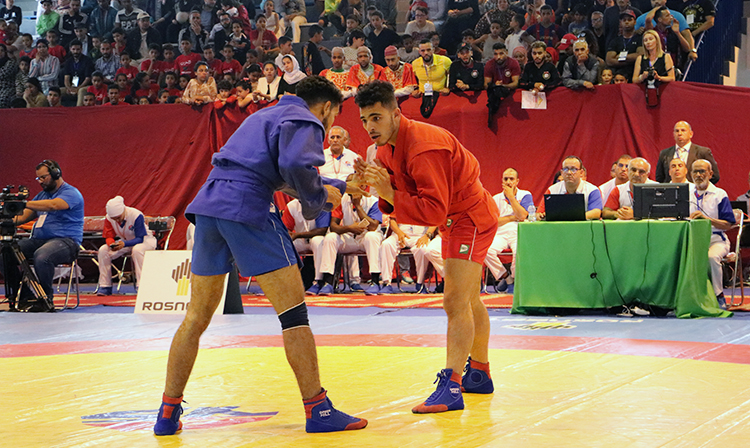 June 15, the first day of the African SAMBO Championships in Moroccan Casablanca is over. Sambists from 17 countries competed for 10 sets of medals among women, men and in combat SAMBO. The medal winners of the tournament share their emotions and impressions in their interviews to the FIAS website. General sponsor of the tournament is Rosneft oil company.
Mohamed CAMARA (Côte d'Ivoire), a silver medal winner in the up to 57 kg weight category among men.
- I feel slightly disappointed, since last year I won the silver at the African Championships as well, and this time I was willing to improve my result. But my Moroccan opponent proved stronger. I had met him on the mat several times before, and I've learned his wrestling style quite well. So I've chosen wait-and-see tactics banking on my opponent's mistake, nevertheless, I've lost. It's a pity, of course, yet it is a useful experience, as well.
William Celestin FOKAM (Cameroon), a gold medal winner in the up to 68 kg weight category in combat SAMBO
- As such, there is no secret of success: it is in the aggregate my commitment to the cause, strenuous training, and, of course, my coach's tremendous efforts. An ahead-of-time win in the finals over a Moroccan athlete was a pleasant surprise for me, since I was preparing for a full-time fight, especially since I had never met this sambist before. Coming on the mat, I was well-prepared and had my plan for the fight, as I carefully watched his previous combat with a Seychelles athlete.
Saleh FENGOUR (Algeria), a gold medal winner in the up to 68 kg weight category among men:
- My strategy for the finals was to fight till the last second. I won for the most part due to my mental efforts and will to win, due to my character, for I was falling short of my physical strength near the end. An additional inconvenience during the fight was a foul that I'd received, it was always on my mind, keeping me from taking chances. Today my dream came true — I won the gold medal of the African Championships. Now there is a new goal ahead, the World SAMBO Championships medal.
Sanaa MANDAR (Morocco), a gold medal winner in the up to 68 kg weight category among women.
- The finals happened to be rather demanding, as my challenger, a Cameroonian athlete, was a champion of Africa in the weight category up to 72 kg. At this tournament, she was performing in a lower category, in my weight class. As she was really very strong, both physically and technically, I counted on tactics: not just rushed to the attack but instead waited for the right moment.
Of course, the support of the stands helped me a lot: my whole team, my coach, and my family were there, and, of course, my little daughter whom I've promised to win, for she is my dearest fan.
Adlane GUERROUMI (Algeria), a gold medal winner in the up to 100 kg weight category among men:
- It was difficult to fight, as I had suffered a trauma, an injured rib. But if you feel self-assured as you enter the mat, then you don't think about the pain, the only thing you focus on is the combat. The most important thing here is to feel the fight and sense your opponent. In situations like this, your experience is your best helper. Fortunately, mine was enough to win.