Reflections of the Prize-Winners of the 2nd Day of the African SAMBO Championships in Morocco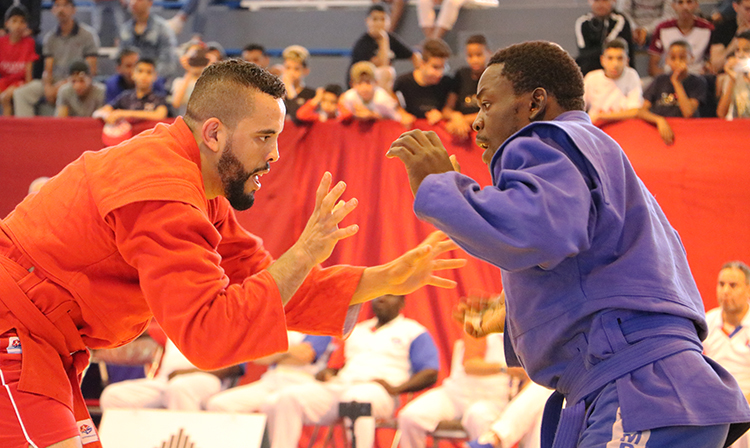 June 16, the second day of the African SAMBO Championships in Moroccan Casablanca is over. Sambists from 17 countries competed for 7 sets of medals in sports SAMBO among men and women, as well as in combat SAMBO. The medal winners of the tournament share their emotions and impressions in their interviews to the FIAS website The general sponsor of the tournament is Rosneft Oil Company.
Mauve Binocha MAHOUNGOU (Congo), a silver medal winner in the up to 74 kg weight category among men:
- This is the only silver medal of my country at these Championships, so for me it is especially dear. Reaching the finals of the principal African SAMBO tournament was to some extent a surprise to me, because I found out about my participation at the last moment as I stood in for an athlete injured on the eve of the trip. I had to demonstrate everything that I could do to win the cherished silver.
Raoul NDJIMA EHOWA (Cameroon), a gold medal winner in the up to 90 kg weight category among men:
- To me, the secret of success is God, because it is God who gives me the strength to win. Today I've won the gold medal, but this is not the limit for me. My goal is to move forward all the time, as far as possible. My ultimate goal is a victory at the Olympic Games, when SAMBO will be included in their program. And I never doubt that this will eventually happen.
Our national team, "the untamed lions", can boast an excellent SAMBO school, in my opinion, the best one in Africa, and we are ready to prove this anytime, not only at continental championships, but also at the international tournaments.
Rouaj SAAD (Morocco), a silver medal winner in the over 100 kg weight category in combat SAMBO:
- I came in SAMBO from kick boxing, this is my first participation in competitions in this sport. In real fact, it was not easy to come on the mat against an opponent who is significantly superior to me in both height and weight. But I am a Muslim, and I never feel scared in such situations. In this life, I fear only God and my parents.
However, to defeat such an opponent you need tactics for the combat. On the mat, I was banking on striking technique and control of the distance, because the Cameroonian athlete was a former judoist. But I failed to win, as Nana timely reacted to my blow, by making a reap. He proved to be very accurate and scored a rightful win.