WHAT WINNERS AND MEDALLISTS OF THE SECOND DAY OF THE WORLD SAMBO CHAMPIONSHIPS AMONG YOUTH AND JUNIORS IN SERBIA WERE TALKING ABOUT
Personalities
15 October 2017
Sergei Grishin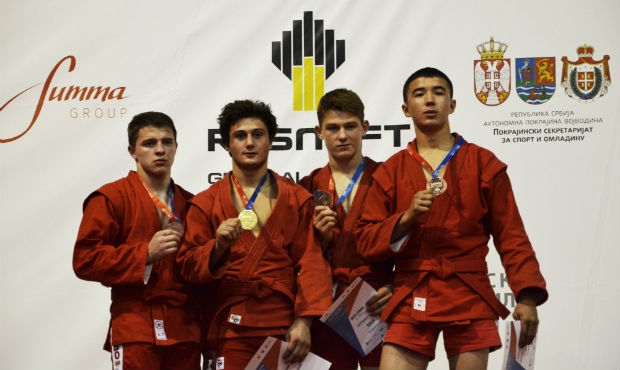 The second day of the World Sambo Championships among Youth and Juniors took place in Serbia on the 14th of October. Sixteen sets of medals were distributed during the day. Winners and medallists have shared their impressions about the competitions in an interview for FIAS website. The general partner of the championships is the "Rosneft" Oil Company.
Goga VARDOSANIDZE (gold, 52 kgs, Georgia):
- Determination is of great importance in any competition. I haven't seen my opponent fighting before, so I never had a chance to prepare properly for this fight in particular. So, it was the determination that made it possible for me to win the tournament. This is my first medal, earned at the World Youth and Junior Sambo Championships. I have also won the silver at the European Championships this year, which was my best result until now.
I am so excited, but, to be honest, I still cannot fully realise the fact that I have won. I want to dedicate my victory to my family, my coach, and, of course, to my girlfriend, Elene.
Mark LATYSHEV (bronze, 65 kgs, Moldova):
- I certainly came here for the gold, but I failed to win the very first fight against the athlete from Georgia, thus I had to fight for the silver. It was really hard to compete with sambists from different countries, but I have won the bronze medal and I'm very satisfied with it for now, even despite the fact that I actually came for the gold. I have already won the European Sambo Championships, but as for the World Championships, today's bronze is my best result so far.
SAMBO in Moldova is pretty well developed, that makes it possible for athletes to show decent performance at major sports events. We also have a constant inflow of new young athletes. My young brother is a two-time national champion, and he always wins. I hope he achieves even better results than I did.
Gitana KASPARAVICUTE (silver, 44 kgs, Lithuania):
- It was difficult to win this medal. My coach says my character prevents me from fighting tenaciously. My techniques and strength are quite good, but as for character, it actually brings some troubles. By the time I reached the finals, I had been so determined that I had shown my best already. And this was the very reason for my loss, I believe. So I lost quickly and couldn't fight for the gold. However, comparing to my previous performance at the championships, when I didn't win any medal at all, I consider my current display to be very successful.
Yoana MANOVA (silver, 56 kgs, Bulgaria):
- I lost a tough fight, 1:2. Unfortunately, I ran short of strength and my will to win wasn't strong enough. A silver medal is still a medal, but I would never call it a success. I had a chance to win the gold, but I wasted it. Nevertheless, this is my highest award so far. I never give up, because there is a lot to come.
Nаstassia SHYBEKA (silver, 60 kgs, Belarus):
- I got really upset, because this is not the first time I have come second at the World Championships. I won bronze before as well, but never managed to win gold. This time I lost on fouls, that's even more frustrating, isn't it? I analyzed my opponent's technique beforehand, so I did knew how to fight her back, but it seems to me that I just didn't manage to show proper performance during the fight. My family and friends were cheering for me. They are at home and they watched a live feed on FIAS website. I guess they are also upset about my loss in the finals.
Aleksa KRSTIC (bronze, 68 kgs, Serbia):
- This is my first medal at the competitions of this level. Besides, it is the first award at the ongoing championships for my country as well. I felt a great responsibility upholding the honour of my country. I am very happy now. I would like to thank my coach and my club where I am currently training for getting me prepared for the tournament. The hardest fight was against the sambist from Belarus, but I managed to pull off a last-minute victory. By the way, I have become the second athlete in Niš, my hometown, who succeeded in winning a medal at the international SAMBO tournament. The first one to win a medal was my coach, Nikola Milošević. We have already spoken on the phone; he congratulated me on such an achievement. He is the happiest man in the world now.
Karyna SHUT (gold, 72 kgs, Belarus):
- I am very happy to be the first one to have won gold medal for my team. I hope they keep winning more and more gold medals. The first day of the tournament was kind of a fail for us, there were merely two finals, today's a bit better — four Belorussian athletes have reached the finals. Hopefully, tomorrow we will have even more finals and gold medals. I took part in the World SAMBO Championships among Youth and Juniors for the third time. I have won bronze at first, then silver, and here it is – my cherished gold! I also have the gold medal of the 2014 European Championships in my collection. I believe that today's medal is going to be a nice gift for my mom on Mother's Day.
Zelim TCKAEV (gold, 81 kgs, Russia):
- I have won the gold, but the final fight was nothing like I expected. It was over before time due to the injury of my opponent from Mongolia. At the beginning of the fight I saw an opportunity to perform a throw, and at the very moment I was ready to start, something went wrong with my opponent's knee. Honestly speaking, I didn't understand what exactly had happened: maybe, he didn't get enough warm-up time, or I hit his knee by accident or perhaps an old injury reminded of itself. I helped my opponent leave the mat after the end of the fight. I hope there is nothing serious. I wish him good health and future success in his sports career.
Liensy CHAPOTIN (bronze, 75 kgs, Cuba):
- The bronze medal of the World SAMBO Championships among Youth and Juniors is a huge success both for me and for my country. Doing a lot of training is a key to success. I want to dedicate this achievement to my coach. I would never make my dream come true without her help.
[Photogallery] WORLD YOUTH AND JUNIOR SAMBO CHAMPIONSHIPS IN SERBIA. DAY 2