WHAT WINNERS AND MEDALLISTS OF THE THIRD DAY OF THE WORLD SAMBO CHAMPIONSHIPS AMONG YOUTH AND JUNIORS IN SERBIA WERE TALKING ABOUT
Personalities
3 November 2017
Sergei Grishin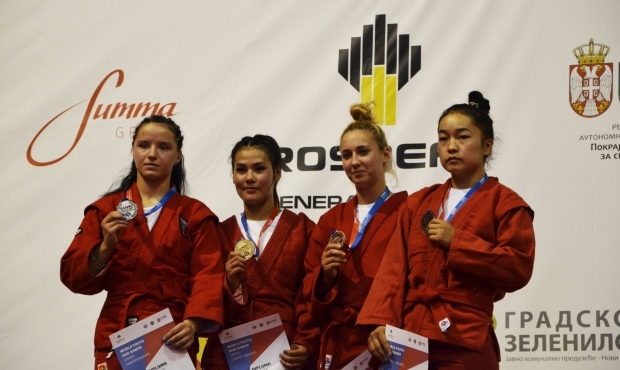 The third day of the World SAMBO Championships among Youth and Juniors took place in Serbia, on October 15. Twelve sets of medals were distributed during the day. Winners and medallists have shared their impressions about the competitions in an interview for FIAS website. The general partner of the championships is the "Rosneft" Oil Company.
Carmen SZATMARY (silver, 48 kgs, Romania):
- I faced the sambist from Kazakhstan in the finals, and I think it was the lack of experience that prevented me from winning the fight. I am happy, though, and so proud of my silver medal. I am going to participate in the European Championships among Cadets, let's see if I can bounce back there.
Zhadyra AMIRTAYEVA (gold, 48 kgs, Kazakhstan):
- This was the first time I had participated in the World SAMBO Championships among Youth and Juniors. I have won the gold medal, and I am happy to have got it right the first time. I did a great job while preparing for the tournament. And I was eager to win, so I fought as if my life depended on it. One thing I always prioritise in my training is fighting to the bitter end, or, more simply, — the determination. Guess that`s why I`ve won today, this was the determination as its finest. At the end of the final fight, I managed to perform a crucial counterattack and thus won the fight.
Vaiga CECYTE (bronze, 60 kgs, Lithuania):
- Bronze medal is certainly quite a good achievement, but I wish I could do better. My problem is that I cannot show my true worth at the very beginning. That`s why I perform poorly during my first fights at all competitions. When I saw my opponent, a sambist from Russia, I thought that I would lose it anyway. That is exactly what happened. I thought I would lose and I did. My mom is a coach. She couldn't watch me fighting, when I was a little girl, but as for now, she won't leave my side no matter what. She asked me once during the tournament, would I like her to act as a second or should she give it up to someone else. I said I want nobody doing it but her, she is my mom! By the way, it was her who encouraged me to start doing SAMBO. She had no-one to take care of four-year-old me, so she took me to the SAMBO gym. And here I am.
Klara DARMENBAEVA (gold, 60 kgs, Uzbekistan):
- To be honest, I still cannot believe that I am standing here with a gold medal in my hand. Amazing! It was hard to make it to the finals. But after the first fight I realised that the victory was not something unachievable, and I started to make my way steadily towards the finals. I think that I am the happiest woman in this hall now.
Stefan ZUPARIC (silver, 70 kgs, Serbia):
- Well, in my humble opinion, I deserved the gold, but referees did not think so. One can only accept their decision. It is worth saying that my rival in the finals was really good. Looks like he`s just better than me at the moment. Fight is something I always put my heart and my soul into. When I am on the mat, all I can think about is that here it is — my true life. The silver I won here in Novi Sad is the first medal of mine for Serbia at the World Youth and Junior Sambo Championships.
Valeriya ANISIMOVA (gold, 64 kgs, Russia):
- This victory means the world to me. I had a long, long way to the gold. I was always coming short of something. Perhaps it was the experience that I needed so much to win. I won the final fight before time, because I managed to successfully conduct a submission move. I'm truly happy now.
Leena VAN DEN BOS (bronze, 75 kgs, the Netherlands):
- I am very happy to have won the bronze medal. But I feel a bit upset at the same time, because my medal turned out to be the only one for our team at the World SAMBO Championships among Youth and Juniors in Serbia. I would like to thank my coaches who have helped me a lot throughout the tournament. My parents and my friends watched the live streaming on FIAS website. Of course, they cheered for me, and when I finally won, my phone was blowing up with greetings from them. It is a pleasure for me to make them happy.
Anastasia DODOSEVA (silver, 75 kgs, Ukraine):
- The silver is quite a success for me. I could not give my best due to the injury. I was also afraid of any possible complications and did not want to take risks. Perhaps this was the reason for my loss in the finals. However, I consider myself very lucky to be here, to participate in the World SAMBO Championships among Youth and Juniors. I would like to dedicate this medal to my father who came here for me and supported me all the way round.
[Photogallery] WORLD YOUTH AND JUNIOR SAMBO CHAMPIONSHIPS IN SERBIA. DAY 3