Reflections of the Winners of the 2nd Day of the International SAMBO Tournament in Kazan
Personalities
8 October 2019
Anton Orlov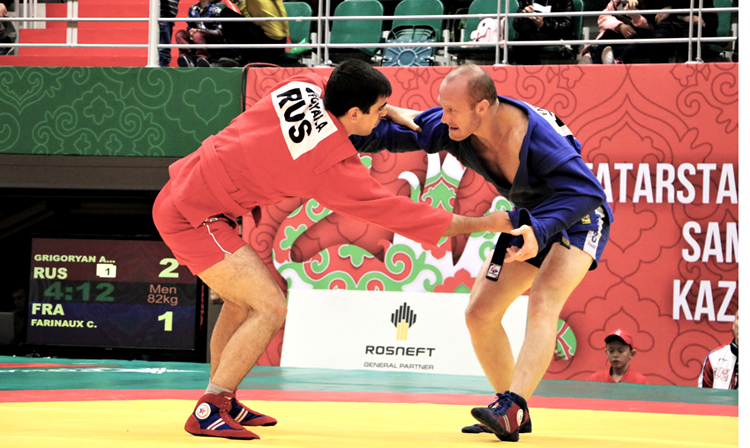 International SAMBO Tournament for the Prizes of the President of the Republic of Tatarstan was held in the Russian city of Kazan on October 4-5. The general sponsor of the tournament is Rosneft oil company. The emotions of the winners of the second day of the competition are in their interview for the FIAS website.
Lisa Maria OBERFOLL (Germany), a bronze medal winner in the up to 60 kg weight category among women: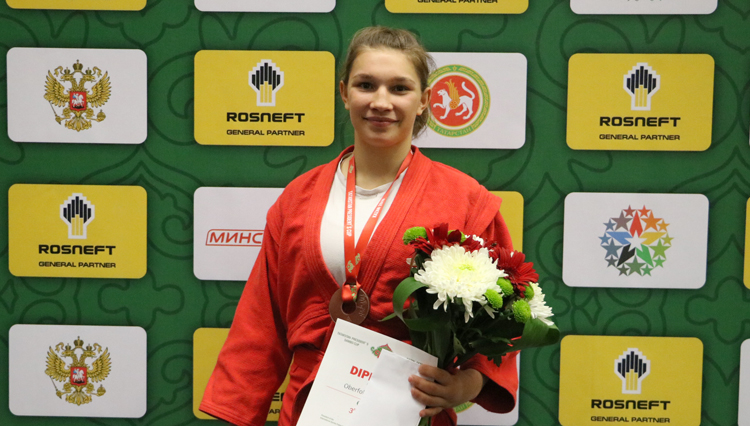 – I love SAMBO, it is a sport that makes it possible to fight by using the widest possible array of techniques. Today I ranked third, and I'm very happy with my result. Despite the defeat in the first fight from a Belarusian athlete, in the second one I was able to defeat a strong French sambist. I knew that it would be anything but easy, yet, against all odds, I managed to win.
Volha MALEIKA (Belarus), a silver medal winner in the up to 68 kg weight category among women: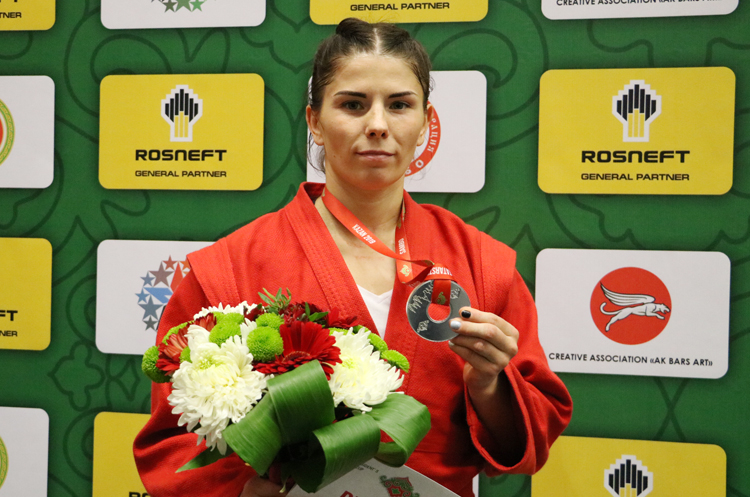 – There probably was a little lack of self-confidence and self-reliance on my part, for victory in the finals. Nonetheless, I believe this is a good start and a useful experience in the run-up to the World Championships in Korea. It's well-known that there are no victories without defeats, therefore I am quite philosophical as to my losing in the finals. The main goal was to test my strength, assess my readiness for the upcoming World Championships. Now I need to draw all the necessary conclusions and move on.
AYASI (China), a bronze medal winner in the up to 82 kg weight category among men: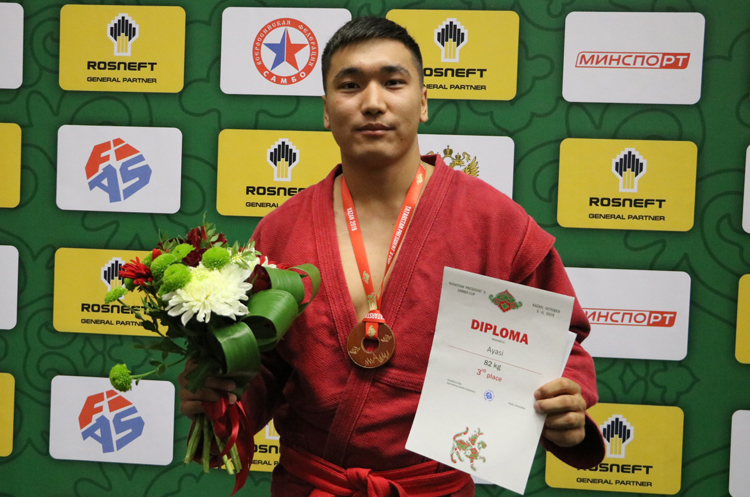 – For me, SAMBO is the best sport of all which not only provides useful knowledge and skills, but also gives unforgettable emotions. Today is a truly historic day, not only for me, but also for my country: I've become the first Chinese athlete to win a bronze medal at an international SAMBO tournament.
Despite the fact that at the beginning I'd lost to a French sambist, in the second fight I succeeded to defeat an athlete from Tajikistan. I am very pleased with the bronze, this is a big step forward that makes me believe in myself and set myself new, higher goals.
In the future I want to actively promote SAMBO in the People's Republic of China and teach this sport to all comers.
Corentin FARINAUX (France), a silver medal winner in the up to 82 kg weight category among men: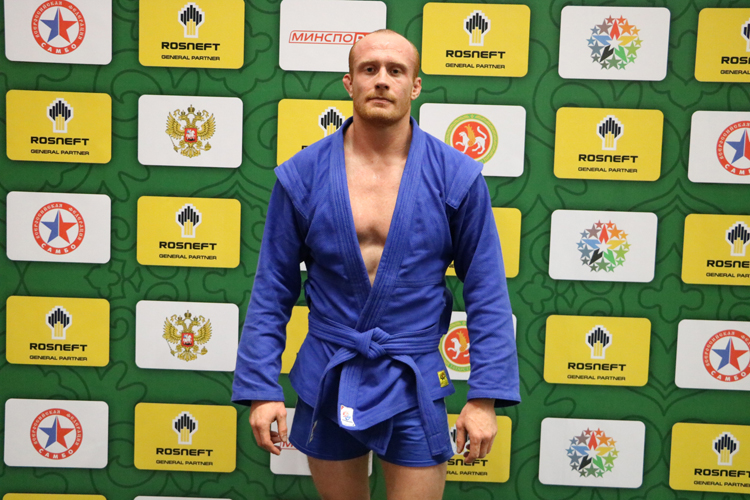 – I think that I've lost in the finals due to a lack of experience performing at major international tournaments. Although I must give the Russian athlete his dues, as he is very strong and better prepared.
I really enjoyed the competitions, all the athletes are of a very high level, each fight is worthy of the finals both in terms of intensity and will to win. Despite my defeat in the final combat, I think that this is a very good day. I've won two of my three fights, over the Chinese and Tajik athletes.
Participation in tournaments of such level is a great opportunity not only to test yourself, but also to gain new knowledge, new experience. This is a great chance to increase the level of your technical skills, as the World Championships and the III European Games are ahead, in which, I hope, SAMBO will be included.
I do love SAMBO, there are practically no restrictions in it, unlike in other martial arts. I am ready to wholly devote myself to this sport.
Kaiyrberdy AIDYINBAI (Kazakhstan), a gold medal winner in the up to 57 kg weight category among men: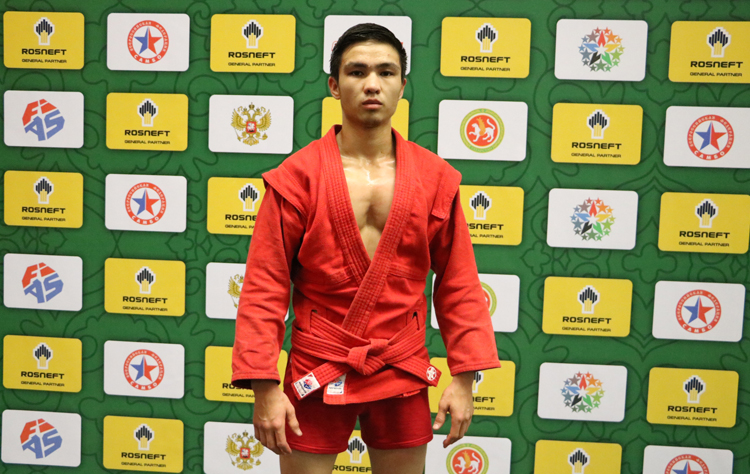 – The secret of winning lies in intense training and vast experience of participation in international tournaments. In my weight category, I knew all my challengers, carefully studied their combats, looking for their strengths and weaknesses. When coming on the mat against the Russian athlete, my task was to prevent the transfer to par terre, as the Russian was very strong in this kind of fight.
I am glad that I've managed to improve my result compared to last year when I ranked third, but I treat my success more as preparation for the World Championships in Korea.
At these competitions, everything appeals to me, from excellent conditions to the amiable atmosphere. I am confident that if all international SAMBO tournaments are held at such a high level, SAMBO will very soon be incorporated in the program of the Olympic Games.