What winners and medalists of the V Asian Indoor and Martial Arts Games were talking about
Personalities
25 September 2017
Sergei Grishin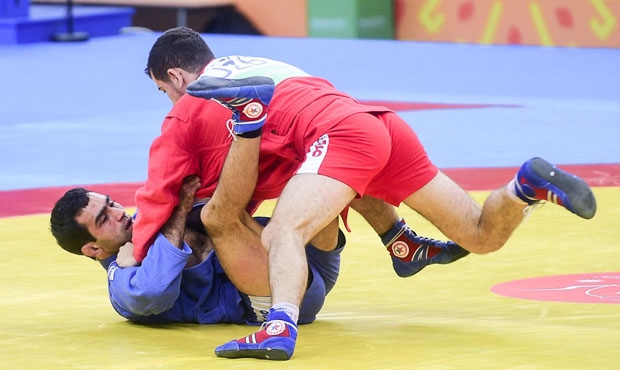 Nemat Yokubov (Uzbekistan), winner in the under 90 kgs weight category among men:
- It was not an easy victory. Though I was leading in the final fight with the score 7:0, the final score was 7:4. In the end I decided to take risk and lost 4 points, but luckily, I still managed to win. I must admit all my opponents were strong, especially the finalist. In the finals I failed to perform my signature move – the "windmill", but I managed to conduct a hold.
I would also like to thank the hosts of the venue for comfortable accommodation, training and competitions' conditions. It is very important so that a sportsman can prove himself and show his best.
Beknazar Raiymkul Uulu (Kyrgyzstan), winner in the under 74 kgs weight category among men in combat SAMBO:
- I had to train a lot in order to win the competitions. Despite the fact that I managed to become champion of Asia in Tashkent this year, this gold medal, earned at the Asian Indoor and Martial Arts Games, means a lot to me. Of course, it is a major success.
Begmyrat Meredow (Turkmenistan), silver medalist in the under 68 kgs weight category among men:
- The Asian Indoor and Martial Arts Games are high-level competitions, in order to win a medal at such a tournament you have to train hard day and night. It`s essential to concentrate on goal achievement and to have a proper daily schedule – sleep and trainings. Of course, the support of family members and fans is also very important. I would like to thank all fans; their emotions meant a lot to me.
Seyedmoha Saeedimadani (Iran), bronze medalist in the under 68 kgs weight category among men:
- This is the first SAMBO medal at the Asian Indoor and Martial Arts Games not only for me, but also for my country – the Islamic Republic of Iran. I hope it lays foundations for further victories of our sportsmen. Good results will let Iranian SAMBO athletes perform at higher-level competitions.
Getting into the list of the winners of major competitions has considerable effect on the development of any sport, SAMBO is not an exception. Young people who look at the sportsmen, getting on to the winner's stand, involuntarily start getting into this sport. It is also necessary to mention the prize fund, since this factor along with other advantages serves as additional motivation for the younger generation.
Today I am truly happy. In order to win the bronze medal I had to train hard. Unfortunately, I failed to win the gold medal, but I will train even harder in the future, so a gold medal is yet to come.