A special way of sambists from Trinidad and Tobago
Federations
24 August 2013
Sergei Grishin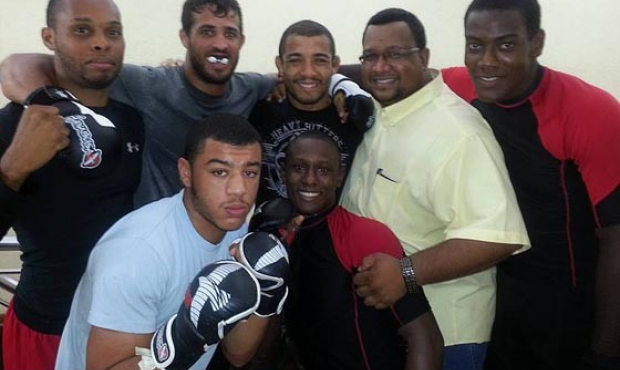 Different ways of sportsmen training for the Sambo World Championship are chosen by the Pan America National Federations. A few days ago the FIAS web page reported about the secret weapon of the sambists from Nicaragua, which helps them to carry out trainings with maximum effect. Today we are glad to present you a special way of sambists from Trinidad and Tobago. They decided to prepare for the SAMBO tournaments during fights with representatives from maximum number of other martial arts.
The national team of Trinidad and Tobago made its debut at the World Championship 2012 in Minsk, where participated in the category of combat SAMBO only. At the continental tournament in Panama this country's team was qualified for participation also in combat SAMBO among men. After having taken part in combat SAMBO on the first day of the competitions, the sambo wrestler from Trinidad and Tobago participated in sports SAMBO the following day. It's worth mentioning that results of sportsmen were more than successful. The team from this country took the second place in terms of the number of gold medals at the Pan America Championship. Only sambists from Venezuela managed to beat this result in the overall standings. However gold medals at this continental tournament were won by combat sambo wrestlers, which are renowed in this national team.
It's not a surprise that the Trinidad and Tobago Federation accepted the invitation from Brazil to participate in the training camp and sparrings with the Brazil national wrestling team. During two weeks at the Center of High Efficiency in Brazil sambists and wrestlers carried out joint trainings and sparrings every morning. Besides, sambists from Trinidad and Tobago carried out additional trainings in the gym, as well as joint trainings with current and ex-champions of the UFC Mixed Martial Arts at the UFC certified training center.
– I am sure that international practice and sparrings with representatives of different combat arts will help our sportsmen to prepare for the Sambo World Championship perfectly. Thanks to such trainings we gain competition experience and specific skills, which other participants of combat sambo competitions do not posses, said Jason Freiser, the President of the SAMBO Trinidad and Tobago Federation. – Today our sportsmen also adopt techniques and skills from judo, kickboxing, K-1, grappling and other martial arts. I suppose this will contribute to strengthening their skills and abilities applicable in combat Sambo.
Aleksandr Solomakhin
www.sambo.sport