A special gymnasium, a pro and an infant – the highlights of the Italian Sambo Championship
Competitions
16 June 2014
Sergei Grishin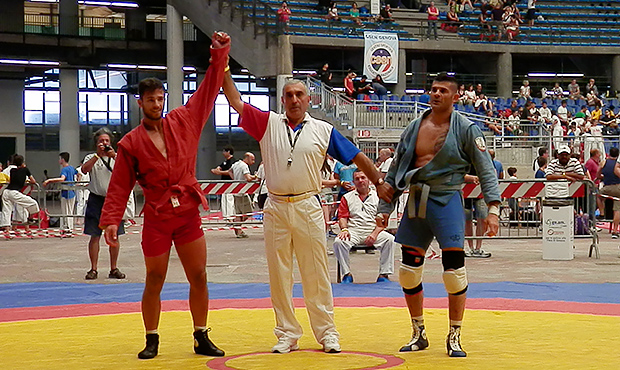 The Italian Sambo Championship took place on June 8 in Genova – the largest coastal city in the region of Liguria. Athletes from 9 regions of the country gathered together in Palasport FIERA di Genova Sports Complex to compete for the medals of the national tournament. Read the report of the FIAS site to learn how this championship is connected with local martial arts games, who of the competent judges was the chief judge and how an infant ended up on the top step of the podium.
The hosts of the championship decided to bring up symbolism into the competition already at the stage of the arena choice. A year ago the large and beautiful Palasport FIERA di Genova Sports Complex which accepted Sambo athletes was the place of a large national multisport tournament of the Martial Arts Games. Italian federations of 12 sports acknowledged by SportAccord, and Sambo among them, have united into one organization "Coordinamento Nazionale Sport Associati".
"We are working hand in hand in order to gain support and recognition from the national government. And holding a year ago of the national Martial Arts Games with participation of representatives of such sports as karate, wrestling, kickboxing, jiu-jitsu, aikido, Sambo, etc. aided the consolidation of our organization. Now we decided to hold the national Sambo championship in the same gymnasium," tells the President of the Italian Sambo Federation Roberto Ferraris.
The strongest Sambo athletes of the country took part in the tournament; some of them less than a month before competed at the European Championship in Romania. However, the youth, too, courageously decided to try their luck in duels with experienced opponents. Serious competitions should be overseen by judges of the highest level. This time the Chief Judge of the tournament was the internationally certified Judge Emin Rashi from Georgia, who works at the largest tournaments, including the world Sambo championship. Due to his competence not only the objectiveness of duels was provided, but local referees could learn from him right during the competitions, as well.
After the combat is over, the winners and the awardees enjoy the most pleasant time – the medal ceremony. The traditional procedure rarely distinguishes itself with variety, however, sometimes the athletes derogate from the protocol. Holding children in the arms when receiving medals has become almost a tradition in football; in Sambo it could be seen at the Italian championship-2014. The winner in the weight category under 68 kg Mattia Galbiati came out to the medal ceremony with his little daughter, bringing the new spirit into it. Will this tradition last? Time will show.
[Photogallery] Sambo Italy Championship 2014