Plastic Surgeon Khassan BAIEV: "All That I've Achieved is Only Thanks to SAMBO"
Personalities
27 April 2020
Aleksandr Solomahin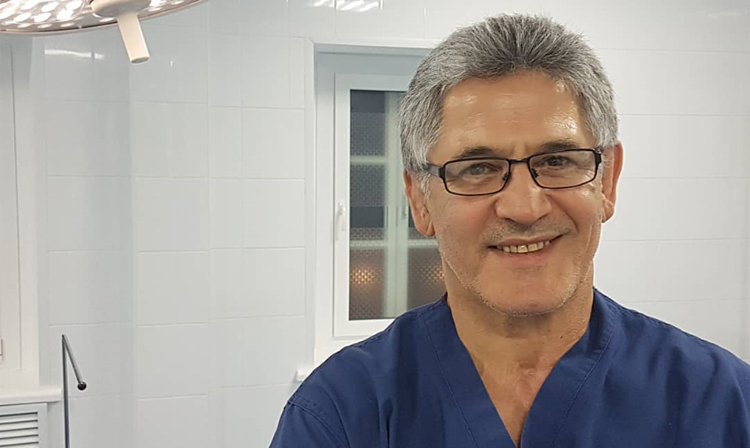 He was named Person of the Year in the United States, United Kingdom and Japan, received the international "Physician for Peace" Award. In the 1990s, he saved thousands lives by operating the wounded, was often held at gunpoint only because he was fulfilling his professional duty. In 2000, Baiev was forced to leave his homeland, and spent the next 15 years in the USA, building an enviable career there — and then he returned home again, to Chechnya. The first thing he did was to bring in the team of the International "Operation Smile" Charity Foundation, to treat children in Russia.
Yet, few people know that Khassan Baiev is a USSR Master of Sports in SAMBO who treasures his impressive collection of medals won at various international tournaments and who believes that it was sports that helped him stand the ordeals of life. In his extensive interview to the FIAS website, Khasan Baiyev glumly recalled the hardships he had suffered and spoke enthusiastically about his victories on the SAMBO mat.
Coronavirus, lockdown, strict regulations
- What are you doing now, when the global COVID-19 pandemic has been announced?
- As a health worker, I keep on working, though I observe the quarantine regime. I have been engaged in charity work for a long time, I operate on children from all over Russia and the countries of the former Soviet Union, gratis. However, now we had to cancel all scheduled operations, so we only perform emergency surgeries, treating children who need urgent help. Therefore, most of the time I spend at home in Chechnya and take care of my garden: planting flowers, watering the garden, mowing the grass.
- What is your professional viewpoint regarding everything that takes place due to the coronavirus outbreak?
- There is one kind of people who, having no idea what this disease is about, only pile up horror stories. All they do is browsing the web and trying to be clever there, with the only purpose to stand out. And there is another kind of people who behave rather carelessly, as they don't believe that the virus exists and thus behave pretty thoughtlessly towards themselves and others. Because of this, they can contract infection themselves, and infect their relatives and friends.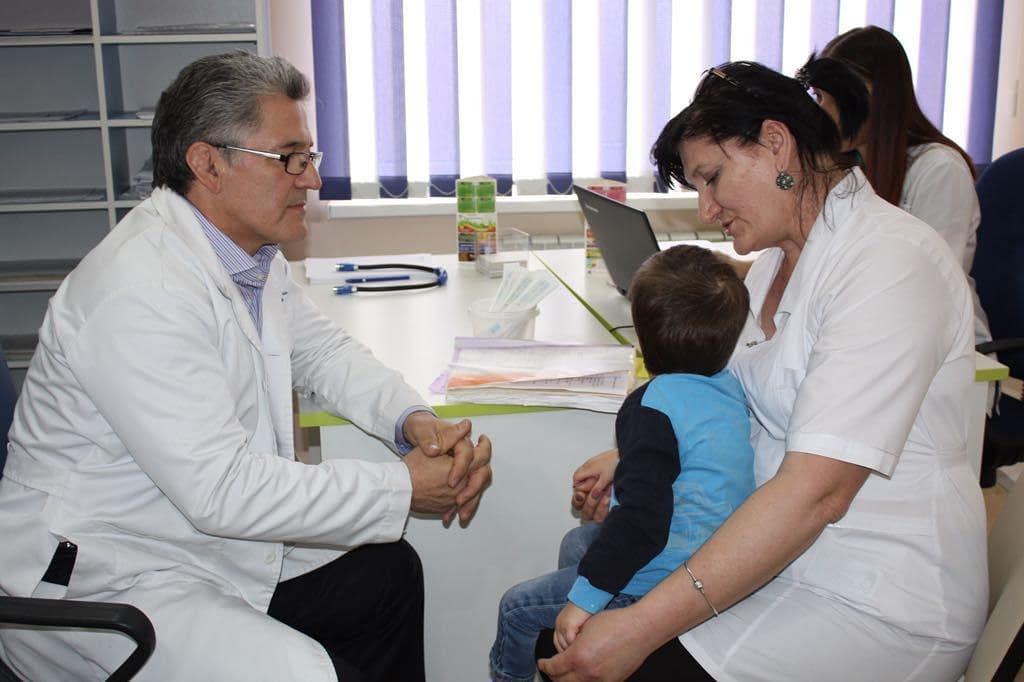 It must be clearly understood that there are certain rules that we must all abide by. Take it or leave it, but please be so kind to observe the lockdown, there's nothing difficult about it. Such rules are the best treatment that allows you to protect yourself and your loved ones from any danger. It is necessary to keep a distance, wash or treat your hands with an antiseptic as often as you can, wear masks and gloves. It is very important to avoid large crowds as well.
A wealth of experience, saving a cow
- Previously, you often had to see patients far beyond your medical specialism, say, with flu or ARVI. Is the situation still the same now or have there been any changes?
- In those days, there were merely no medical specialists around. We were in dire straits. And, of course, if you are a doctor, you ought to provide medical care to every patient. I had to deal not only with surgery. I had to act as a cardiologist, as a physician, as a traumatologist, as an anesthetist — I had to master all the specialties and treat people of every age group, children, adults, and senior citizens. In this regard, I've gained tremendous experience.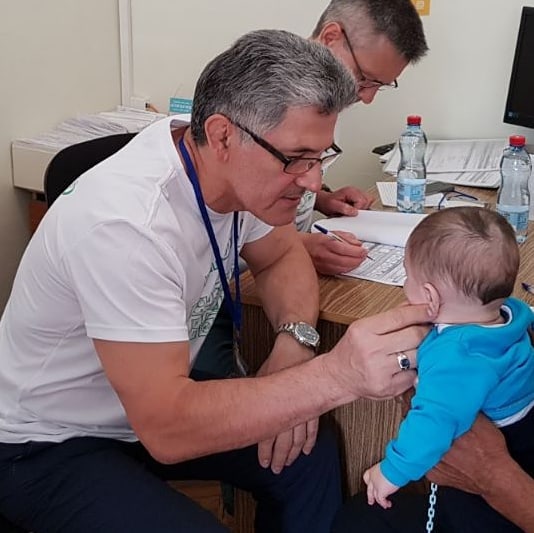 And who was your most unusual patient?
- Sad to say, not only people but also animals suffer. Cats, and dogs, and cows, and horses... I had to operate on a cow, although I was very busy with human patients at that moment. I was the only doctor catering for five settlements, with population of about 20 thousand each. It was like a huge assembly line! I was assisted by 8 nurses. For all this time, the wounded were regularly brought in, from one village or from another...
I hardly managed to operate on people, and suddenly they came and said, doctor please save our cow, a huge splinter hit its neck. I told them that I didn't have enough time to operate on people, and what I needed most was to operate on animals to boot. Then the cow's owner burst into tears, saying she had five children. "If my cow dies I have nothing to feed them on. The cow is my only hope, it feeds us all." Sure enough, I could not refuse because the life of those little ones depended on that animal. I came round their place and operated directly at their house and saved the cow.
I also had a chance to operate on a racing horse. It was hit by few splinters, too, and it was in critical condition, yet I managed to save its life.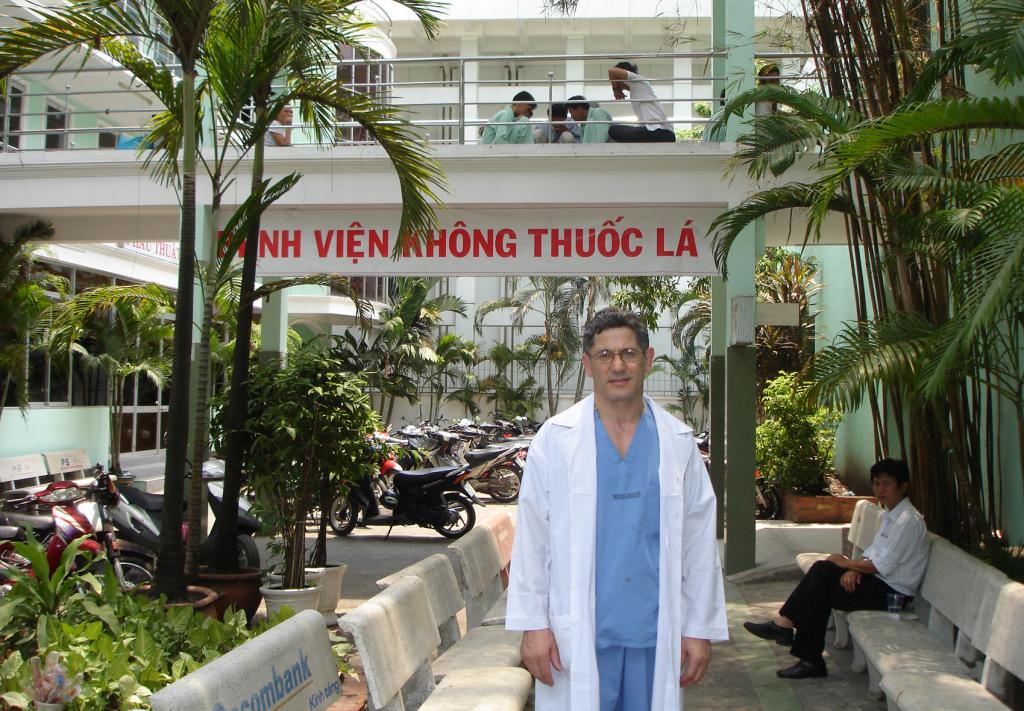 Strength, SAMBO, sports rehabilitation
- How did you manage to preserve yourself, to overcome it psychologically?
- First of all, it was my faith. I am a Muslim. Naturally, it is quite impossible to withstand such pressures with no faith. And the second — it was owing to the fact that my body was physically very well fit. Many were surprised how I stood at the surgical table all day round, performing 20-30, and sometimes 40 operations a day. This was all thanks to the sport.
I was much younger then, I was about 35. I used to be a professional athlete, was a member of the USSR national team in SAMBO and judo. Certainly, the sport helped me a lot, taught me to concentrate, to control my emotions, and to cope with all pressures.
- Please tell us about your journey in SAMBO. How did it all start, what did you succeed in?
- Back in 1976, I went in for SAMBO and judo, and eventually I became a Master of Sports of the USSR in these sports. In 1983, I should have taken part in the World Youth SAMBO Championships in Spain, but this never happened due to some circumstances. I then fought for the Krasnoyarsk Krai. Several times I was a medal winner of the Soviet Union SAMBO and Judo Championships, and also repeatedly won SAMBO tournaments of various levels.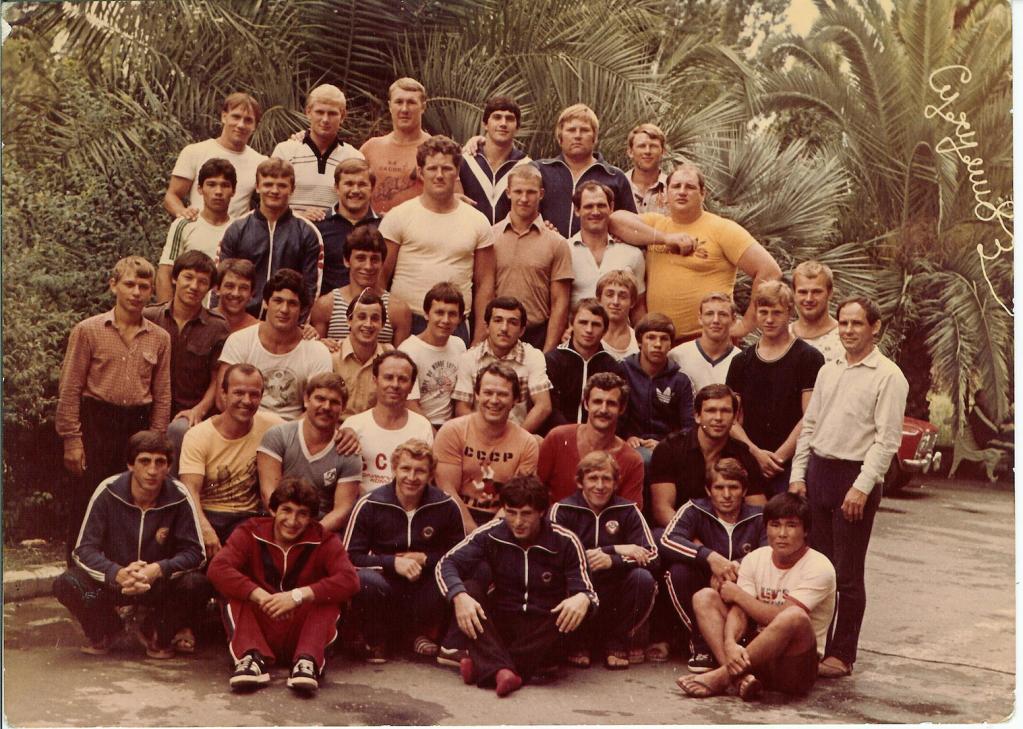 In the early 2000s, I left for the United States and after a 13-year hiatus, I began to practice SAMBO again. Frankly speaking, I trained to deflect myself from the events that I had to go through. I still had post-war syndrome. In order to recover emotionally and keep myself from thinking about it, I returned to my training. Sport has become a rehabilitation for me. Returning to the SAMBO mat and tatami helped me a lot. Those who saw me in the gym kept saying: you are in good shape, you've got potential, why don't you go in for competitions?
And then I tried myself. The first tournament was the Massachusetts Judo Championship. And I won 5 fights in a row with an ippon - I defeated everyone with one leg. Then I took part in the American Open SAMBO Championships where I also scored first. And since then I participated in various tournaments.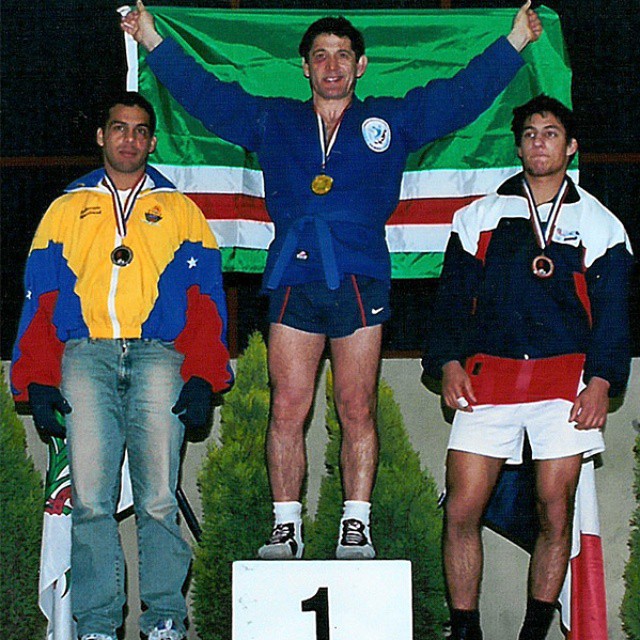 Apparently, my experience and the old Soviet school which was very strong were of great use to me. Following that, I won the US Open SAMBO Championships 5 times, won the USSA Open World / Pan Am SAMBO Championships, the USSA / FIAS West World Open Champions among Veterans.
World Cup, age, training
- What competitions have become the most memorable for you?
- At the SAMBO World Cup in France that took place in Nice in 2001, I stood out among the rest of sambists by my age. Even the photographs show this: all the guys were pretty young, they were 22-25, and by that time I was already shy of 40, quite a seasoned athlete.
One Swedish coach came up to me, asked about my age and said: "How are you going to compete around here? Everyone else is much younger. Aren't you afraid to get injured? By the way, I've brought a very strong sambist in your weight category, he is fighting really tough.' The only thing I said in reply was: "The mat will show."
Then we started fighting. In my first bout, my opponent was a very strong Venezuelan. He won many tournaments, even the World Championships, if I remember well. I defeated him with a score of 7:0. The second was an Englishman, I easily defeated him as well. And in semi-finals, I was matched against a young Frenchman, a national judo champion. Before our bout, everyone thought that he would win. We had quite a serious tussle. In the beginning, he led 8-0. But then I performed my favorite hip throw, and after that demonstrated a couple of other techniques: three throws by 4 points each. I took the lead, but at the end of the fight he caught me in submission hold. Every bone was crunching in my arm, but I withstood it and did not give up. Eventually, the time of the fight was over, and I won.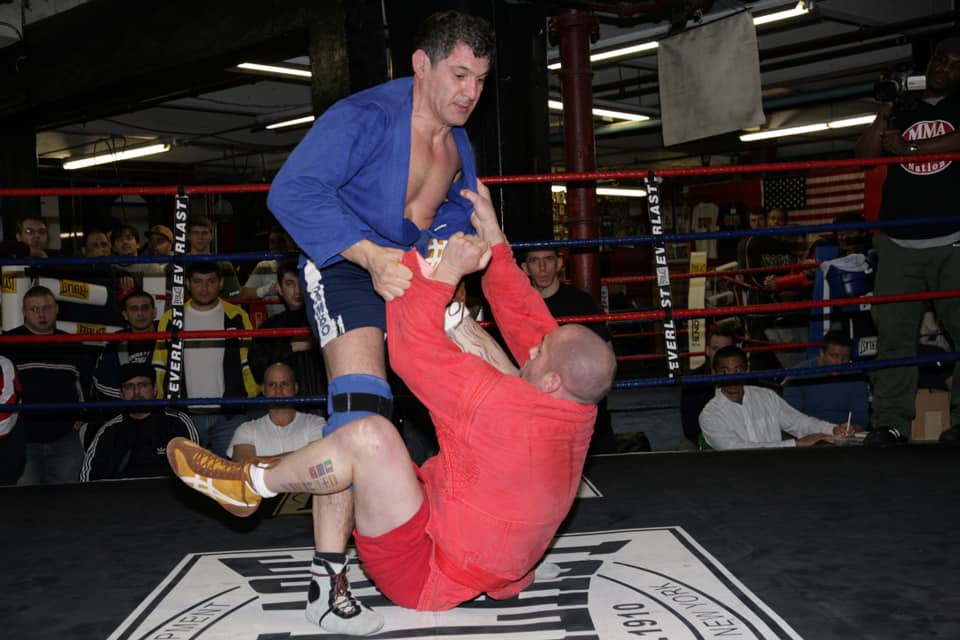 And in the finals I faced that Swede who their coach told me about. And I outstripped him in just a few seconds: three throws — and I am the winner. After the finals, his coach came up to me again, slapped on my shoulder and said: "There is a Russian saying — old plough horse does not ruin the furrow. Congratulations!"
The Soviet SAMBO School, of course, was very efficient. Most importantly, even though 13 years have passed before I started training again, yet I had a feeling that I'd never left the mat. Because all this was imprinted on my mind forever.
- And do you keep fit now? Are you still training?
- Certainly I do! For me, being in shape is utterly important. I always say: "How can a doctor cure anyone else if he himself is sick?" How can patients trust such a medic? Therefore, first and foremost, doctors themselves must be in good physical shape. During a daytime, I perform surgeries almost daily, and in the evening, as soon as my work is over, I go to the gym where I exercise regularly for 2-3 hours.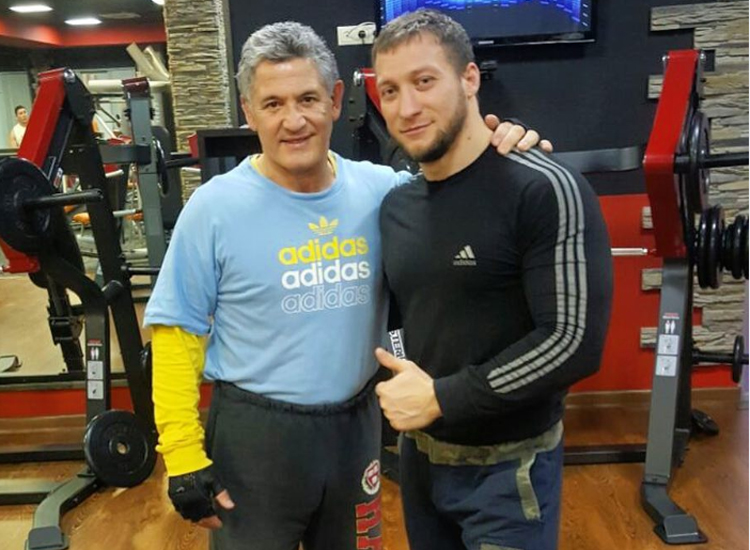 I really miss SAMBO mat, but I'm sorry to say I can't take such chances now. Because if I get a dislocation or some other trauma, I will not be able to operate. And I can't perform strong holds, because it will result in my fingers losing their sensitivity, and my hands will start trembling with tension. On the part of my profession, there are certain rules that I must observe, and therefore, to my great regret, I can't come on the mat again.
Immune system, discipline, SAMBO is life
- Could you say that it is easier for athletes to live through the hard times, such as a pandemic and whatnot?
- Absolutely true! Because they are hardy, they've got strong immune system, besides, athletes have discipline. And they've got no such fear as others. Athletes are much easier to tolerate hardships.
- You are a globally acclaimed surgeon, you went through serious life tests, and what does SAMBO mean to you?
- Without exaggeration, I can say that SAMBO is my life, my youth. I would like to thank the International SAMBO Federation and the entire SAMBO community worldwide. All that I've got today, all that I've achieved is only thanks to SAMBO. It is because SAMBO develops a man, their character, willpower and, most importantly, fosters their discipline.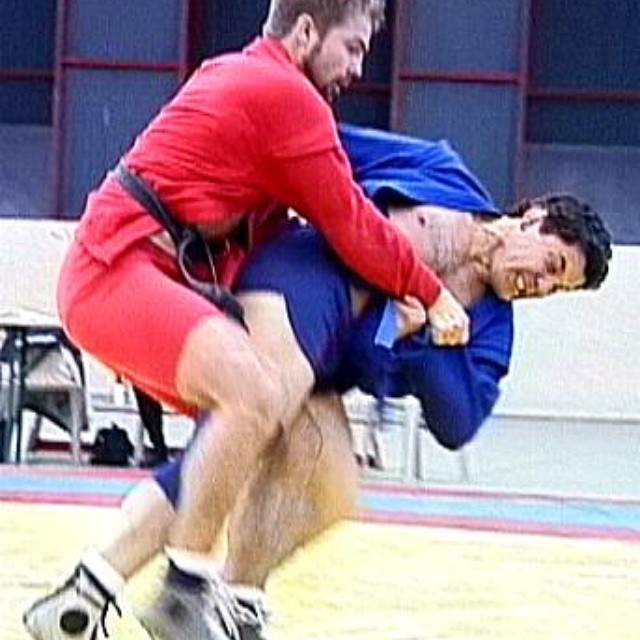 I really wish the young guys to go in for sports. SAMBO is a very spectacular kind of sport. And sport develops one's personality, athletes become smarter, wiser, they are more composed, patient and always respect both elders and younger ones. Therefore, I would like our youth not to squander their time on smart phones and computers, but instead spend more time in gym, training and becoming champions. And represent their country at international competitions.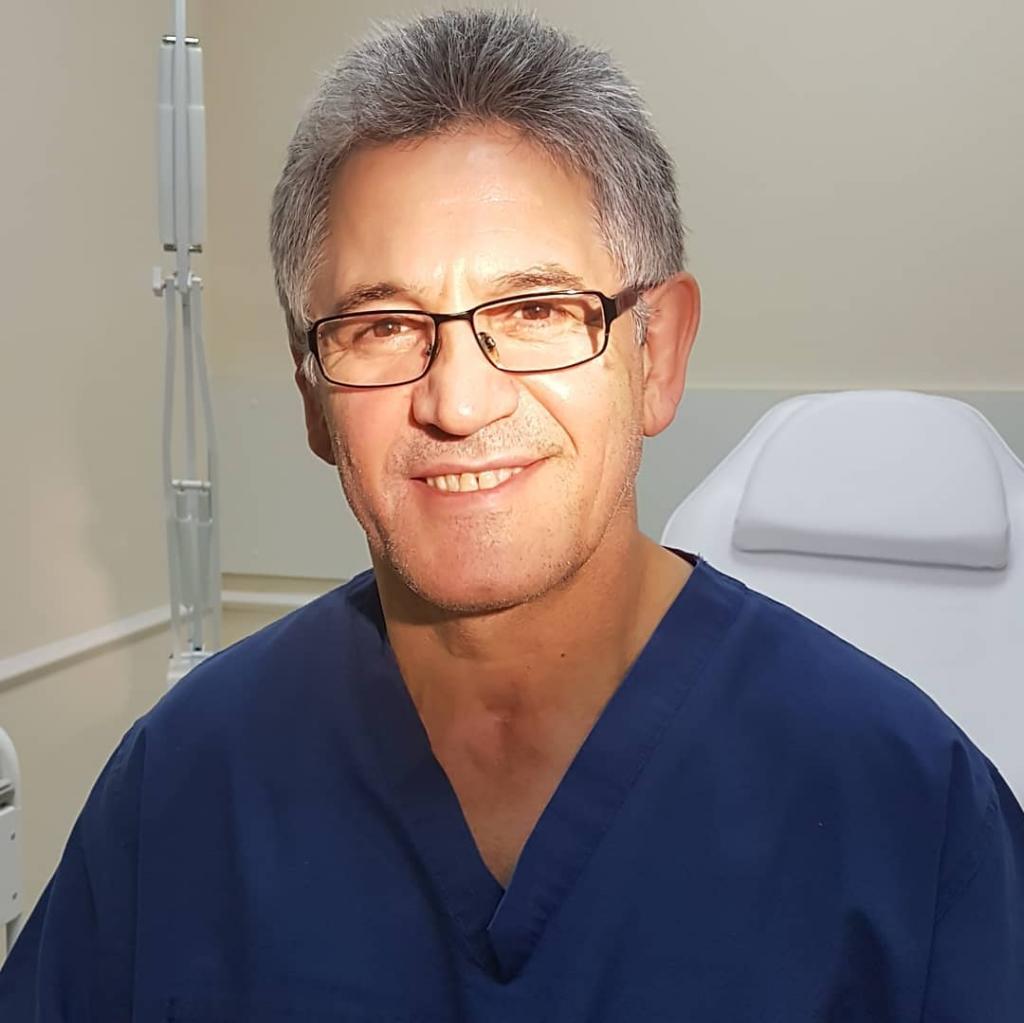 Photos and videos from the personal archive of Khassan Baiev