Press conference the night before the start of European sambo championship
Mass media
18 May 2017
Sergei Grishin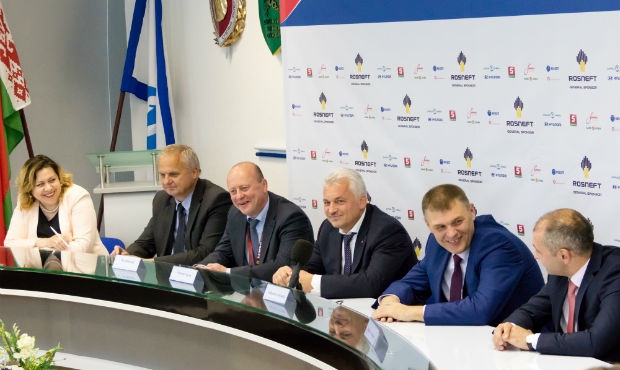 The night before the start of European sambo championship, which will be held in Minsk from May 19 to May 21, press conference, dedicated to this event, was held in the capital of Belarus. About curtsies and merits, when and where the first continental championship was held, why the Georgians train together with the Belarusians and why it is impossible to use doping in sambo – all this information is in live report on FIAS website. General sponsor of the tournament is Rosneft oil company.
Chairman of Belarusian sambo federation Aleksandr Korbusev emphasized that Minsk hosts European Championship for the third time.
"We are grateful to European sambo federation for being entrusted with hosting such high-level competitions for the third time. The best sportsmen from 30 countries of Europe gathered in Minsk to compete for the title of the strongest. Spectators in the stands of Minsk palace of sports will enjoy a 3-day spectacular show and of course will cheer for their favorite sportsmen. I am sure that our team will demonstrate excellent results and will bring joy to their fans. This tournament can be considered as preparation for the 2019 European games, within the frame of which, I hope, sambo tournament will be held", - the head of Belarusian sambo federation declared.
President of European sambo federation, Vice-President of FIAS Sergey Eliseev noted that hosting European Championship in Minsk is not an ordinary curtsy towards Belarusian federation.
"The right to host continental championship was granted to Minsk for its great tribute and results. Sambo wrestlers and the national team of Belarus are constantly among the winners at all major international competitions. The team is very competitive with acknowledged masters and gifted young wrestlers, - Sergey Eliseev said. – 45 years ago the first European Championship was held in Riga. It started with 7 countries and these days representatives of more than 30 countries arrived in Minsk. The level of athletic performance of rivals is high, competition has become more fierce, and that is why the struggle for medals is expected to be thrilling and close. It isn`t going to be a smooth ride even for acknowledged leaders".
President of Georgian national sambo federation Avtandil Cincadze said that Georgian national team prepared for the tournament together with Belarus in "Stayki" Olympic sport complex, situated not far away from Minsk.
Cincadze thanked the hosts of the championship for warm welcome and wished all sambo wrestlers good luck at the championship, which is starting tomorrow.
Head coach of Belarusian national team Vyacheslav Kot noted that the national team is comprised of the strongest athletes his country has to offer.
"Though we must remember that sportsmen, not names fight on the mat. Our training plan is 100% completed, sambo wrestlers are in top fighting shape, the fights will show who is stronger. Our team is in positive tune. May God give luck to the strongest!"
Answering the questions of the reporters, Sergey Eliseev told about the plans to reduce the number of weight categories.
"We plan to reduce the number of weight categories from 9 to 7. It concerns adult competitions. We also plan some changes in weight categories among young sportsmen. It is a forced reform since we apply for the International Olympic Committee. IOC recommended finding a new form and we are searching for it. African Championships ended a couple of days ago, during which the experiment of holding fights in 7 weight categories was conducted. We plan to hold such tournament among students soon. Then, we will analyze this situation, consider all pros and cons and make a decision", - FIAS Vice-President declared.
Reporters also could not avoid questions concerning doping, having asked what the situation with doping was in sambo.
"International Sambo Federation has received a letter of gratitude from World Anti-Doping Agency for energetic efforts in anti-doping activity, - noted Sergey Eliseev. We conduct drug testing at all major competitions. Moreover, we regularly train our sportsmen via seminars and interactive testing. It is worth mentioning that no matter what drugs one takes, they can hardly give you any advantage on the mat. Doping in sambo is useless; on the contrary, it can be very harmful. A sportsman who prepares for the competitions without using illegal substances is more confident on the mat during the fight, that`s why he wins".
Going back to the upcoming European sambo championship, Sergey Eliseev declared:
"Continental championships are always very tense. The teams` skill level has grown considerably. European Youth championship, which was over 1 month ago, showed that competition among young sambo wrestlers in various countries had also become stronger. One might as well say that sambo nowadays enjoys a rebirth, its popularity is growing. We have a new discipline "beach sambo" and practice has proved its effectiveness. Before people just toasted on the beach or played football. Now when we demonstrate sambo, half of the beach comes to watch. During Asian Beach Games in Vietnam video broadcasts of sambo in the Internet were the second most popular after beach volleyball among women. It is a big advantage, it`s actually drawing people`s attention to our sport. Sambo for sure will be on the program of the II European Games, which will be held in Belarus. That is why I'm sure that soon we will all meet in Minsk again at a major international tournament".
European sambo championship will be held in Minsk from May 19 to May 21. Online broadcasting of the tournament will be available on FIAS website.