What winners and prize takers of the third day of the 2017 European Sambo Championships in Minsk were talking about
Personalities
23 May 2017
Sergei Grishin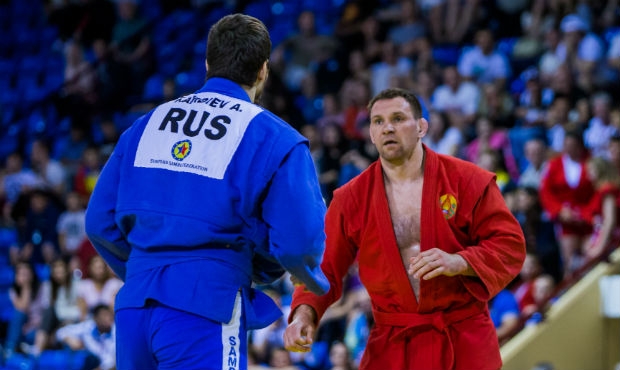 The closing day of European Championship was full of various events. Sportsmen fought for success both in individual competitions and did their best to make a maximum contribution in the team event. The emotions and feelings of those who succeeded and those who failed are in their comments for the FIAS website interview.
Laure Fournier (France), bronze medalist in the under 56 kgs weight category among women: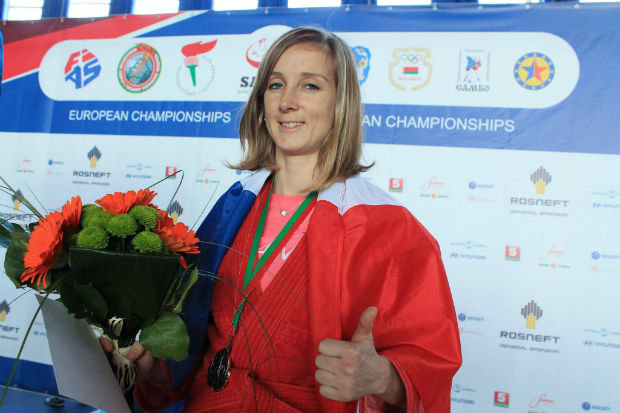 "I came to win a gold medal at the European Championships, but in the very first fight I was bested by Russian athlete Anastasia Valova, who is my "best rival". It was a good fight overall, but my rival turned out to be faster than me. This time I failed to win a gold medal, I will analyze my mistakes and I hope that next time I will be able to beat Anastasia. I already won a silver medal in 2013, a bronze medal in 2015 and this is another bronze medal. But my primary goal is a gold medal, of course, not only at the European Championships, but also at the World Championships as well".
Vadim Fomin (Estonia), bronze medalist in the under 62 kgs weight category among men: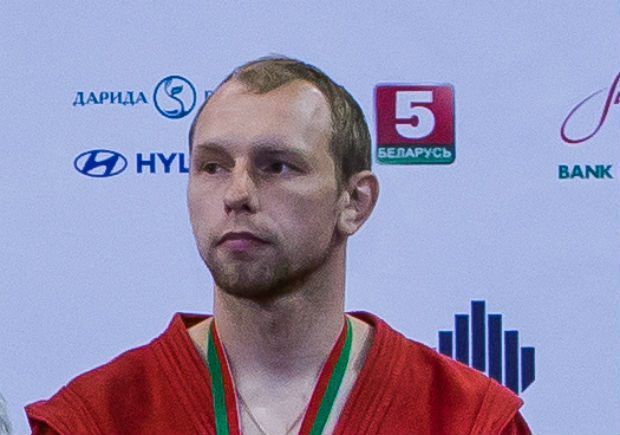 "One always wants more, but as it happens, I came third. I'm satisfied with my result overall. When I came to Minsk I aimed for a medal. During the tournament everything was ok. The drawing was good, I`ve failed to achieve the best result, but it was my fault.
Besides my bronze medal, our national team earned a medal in combat sambo. In Estonia sambo development remains at pretty much the same level. But we started getting more medals at international tournaments. Within the country it is hard to find good sparring partners. I work in a logistics company, I don't always have an opportunity to attend competitions, but I do my best".
Artur Saakian (Armenia), silver medalist in the under 62 kgs weight category among men: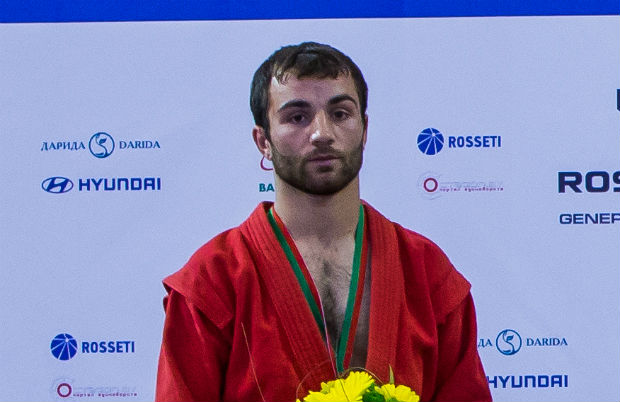 "I had a serious knee injury, that's why I couldn't fight in my full force in the finals. My rival performed a submission hold on my leg. My injury is quite old, two years have passed already. Experienced sportsmen can see weak spots, my todays rival was not an exception. Of course, I hoped I could win a gold medal, but I'm sure my best achievements are still ahead.
Antoine Lefèvre (France), silver medalist in the under 68 kgs weight category in combat sambo: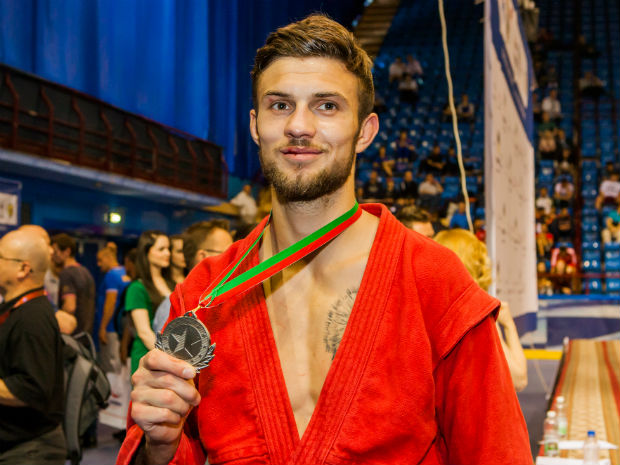 "My rival was taller than me, but that's not an excuse. I couldn't find a solution how to counter my rival. I need to train harder. He is more stable, stronger in striking techniques, stronger in sambo. He earned this victory. However, this silver medal is also a major success. It's my first medal at the European Sambo Championships, but not the first one at such competitions. I`ve already won a bronze medal at the World Championships in Sofia".
Natalia Ilkiv (Ukraine), bronze medalist in the under 56 kgs weight category among women: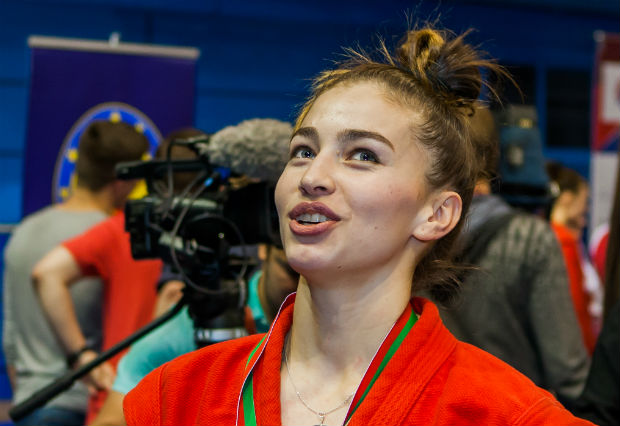 "The first fight at the tournament was hard – I faced a Belarusian sambo wrestler and lost on fouls. In the second fight with an Estonian sambo wrestler I immobilized my rival and then performed a submission hold. In the fight for the third place I competed with a Serbian athlete. It was a difficult contest, but I managed to win and came third.
I've been in adult sport just for a short while, I`ve taken part in the European Championships for the first time ever and I`ve come third. I think it's not bad. I don't know my rivals well yet, that's why I'll train hard and move forward to become the winner.
Although I've been in adult sambo for a short time I've made some good friends already. For example, Ivana Yandrych – she is my friend, we've known each other for a while. We performed together at cadet and junior competitions. Though we don't speak much about sport, we have plenty of girly stuff to discuss".
Ivana Jandrich (Serbia), silver medalist in the under 68 kgs weight category among women: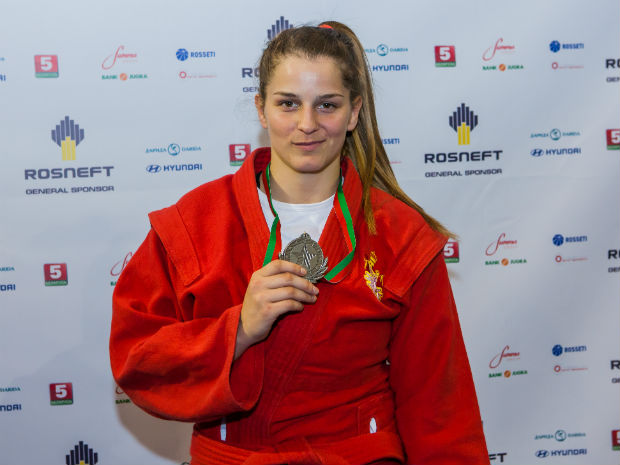 "I was very upset after the finals, I wanted to put up a good fight and demonstrate beautiful sambo. But it was the final fight at the Championships and I had proved to everyone that I was worthy to take part in it. Of course, I didn't expect this fight to last just for a minute. It's necessary to pay tribute to my rival, she really outcompeted me. All that is left to do is to continue training to become the first someday.
Overall a silver medal at the European Championships is a good achievement. Sambo is developing every year, that's why competition in every weight category is getting stronger. Reaching the finals is a good achievement for me, but of course I wanted more. One year ago in Kazan I failed to earn any medal, now I've got silver. Moreover, it's my second adult championship. I think that good times are yet to come.
Serbia will host the Youth Sambo World Championships this year and I'll do my best to promote sambo in our country. It is said that I'm widely considered a sambo ambassador in Serbia. I was the winner at the I European Games in Baku and the World Championships among students. I try to help in developing sambo in Serbia. Also I plan to graduate from college soon, but it's not the most important thing for me at the moment.
The Youth Sambo World Championships will be held in Novy Sad – it's my hometown. I'm very excited by this fact. I'm involved in the organization of the tournament, I hope that it will be a huge event in our country and sambo wrestlers from other countries will appreciate Serbia. I hope that everyone will like it in our country".
Anastasia Sapsai (Ukraine), winner in the over 80 kgs weight category among women: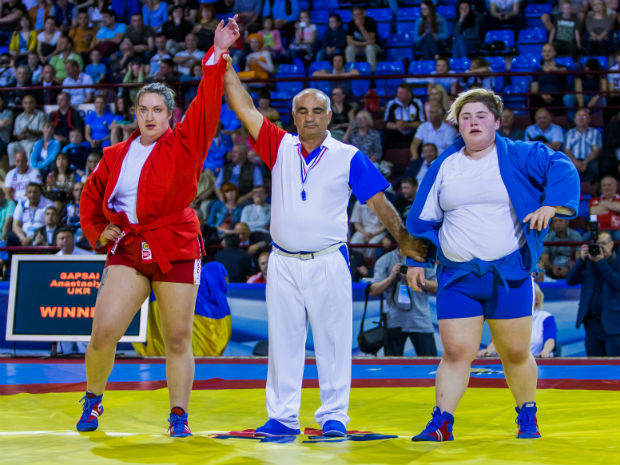 "I had a very strong rival in the finals. We've met many times before at competitions, the score of personal events up to this day was in favor of my rival. That's is why it was very important for me not only to win the finals of the European Championships, but also to outcompete this particular Georgian sambo wrestler. Now we have an equal amount of victories and losses in personal events.
The gold of European Championship is something beyond real! This victory means a lot to me. I realize that all my hard trainings were not in vain and that I've chosen a right way to achieve my goals. Gold medal is the result of my tremendous efforts. Former USSR countries are leaders in sambo since sambo was founded there. However it's obvious to me that the skill level of European sportsmen has grown significantly. It's great that sambo is constantly developing and is aiming to become Olympic sport".
David Fernandez (Spain), bronze medalist in the over 100 kgs weight category among men: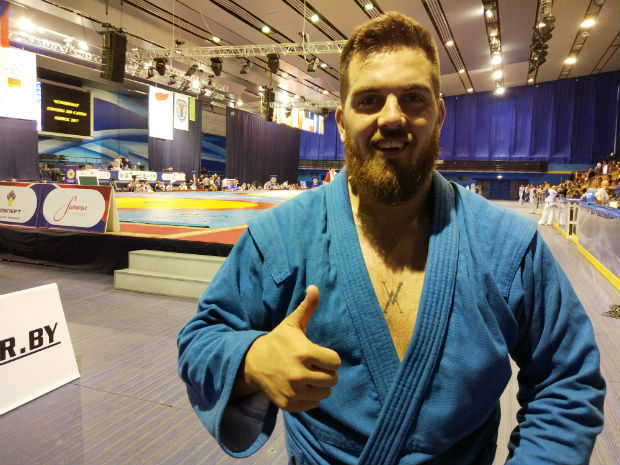 "I came to Minsk to win a medal. I won my first fight against an Armenian representative, then I lost to a Russian sportsman and failed to make it to the finals. The hardest contest was with a French sambo wrestler, since me and my coach didn't know that it was the fight for the bronze medal, we missed this information in the report. Only during the fight my coach learnt about it and shouted to me: do your best, you fight for the bronze medal. I went in for judo for a long time, then I discovered sambo. Sambo in Spain is developing rather well, but our skill level grows even faster at international competitions. We need to work hard in order to keep up with this pace".
Yuri Rybak (Belarus), winner in the over 100 kgs weight category among men: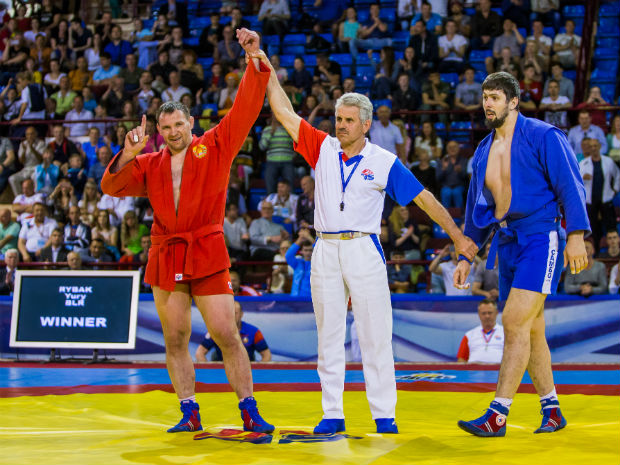 "I'm very tired, that's why I don't have any emotions left after the final, but it's a great pleasure. It was hard in the final, indeed, there are no easy fights on this level. I know my rival from judo, where he performed. It is my sixth victory at European Championships. The previous one was a long time ago – 5 or 6 years ago, I don't remember for sure. But my initial aim was to win a gold medal exactly at these Championships and I`ve managed to do it. I'm 38 years old, I'll try to perform at the II European Games in Minsk in 2019. I have such plans".