Sambo wrestlers competed for the medals of All-Ukrainian Student Games
Competitions
6 May 2017
Sergei Grishin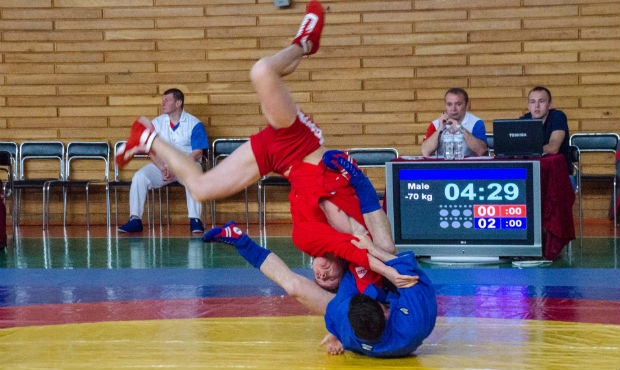 XIII All-Ukrainian Student Games were held in the student capital of Ukraine – the city of Kharkov. Sambo wrestlers competed for the tournament medals from May 4 to May 5.
According to Ukrainian National Sambo Federation (UNSF) 118 sportsmen, who represented 31 universities, from 13 regions of the country took part in the competitions. The hosts lived up to reputation of being alma mater of students, having won the team event.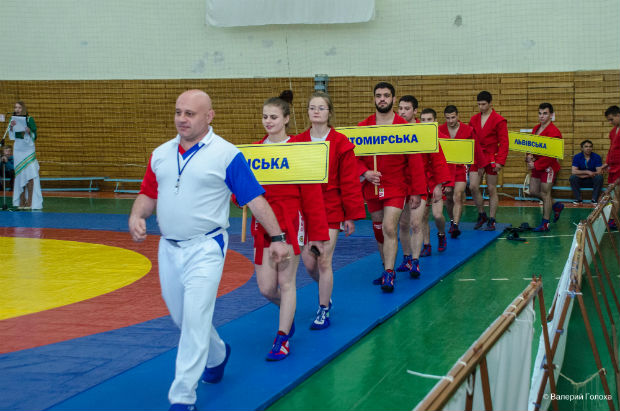 According to UNSF, those who had previously won medals at international tournaments also confirmed their status. Anastasia Shevchenko has naturally dominated the tournament, she became the winner of World Student Games in Cyprus in December, where the Ukrainians won 12 medals (4-4-4). Natalia Pilipenko, who had previously won a silver medal in Cyprus, has also won the competitions in Kharkov. Bronze medalists of the recent European youth championship in Prague – Sofico Bagishvili and Vladislav Berezka are also worth mentioning.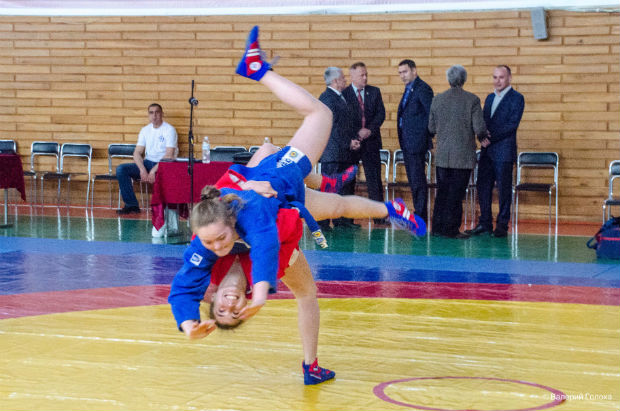 Team standings
1. The Kharkov area-1
2. The Kharkov area-2
3. The Lviv region
Men
Up to 52 kg
1. Vladislav PSHENICHNYY (Khar'kovskaya oblast')
2. Yuriy ZAYVELEV (Kiyev)
3. Yevgeniy CHEPURNYY (Kiyev) i Denis ARTEMCHUK (Odesskaya oblast')

Up to 57 kg
1. Maksim BELEVTSOV (Khar'kovskaya oblast')
2. Aleksandr DZEKAN (Khar'kovskaya oblast')
3. Imir BIKIROV (Khar'kovskaya oblast')

Up to 62 kg
1. Aleksandr MEDVEDEV (Khar'kovskaya oblast')
2. Taras KRAVCHUK (L'vovskaya oblast')
3. Denis KORCHINOV (Khar'kovskaya oblast') i Igor' YUSHCHUK (Odesskaya oblast')

Up to 68 kg
1. Aleksandr MOYSEY (Sumskaya oblast')
2. Maksim DUDYAK (Rovenskaya oblast')
3. Aleksandr GORBUNOV (L'vovskaya oblast') i Vladimir DONSKOV (Zhitomirskaya oblast')

Up to 74 kg
1. Artur SARKISYAN (Khar'kovskaya oblast')
2. Artur YEFREMOV (Cherkasskaya oblast')
3. Vadim BURCHAK (Rovenskaya oblast') i Sergey NAUMOV (Odesskaya oblast')

Up to 82 kg
1. Nikita MAKSIMOV (L'vovskaya oblast')
2. Vladislav GRINCHUK (Zhitomirskaya oblast').
3. Timofey BONDAR' (Kiyev) i Andrey DYACHENKO (Odesskaya oblast')

Up to 90 kg
1. Vitaliy SHEPEL' (Zaporozhskaya oblast')
2. Roman KONTAROVSKIY (Khar'kovskaya oblast')
3. Iveri KUCHAVA (Zhitomirskaya oblast') i Roman DEMIDENKO (Dnepropetrovskaya oblast')

Up to 100 kg
1. Artem GULYAYEV (Khar'kovskaya oblast')
2. Danila GUTSOL (Zaporozhskaya oblast')
3. Yevgeniy VEGERA (Khar'kovskaya oblast') i Artur GRECHAN (L'vovskaya oblast')

Under 100 kg
1. Vladislav BEREZKA (Khar'kovskaya oblast')
2. Aleksandr MINDILA (Khar'kovskaya oblast')
3. Aleksandr PETRUN'KOV (Khmel'nitskaya oblast') i Leonid GASYUK (Khmel'nitskaya oblast')

Women

Up to 48 kg
1. Sofiko BAGISHVILI (Khar'kovskaya oblast')
2. Inna GOMENCHUK (Volynskaya oblast')
3. Anna TANTSYURA (Dnepropetrovskaya oblast') i Ilona NAZARCHUK (Rovenskaya oblast')

Up to 52 kg
1. Yuliya ORCHAKOVA (L'vovskaya oblast')
2. Snezhana KUZNETSOVA (Khar'kovskaya oblast')
3. Anzhela TITARENKO (Sumskaya oblast') i Mariya CHERVAN' (Volynskaya oblast')

Up to 56 kg
1. Mariya SKORAYA (Sumskaya oblast')
2. Yekaterina CHERTIL (Khar'kovskaya oblast')
3. Tat'yana RADOSHINSKAYA (Volynskaya oblast') i Yana LOGVINYUK (Volynskaya oblast')

Up to 60 kg
1. Anastasiya SHEVCHENKO (Khar'kovskaya oblast')
2. Mariya DENISYUK (L'vovskaya oblast')
3. Viktoriya VOLOVIK (Khar'kovskaya oblast') i Sofiya YAKIMCHUK (Rovenskaya oblast')

Up to 64 kg
1. Diana SEMKINA (Khar'kovskaya oblast')
2. Yekaterina SKORAYA (Dnepropetrovskaya oblast')
3. Valeriya TANTSYURA (Dnepropetrovskaya oblast') i Veronika LAKHMAN (L'vovskaya oblast')

Up to 68 kg
1. Dar'ya REGIL' (Khar'kovskaya oblast')
2. Ul'yana FRIDRIKH (L'vovskaya oblast')
3. Tat'yana MIKHAYLOVSKAYA (Khar'kovskaya oblast') i Irina ZALIZKO (Rovenskaya oblast')

Up to 72 kg
1. Ul'yana KKLYAPKA (Khmel'nitskaya oblast')
2. Anzhela ROY (Khar'kovskaya oblast')
3. Marina SMIRNOVA (Khar'kovskaya oblast') i Tat'yana GEMBACH (L'vovskaya oblast')

Up to 80 kg
1. Natal'ya PILIPENKO (Kiyev)
2. Valeriya MAKUROVA (L'vovskaya oblast')
3. Ol'ga KLIMCHUK (Volynskaya oblast') i Natal'ya KRAMAR (Khmel'nitskaya oblast')

Under 80 kg
1. Anastasiya SAPSAY (Cherkasskaya oblast')
2. Taisiya RADCHENKO (Khar'kovskaya oblast')
3. Yelena BURCHAK (Khar'kovskaya oblast')