Sambo at the Russian-Japanese Forum in Moscow
Official
10 September 2014
Sergei Grishin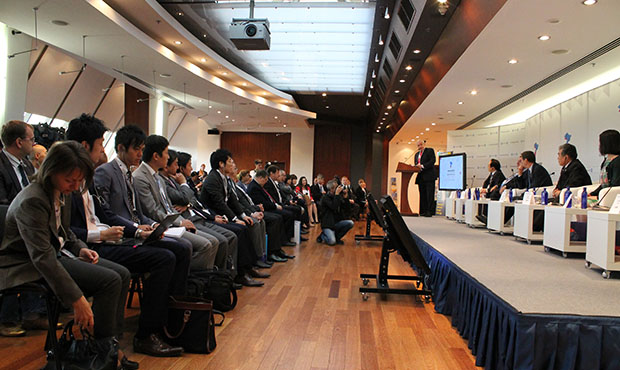 The official name of the Russian-Japanese forum organized by Rossiyskaya Gazeta (Russian Newspaper) that takes place in Moscow on September 8–10 is "Common ground of the Russian-Japanese forum: business, investments, culture". There were several panel discussions, the section "Sports" included "Sharing experience based on the results of the Olympic Games in Sochi awaiting the Olympics in Tokyo". During two-hour conversation, the most comprehensive statement on the common ground was made by the forum's speaker, a member of the Executive Committee of FIAS, Nobuyuki Asai, "The purpose of a Japanese combat sport – judo – is to promote prosperity of both competitors during their interaction. I believe that this is an objective for our states to achieve, collaborating in various spheres of culture and economy."
When opening the forum's sports discussion, the President of the Olympic Committee of Russia, member of the IOC Aleksandr Zhukov revealed several details concerning carrying out the Olympics in Sochi, "We managed to arrange unique Games in their own way. 2 billion people could watch the Olympic tournament, and we made our best efforts to ensure high security level for all participants and guests, moreover, security was invisible. Sportsmen were a cornerstone of the Olympics, we did our best to create maximally comfortable conditions in the Olympic village for them. All sports facilities were located to move easily and rapidly, for example, from a figure skating contest to a ski race. We focused on volunteer movement, level of their preparation, knowledge of foreign languages. All 80 thousand volunteers were trained professionally. Now we are ready to share our experience with our Japanese colleagues, we are interested in joint preparation by way of Russian-Japanese training camps and workshops. We are open for diversified, prolific and close relationship with our Japanese colleagues," Aleksandr Zhukov noted in his speech.
The Head of the Olympic Committee of Russia also mentioned development and promotion of sambo, "The sports content is very important for a country that hosts the Olympic Games. I wish our Japanese colleagues success in Tokyo-2020, and I hope that our Russian sport – sambo – will be included in the program of the Olympic Games as an exhibition performance." 
The report of FIAS President Vasily Shestakov was focused on high development of sambo in the Land of the Rising Sun, and many humanitarian and social projects implemented by the team lead by Mr. Shetakov for a long time. "President Vladimir Putin Sambo Cup of 2013 in Tokyo gave rise to sambo in Japan, promoting its development. The result is 4 awards of the Japanese team at the sambo tournament of the World Summer Universiade in Kazan last year. Now, in 2014, Japanese hold a main start of the sambo sports calendar – the World Championship in Narita to gather sportsmen from more than 50 countries from all over the world."
"I would like to note our collaboration in humanitarian projects too," Mr. Shestakov continued. "Under the auspices of Yavara-M sports organization, we have ensured sports delegation exchange for young sportsmen – judo and sambo athletes for many years, they soak the culture of this amicable country, find their friends and – what is even more important – they will remember that friendship and good-neighborly relations is the best diplomacy in relations between countries and peoples."
This friendship between Japan and Russia was a subject to the report of a member of FIAS Executive Committee, Vice-President of the Sambo Federation of Japan Nobuyuki Asai. However, its name "Judo, sambo, friendship, piece" speaks for itself. In his speech, Asai reminded that this year 2014 is the year of Russian-Japanese exchange in martial arts.
Within the framework of this very project, a delegation of Moscomsport and athletes of legendary school Sambo-70 are going to Tokyo in a week. A legend of this sport, four-time world sambo champion Fedor Yemelyanenko and four-time world judo champion, London Olympic silver medalist Aleksandr Mikhailin who began his career with sambo will participate in the performance. So the friendship between Russian and Japan will shift from the area of discussions and speeches to the area of practice and action.