Union of Royal Moroccan Federations of Martial Arts and Combat Sports: Very Beginning
Federations
23 July 2014
Sergei Grishin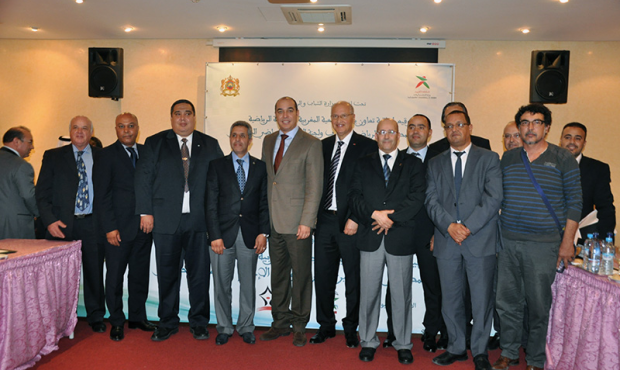 Resounding name, lofty goals and serious motivation. This is about the Union of the Royal Moroccan Federations of Martial Arts and Combat Sports, which was established by the Ministry of Youth and Sports in Morocco at the beginning of June this year. President of the Moroccan Sambo Federation and the African Sambo Confederation, Member of the Board of FIAS Dalil Skalli was unanimously elected the President of the Union at the constituent assembly of the organisation. 
Sambo, judo, jujitsu, karate, taekwondo, savate, kickboxing, muay thai, aikido, and wrestling are among the sports included in the ranks of the Union. Our today's reportage is about the goals and tasks of the newly established organisation. 
Morocco is a recognised leader of African Sambo. So, it is not a surprise that such an organisation has been established here. The main directions and goals of its work are four basic positions, i.e. structuring, interaction, strategy and prospects. 
Structuring 
This task of the Union of the Royal Moroccan Federations of Martial Arts and Combat Sports is simple and obvious. The Union aims to organise and structure the activities of Moroccan organisations involved in martial arts. The main demand made on such organisations is their compliance with the Charter and the Rules of the Union. 
Interaction 
Next step after structuring is a fruitful professional interaction that will give impetus to the progressive and competent development of all participants in the Union. The newly established organisation will ensure the coordination and cooperation between the member Federations of the Union to promote, develop and protect the interests of sports represented by these Federations. 
Strategy 
Currently a common strategy of joint work of all member Federations of the Union is being developed. It is planned to take into account each and everyone, to pay attention to small and important details, and most importantly to assign primary importance to the planned development of martial arts for the benefit of their promotion in Morocco. 
Prospects 
In the future, the Union plans to fulfill the functions of the award of categories and classifications to coaches, athletes and judges. They plan to do this considering the international experience in each of the sports, and in close collaboration with the Ministry of Youth and Sports of Morocco.