2013 Universiade in Kazan: the start is given!
Competitions
6 July 2013
Sergei Grishin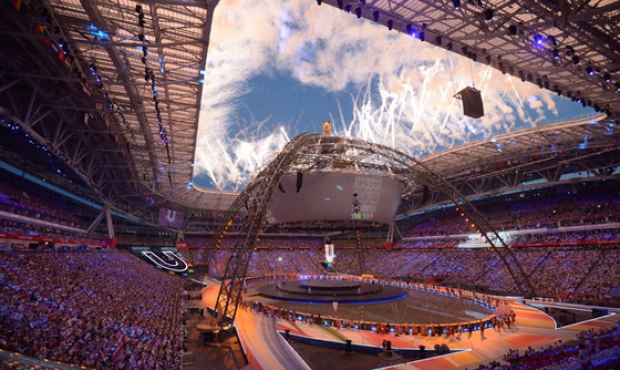 Solemn Opening Ceremony of the XXVII World Summer Universiade was held in the capital of Tatarstan at the Arena Kazan Stadium. 45 thousand spectators at the stands followed the bright and colorful performance transfixed. Vladimir Putin, the President of the Russian Federation officially declared the Universiade open.
More than 13 thousand athletes from 162 countries of the world will participate in the XXVII World Summer Universiade, which will last until July 17. Of course, not all the athletes were able to participate in the opening ceremony (someone was getting ready for the next day competitions, someone hadn't come to Kazan yet), however representatives of all member-states proudly marched through the main sports arena of the Games. Millions of TV viewers around the world closely followed the ceremony in a live television broadcast.
It's worth noting that the competitions in Kazan will become the most large-scale in the history of the Universiade – 351 sets of medals in 27 sports (13 required disciplines of the program and 14 additional ones included on the initiative of the tournament host nation) will be played. For the first time in the history of the Universiade SAMBO was included in a sports program. The opening ceremony lasted three and a half hours.
The day before, the main character of the Student Games – the fire of the Universiade – arrived in Kazan. It was sparked in Paris (France), the homeland of the World Student Games, nearly a year ago. Then the fire has traveled for 359 days, having visited 51 cities in the five parts of the world.
The fire was transported by planes, trains, cars, bikes, roller skates, in harness by a sled sleigh rides, by a sailing-ship on the water. During the long way the flame was burning every minute of the day due to the unique metal flask! On January 25 this year, the Universiade Fire, having traveled on the Sedov ship, was delivered to Vladivostok, after that it had to do the journey of 8,000 km to the capital of the World Student Games – Kazan.
And on July 5, the day before the official opening ceremony of the Universiade, the main Universiade character, brought by torchbearers across Russia and visited 30 major cities and many other localities, reached the final point of the route. For a time the fire was placed in the Universiade Museum, located in the student village, and the majority of its inhabitants were able to see it in the immediate vicinity.
However, officially the flame has completed its march today, July 6, at the Arena Kazan Stadium – at the Solemn Opening Ceremony of the XXVII World Summer 2013 Universiade. The start is given, now the athletes' turn came to show what they can do.