THE XXIX INTERNATIONAL SAMBO FEDERATION CONGRESS WAS HELD IN SOCHI
Official
10 November 2017
Aleksandr Solomahin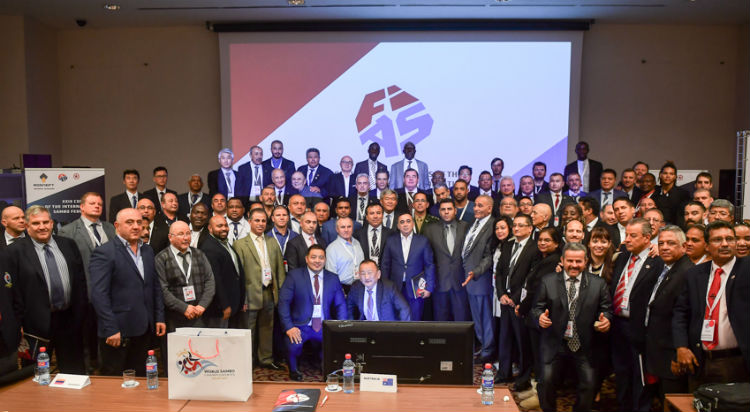 In the course of the Congress FIAS President and members of the executive committee have been elected, perspectives of interaction between FIAS and The International Military Sports Council (IMSC) have also been considered.
Election of FIAS President
The only candidate who took part in the elections was Vasily Shestakov, incumbent FIAS President. The delegates unanimously voted in his favor. Vasily Shestakov will remain in the position for the third time in succession, till 2021.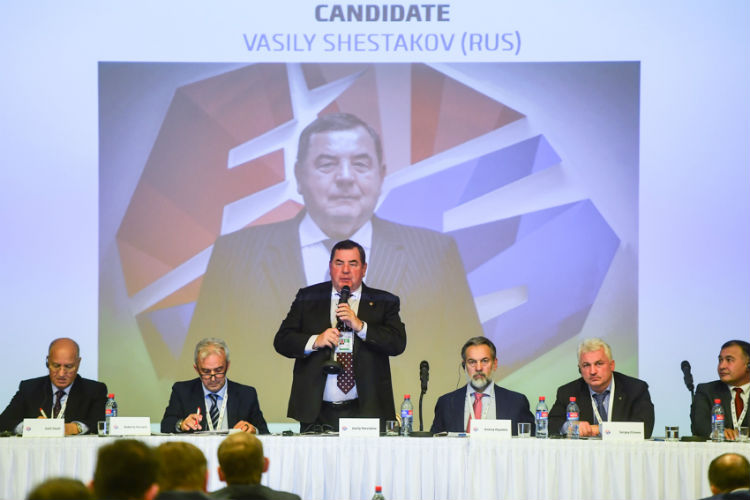 Report of FIAS President
Vasily Shestakov gave a detailed report on the global development of SAMBO, listed successes and achievements, summarized the results of FIAS activities of the past four years and set new general tasks for the organization.
FIAS Membership
The report on exclusion of member countries from FIAS and inclusion of new potential members was presented by Suresh Gopi, General Director of the SAMBO Union of Asia. Among the candidates for exclusion, he pointed out national federations of Sierra Leone and Portugal that had shown waning activity in promotion of SAMBO. Whereas federations of Kazakhstan and Italy had been reformed into national federations and federations of Costa Rica and Uruguay had become full-time FIAS members. Also, Hong Kong has been given the status of probationary member.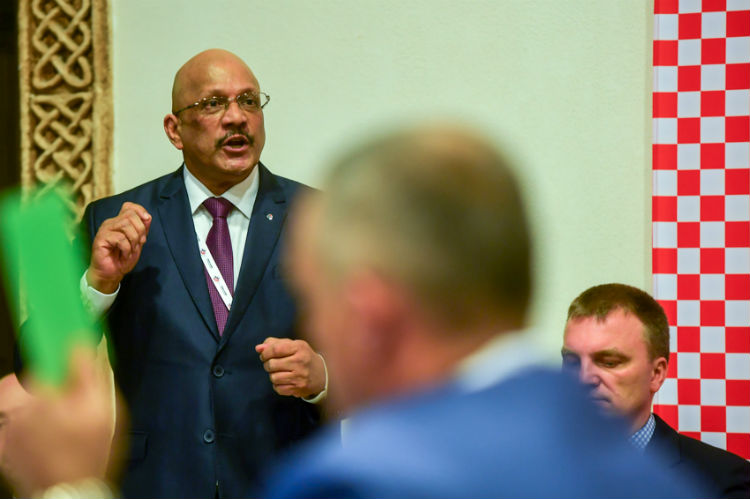 Report of the FIAS Committees
The report on activities of the FIAS Committees was given by Roberto Ferraris, FIAS General Secretary.
Ferraris noted an active support of International SAMBO Federation given to national federations that included financial support of athletes who took part in competitions, as well as supply of outfits and equipment for both sportsmen and referees.
FIAS General Secretary called the delegates'attention to active anti-doping measures, moreover, he emphasized readiness of FIAS to give an incentive to members of national federations for cooperation in anti-doping education of athletes.
Election of Members of the FIAS Executive Committee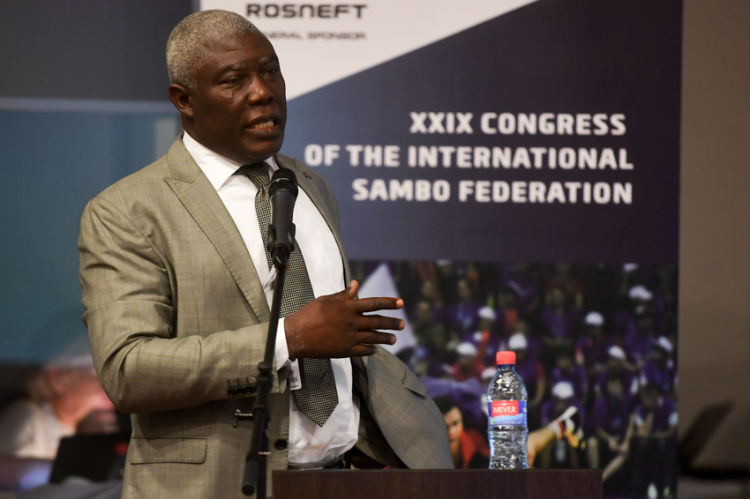 In the course of the Congress, new body of the FIAS Executive Committee has been elected, by means of secret vote. It included the FIAS Vice-Presidents Dalil Scalli (Morocco), Sergei Eliseev (Russia), Alamzhon Mullaev (Uzbekistan), Rumen Stoilov (Bulgaria), Andrei Kliamko (Russia); members of the Executive Committee: Tatiana Trivich (Serbia), Monik Atanaz (Seychelles), Caesar Arteaga (Venezuela), Nobuyuki Asai (Japan), Roberto Ferraris (Italy), Merabi Iliadis (Greece), Mun Jom Gyn (South Korea), Vladimir Yaprintsev (Belarus). Roberto Ferraris was elected FIAS General Secretary at the first meeting of the new Executive Committee.
The IMSC Sports Director Speech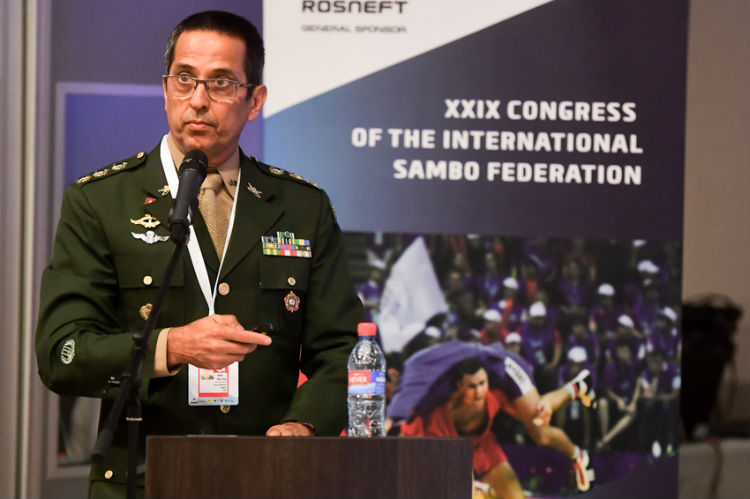 In his speech, Carlos Dos Santos, the Sports Director of the International Military Sports Council (IMSC) and the honored guest of the Congress, noted high potential of cooperation between FIAS and IMSC. He had shared the history IMSC, number of its members and member countries, competitions and championships, as well as the IMSC mission which is seen in making friends through sports. He also expressed his hope that constructive interaction between FIAS and IMSC would make it possible to include SAMBO in the Military Sports program.
FIAS General Secretary rewarding ceremony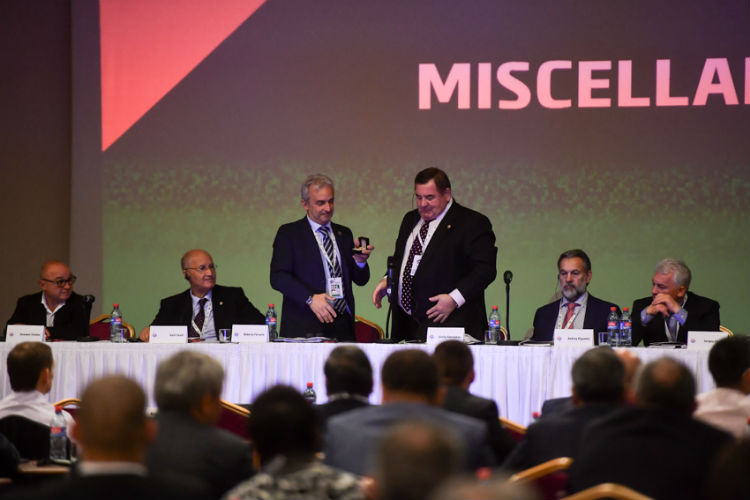 The Congress was held in warm and amiable atmosphere and ended on a pleasant note, as Roberto Ferraris, FIAS General Secretary, was awarded with the Big Golden Sign for his contribution to SAMBO promotion.