Meeting of Vasiliy Shestakov, FIAS President, and Marius Vizer, IJF President
President
26 August 2014
Sergei Grishin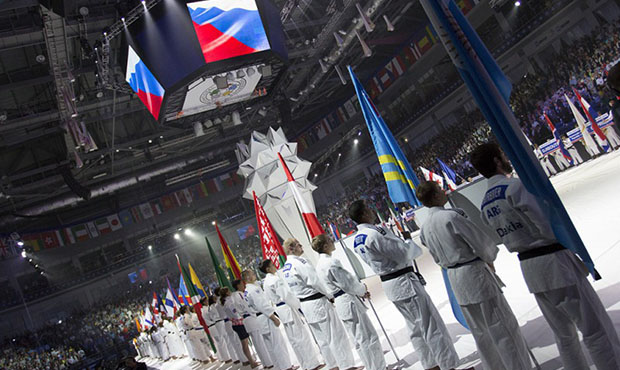 In the world of judo being an Olympic sport the World Championship is the second most important start of the international sports calendar. For the first time in the Russia's contemporary history, the Russian city of Chelyabinsk is hosting the world judo forum these days.
According to the press center of the Russian Judo Federation, the capital of the Southern Ural welcomed the representatives of 110 national federations that sent their teams to Chelyabinsk (but for the terrible Ebola fever, the number of participants would increase by another two countries – Guinea and Sierra Leone). Very large delegations came to Chelyabinsk: over six hundred athletes are going to fight on the Tractor Ice Arena tatami to win the 14 sets of medals in individual competition and 2 sets of medals in team competition. The largest number of representatives came from the most successful judo continent – Europe: 284 participants from 45 countries. The second largest nation is Asians: 173 participants from 22 states. The Pan-American Union ranks the third (108 judokas from 16 countries), Africa ranks the fourth (61 athletes, 21 countries), and the smallest group came from Oceania (11 athletes, 6 countries).
The first four sets of medals of the World Judo Championship have been already awarded to the worthy athletes. The official award ceremony of the tournament that was held yesterday, on the first competition day, was attended by Vasiliy Shestakov, President of the International Sambo Federation, who awarded the champion and the winners of the lightest weight category among men – 60 kg.
In addition to the official ceremonies and striking fights, the FIAS leadership also holds a number of working meetings in Chelyabinsk. Today Vasiliy Shestakov, FIAS President, and Andrey Klyamko, FIAS First Vice-President, have met with Marius Vizer, President of the International Judo Federation and President of SportAccord, and Sergey Soloveychik, President of the European Judo Union.
"We had a very productive meeting. We are very interested in the cooperation with the International Judo Federation and in the support provided to our sport by Marius Vizer. At the meeting we discussed both the cooperation of judo and sambo, and the interaction of SportAccord and FIAS. We have a lot of interesting forthcoming projects which I hope will help sambo to become even a more attractive sport", Vasiliy Shestakov commented the meeting results.
Photo: Marina Mayorova (eju.net)