Romanian Sambo Federation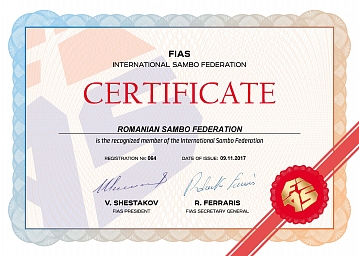 In October 14, 2004 under the leadership of Viorel Gasca an official Sambo presentation was held in Bucharest on faculty of law of State University. All Sambo specialists in Romania took part in this event as well as special guests from Moldova and representatives of the National Agency for Youth and Sport of Romania (NAYS), and the Romanian Martial Arts Federation president Florentin Marinescu.  
In April 15-18, 2005 the European Championship Seniors was held in Moscow, at that time the Romanian Sambo athletes have been invited for the first time. Under the management of Viorel Gasca six Romanian athletes took part in the championship. 

In April 21, 2005 all necessary documents were submitted to NAYS for the recognition of Sambo in Romania. 

In May 18-23, 2005 the Romanian Sambo athletes participated in the European Championship Juniors in Sombor (Serbia), where female athletes of Romania have participated for the first time in such a considerable event. 

In the second part of 2005 an initiative group was created for propaganda and popularization of Sambo in Romania. Viorel Gasca, Razvan Trocan, Alexandru Chirila, Sherban Jurebie, Florin Iacob, Ghiocel Bota, Eduard Rotaru joined this group. The regulations for organisation and functioning of Federation were elaborated. 

In November 6-9, 2006 Romania made its debut in the World Championship Seniors in Sofia (Bulgaria).. 

In April 26-30, 2007 the Romanian delegation of 11 persons participated in the European championship in Pravets (Bulgaria). Among the Romanian athletes the second place won Liviu Ionescu, -74 kg and two third places: Anton Pisaloglu, -100kg, and Adriana Cherar, -64 kg. As a result Romania took the sixth place in team classification of the European Championship. The medals won in the competition were the first medals for Romania in international arena. On the ESF Congress, which was organised at the same time, the Romanian Sambo Federation was accredited and got the membership in the ESF. 

In June 2007 in Kiev (Ukraine) the anthem of Romania sound for the first time during the first European Games of non-Olympic sports. Alexandra Matasaru won the gold medal being the first in its weight category of +80 kg.