Sambo Federation of Israel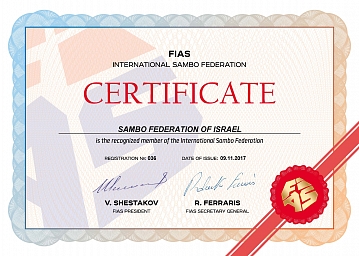 Sambo began to develop in Israel in the 80s, when the International Sambo Federation was a part of the FILA and subsequently became independent. Fernando Compte was the president. Basically, the popularity of Sambo in Israel mostly depended on the new immigrants from the Soviet Union. 
Sport clubs and societies began to open that at the time had nothing to do with judo. People who were related only to Sambo trained in these clubs. They brought their children and friends with them. 12 clubs were founded throughout Israel.
Championships and the national championships were regularly held. An international tournament in memory of athletes who died in 1972 at the Munich Olympics was organized.
The European Championship in 1991 was held in our country. Israel athletes participated in all the competitions in various age groups.
Michael Bondar, Tzachi Nahum, James Bar (Dabul), Vitaly Kolner, Arkady Mordyhaev are the Bronze medalists of the World Championship of 1990 held in Moscow. Israel team was led by Lior Lansberg. Together with him Alex Rosen and Isaac Mordecai were preparing the Israel team.
The crown Merited Coach of the Union republics have:
- Ben Rosen (Boyaroglo) Peter    Uzbekistan
- Edward Paltiel            Tajikistan
- Igor Drac                Ukraine
- Gregory Badler            Kazakhstan
- Leonid Volin            Ukraine 
The Israel lead coach Alex Ashkenazi for many years was the coach of the Olympic athletes.
In connection with the reorganization of the sport structure in Israel in the late 90s Sambo was closed. In 2001 Sambo was opened again but, unfortunately, didn't have that independence over the hill, and was tied to judo. All the leading Israel coaches moved on to judo and achieved certain results.
Beginning with 2012 the new forces that are doing their best to revive and develop this wonderful sport joined the Israel Sambo Federation.
And the success of their work was not long in coming... Alice Schlesinger became the leading athlete of the Israeli team, winning the 27th Universiade 2013 in Kazan, taking the third place in the SportAccord Games becoming the World Champion in 2013 in St. Petersburg. Shafrir Cahal won the bronze medal at the World Junior Championship in 2013 in Greece.
Now we can definitely say that Sambo in Israel will continue to develop. The country has a very high potential of coaches and athletes capable of fighting for the top placements at the world and European championships.