The SAMBO of the Blind Foundation and the RAY-SPORT Company signed a Memorandum of Cooperation and Interaction
The SAMBO of the Blind Foundation and the RAY-SPORT Company signed a Memorandum of Cooperation and Interaction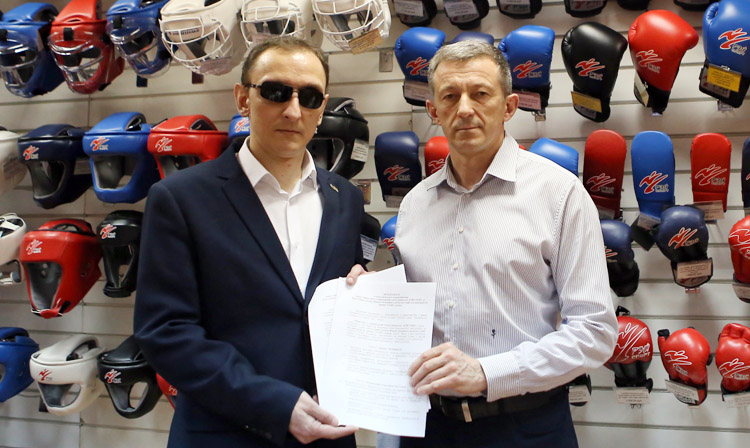 The charitable foundation for the support and development of SAMBO for the visually impaired "SAMBO for the Blind" and the manufacturer of sports equipment RAY-SPORT LLC signed a Memorandum of cooperation and interaction on March 30. The document was signed by the President of the SAMBO of the Blind Charitable Foundation, member of the FIAS Commission for Athletes with Disabilities Roman Novikov and General Director of RAY-SPORT LLC Yuri Vishnyakov.
It should be said that the history of cooperation between organizations began back in 2016.
"Yuri Vishnyakov responded to my request to create specialized helmets for blind sambists and, on a gratuitous basis, helped to design the required helmet practically from scratch. For three years we have been working on helmets: we were finishing something, reworking, based on the comments of blind sambists who tested helmets in training and in competitive conditions," Roman Novikov said.
In 2019, sambists for the blind held a demonstration performance in these helmets, showing SAMBO techniques at the World SAMBO Championships in Cheongju, Korea.
"These helmets will be used in SAMBO competitions among the blind in SVI-1 class in accordance with the international classification rules for SAMBO among the blind and visually impaired. The helmets, first of all, will protect blind wrestlers from accidental injuries, and the patch in the eye area, apart from performing a protective function, will not allow doubting the honesty of equal conditions for sambists," Roman Novikov explained.