Sambo Style: Daniela Hondiu (Photo Shoot)
Sambo Style: Daniela Hondiu (Photo Shoot)
7 May 2014
Sergei Grishin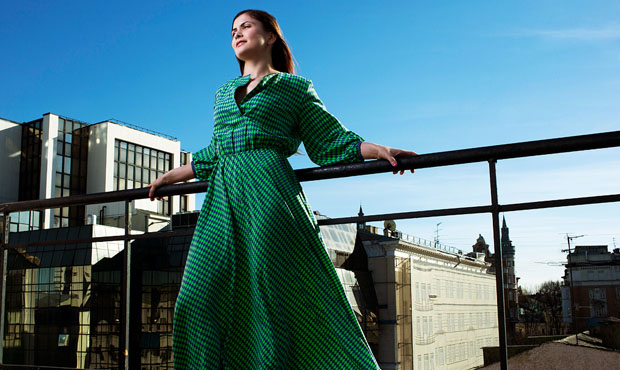 Very soon, in May, the elite of the European Sambo will meet in the continental Sambo championship in Romania. Sambo amateurs are in anticipation of a great sports event. Meanwhile, the FIAS website presents another show, perhaps even more fascinating. We continue our Sambo Style project, and today we are presenting a photo shoot and interview with Romanian sambo athlete Daniela Hondiu.
- Daniela, my congratulations on the occasion of the photo shoot. What are your impressions?
- Very cool! I've taken part in a professional photo shoot for the first time. A stylist, makeup artist, photographer, videographer and their assistants – so many interesting and positive people worked on my appearance!
- What did you feel during the session?
- I felt at ease, because I was surrounded by good people with an open heart. First shots were taken on the roof, and then we were in the studio. I was not afraid of being photographed on the roof, but I was a bit scared when climbing the stairs. By the way, I used to think that photo models were doing their job with their hands down. And after today's shooting, I thought it was better to train all day long than spend a few hours in the studio. It's not as easy as it seems.
- In general, you spend a lot of time training. And do you have time for yourself in ordinary life?
- Sometimes I and the girls from my team make up, put on beautiful dresses and promenade in the streets. If we say someone that we practise sambo, very often people don't believe us and are very surprised.
- And do you make up or something before fighting on the mat?
- I don't do anything with my face, but I try to pick different elastic hair bands. I have many elastic hair bands of different colours, so I'm experimenting. But to tell the truth, I haven't found a colour that always brings victory.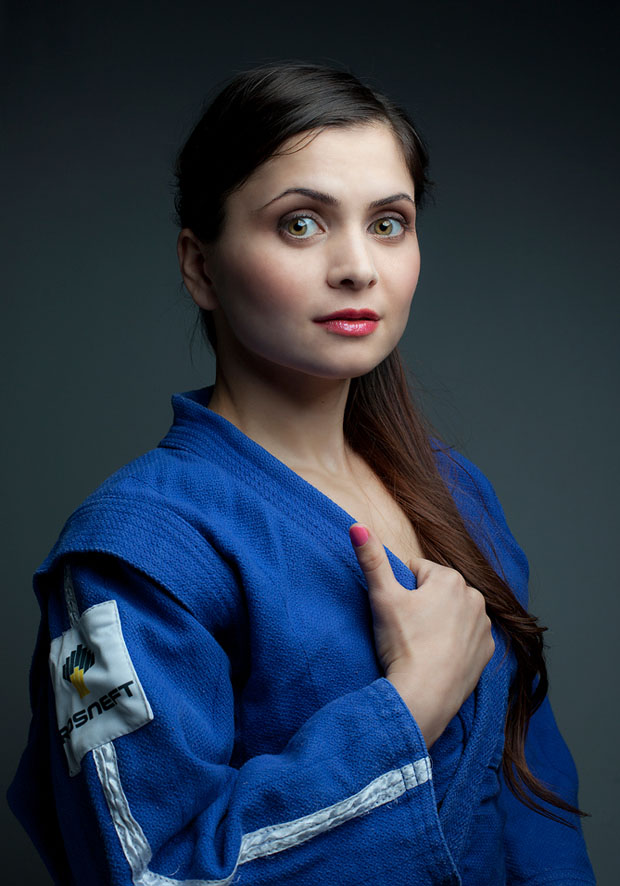 - Could you please tell us some words about your family?
- When I was 10 years old, my family moved from Moldova to Romania. At first we planned to live there for a while, but eventually we stayed to live there permanently. I also have a brother and sister. I'm the youngest in the family. When we used to live together with my brother, I had to fight every day (laughing). And the sister always asked not to hurt her.
- Did someone from your family influence on your choice of sport?
- My brother saw I was really energetic. First they wanted to enroll me in handball club, but when I came to school, I understood it wasn't mine. In that very school I saw a judo training session, which I really liked. So I stayed in it. And two years ago I switched to sambo. The European Championship in Moscow has become my first serious competition.
I couldn't be the first in judo and didn't want to be just a sparring partner for other athletes. I even wanted to finish my career in professional sport. But I was invited by a colleague, a sambo coach. I visited a Junior Sambo Championship in Bucharest, and I liked it, especially painful leg locks. In sambo I got to reveal myself in full.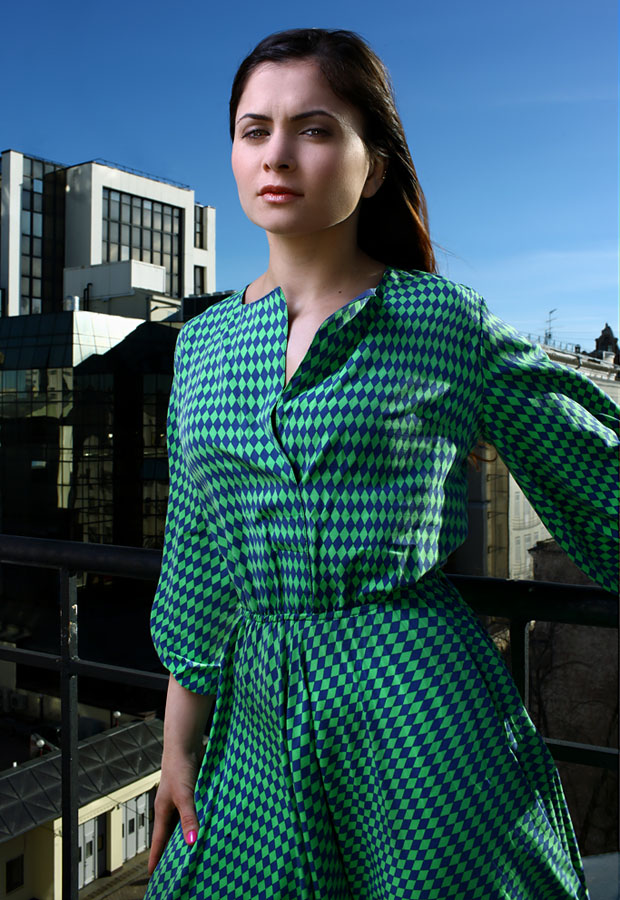 - What is your most important achievement as of today?
- Bronze medal in the SportAccord Games in St. Petersburg. Furthermore, it's very important that sambo is becoming more popular in Romania. I've been practising this sport for 2 years and I see that thanks to the Internet and Facebook every year more and more people become aware of sambo in our country. In addition, our team is growing; we compete at a high level in almost all weight categories. Although, there are still curious moments when some people confuse sambo, the martial art, and samba, the dance.
- By the way, do you dance samba?
- Just a little. I know a few movements in rumba and samba. I think all athletes can dance. I would say that if you're a good athlete, then you're a good dancer.
- Did you meet your boyfriend thanks to dance or fight?
- Thanks to a friend of mine. She dated a boy who studied in the same form with my future boyfriend. One day our company went out for a Town Day. Since then, we've been dating for 7 years. His name is Dzhiani Poroinyanu, he played professional football before. We studied together in a sports school, but in different forms. After we met, I didn't go to school for a few days, because I didn't want anyone to make fun of him. Some pupils used to joke that I would have used actions if he had disobeyed me.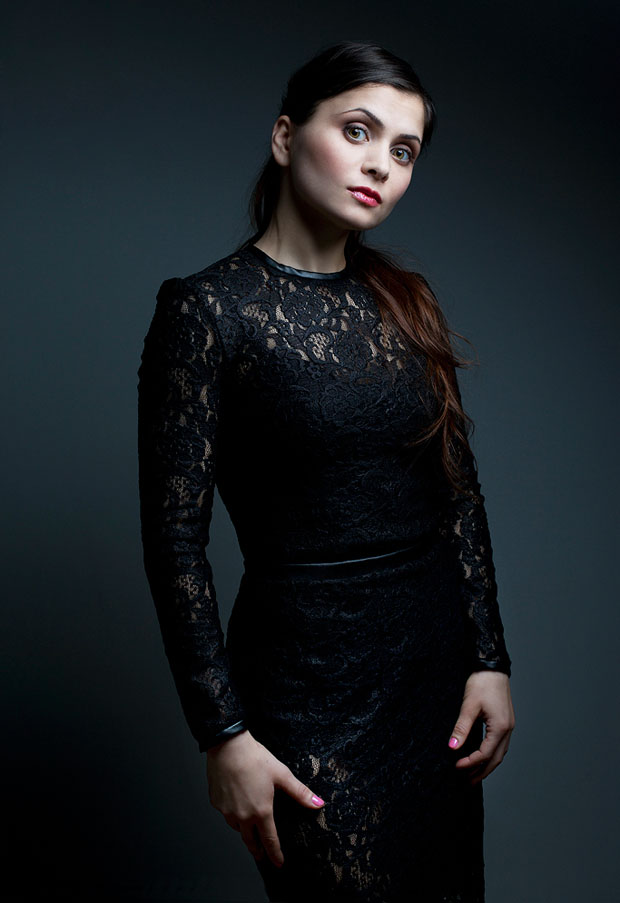 - And what is his thinking about your practising sambo?
- He likes it and he supports me in all competitions. If I'm losing the fight, he is nervous and trying to tell me where I've made a mistake. And then he soothes me saying "Well, it's okay. You'll practice a bit and get it right the next time."
- Who do you call first when you win?
- Dzhiani and mother. But I call my mom first.
- Daniela, did you have to use sambo actions in real life?
- Once martial arts were quite useful in the school. The girl I studied with took something out of my backpack. I told her to put it back. She replied, "And if I don't, what will you do?" I took her and threw her over my shoulder. She was very surprised as she didn't expect I would do that.
- Do you think martial arts are good for girls?
- Of course! Whatever kind of martial arts a girl is engaged, she always becomes better and more beautiful. Every girl becomes stylish in a way; she acquires a good posture, and a beautiful athletic figure. If sometimes you even get bruised, don't pay attention to it – bruises disappear in a few days.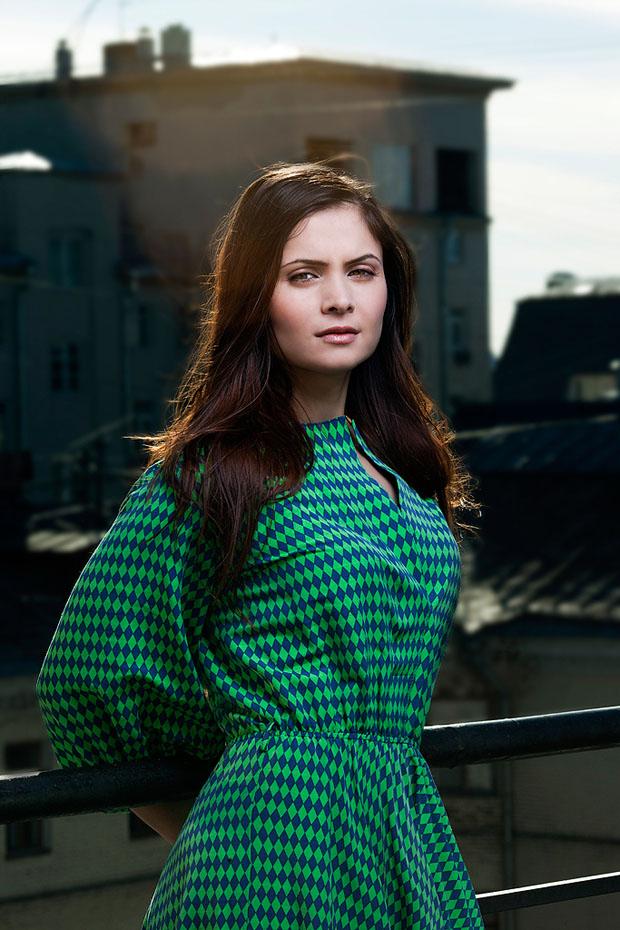 - It is the middle of spring now. Boys and girls go for a walk and you need to prepare for the European Championships. Does it hurt?
- No, it doesn't. I want it and I'm ready to spend as much time in the gym as possible. This is not because it's necessary, but because I want it. My dream is to win the gold medal in the European Championship and I'm sure I can do it!