8 Discoveries on Female SAMBO Athletes
Competitions
8 March 2013
Sergei Grishin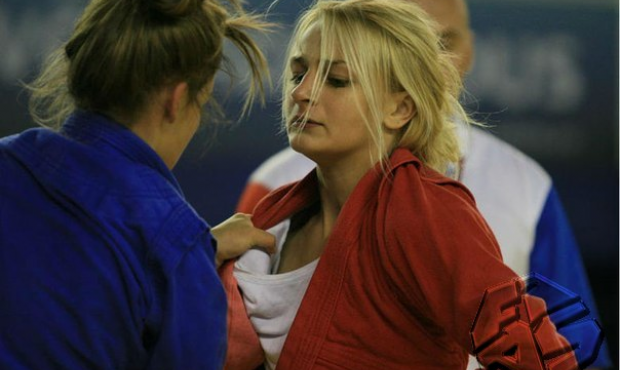 When a man says that he goes in for SAMBO, it is a matter of respect. When a girl says the same, the uninitiated are really surprised. Some believe that the representatives of the weaker sex must remain weak, not becoming engrossed into the world of single combats. However, not all of them know what advantages the girls engaged in SAMBO have. FIAS website editorial conducted its own observations of the female SAMBO athletes resulting in the following discoveries.
The first discovery: female SAMBO athletes can fight for their own hand. Frankly speaking, it is not a discovery at all. Self-defence without weapons is the applied science of defence, through which any person can effectively defend himself. Women who master SAMBO technique feel confident in a complex modern world and are ready to repulse any possible aggression. Aggressors are not begrudged in this regard.
The second discovery: female SAMBO athletes can fight for their other half. If your girl goes in for SAMBO, you can safely walk around the dark alleys. However, only in the event she is next to you. Over the back throw with arm clinch on the shoulder and a painful leg lock (femoral node) – these and other possible troubles will scare even the most notorious hooligan. You can combine therefore romantic walks together till the dawn with capture of any first recidivist.
The third discovery: female SAMBO athletes are not late for dates. Sports discipline, tough competition regulations and demanding coach, total of all these factors taught female SAMBO athletes to be punctual as much as possible. Hanging round a girl who is a SAMBO athlete be sure that she will be in time under the clocks. There is also the reverse side of the coin: Heaven forbid you to be late!
The fourth discovery: female SAMBO athletes can carry men in their arms. When it comes to these girls, stereotypes are crumbling. The situation when a guy who is in love with a girl carries her in his arms may be easily changed by the opposite in female SAMBO athletes. A female SAMBO athlete lifts a guy easily and often more professionally and is able to carry him anywhere (even on his favourite sofa). Yet it is men who should carry girls in arms, so guys, practice!
The fifth discovery: female SAMBO athletes don't worry about diets. Depression on floor scales and howls of despair due to a couple of extra kilos – it's not for female SAMBO athletes. They know how to lose weight quickly or to gain it: weight-in before competitions obliges to correspond to the weight category in which they perform all the time. So if you want to lose weight, ask female SAMBO athletes how to do it.
The sixth discovery: it's impossible to argue with female SAMBO athletes. The girls who go in for SAMBO not only learn how to protect themselves and their familily, they also temper their character which as a result gets really hard. That's why it is completely useless to argue with them if they have a point of view on the issue. In addition, one should always remember about over the back throw. It can be applied not only to the hooligans...
The seventh discovery: female SAMBO athletes interpret literally the expression "will stop a running horse and enter the burning house". If it is necessary to perform a feat, a female SAMBO athlete can do it at once. And no matter what kind of feat it is: to save a child in a fire or get up at 5 am on Saturday, both deeds will be done at the highest level.
The eighth discovery: female SAMBO athletes combine all above mentioned abilities remaining incredibly womanlike and attractive. And if they can't boast their fashionable hairstyle, perfect manicure and extraordinary jewelry on the carpet, then these attributes become the main weapon of female SAMBO athletes after the trainings and competitions. And, in practice, men can't resist this arsenal in the hands of female SAMBO athletes.
Discoveries are made by Aleksandr Solomakhin