Alamjon Mullaev told about sambo debut at 2017 Asian Indoor and Martial Arts Games at the congress in Turkmenistan
Official
8 April 2017
Sergei Grishin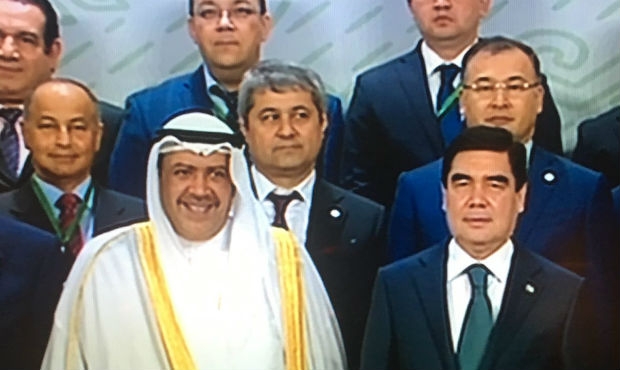 On April 7 in Turkmen city of Awaza the "2017 Asian Indoor and Martial Arts Games: international sports cooperation for the sake of peace and progress" congress was held. The forum took place with the participation of President of Turkmenistan Gurbanguly Berdimuhamedow and President of Olympic Council of Asia Sheikh Ahmad Al-Fahad Al-Sabah.
At the congress, coincided with World Health Day, the President of Asian Sambo Union Alamjon Mullaev gave a talk on upcoming sambo debut in the program of Asian Indoor and Martial Arts Games. He told about the pace of sambo development in the world, stressing the success of this sport in Asia.
Chairman of National Sports Committee of Turkmenistan Toily Komekov, Chairman of National Physical Culture and Sports Committee of Uzbekistan Rustam Kurbanov, President of Asian Chess Federation Sheikh Sultan Khalifa Al-Nahyan, Director-General of Olympic Council of Asia Husain Al-Musallam, Chairman of organizing committee of II European Games in Belarus Vyacheslav Durnov and others also gave talks.
The delegates of the V Asian Indoor and Martial Arts Games participating countries, the heads of Olympic Council of Asia, international sporting federations and organizations, guests of honor – famous political figures, including LDPR Chairman Vladimir Zhirinovsky, Azerbaijan Ambassador to Russia Polad Bülbüloğlu, the singer Lev Leschenko and many others took part in the congress.
The significance of upcoming Asian Games in Ashgabat for interstate interaction and sports development in the region was addressed at the congress.
The Executive Committee on preparation for V Asian Indoor and Martial Arts Games, State Sports Committee of Turkmenistan, Ministry of Foreign Affairs of Turkmenistan were the hosts of the event.