Anastasia Novikova: "The main goal was to take a medal"
Personalities
13 May 2016
Sergei Grishin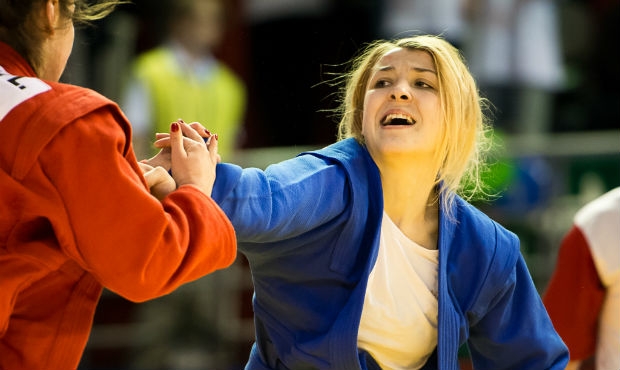 The first bronze of an "adult" European Championship was won by a Ukrainian sambo wrestler Anastasia Novikova in Kazan. In the battle for third place in the weight category of up to 48 kg she effectively won by a painful hold in the last seconds of the match. In an interview to the FIAS's website she told about her debut at an "adult" competition, rivalry in the national team and the emotions from the level of competitions in Kazan.
"This has been the first performance for me at an "adult" European Sambo Championship. The main task was to take a medal, and what medal it would be was another question. Of course I would have liked gold, but I lacked the strength to fight for the finals. Lost one point to an opponent from Belarus ", - said Anastasia Novikova.
The athlete said that in the youth team she was performing in the weight category of up to 52 kg. And now, due to rivalry in the national team, she had to pass to the category of up to 48 kg.
"It gave me an advantage as I'm functionally stronger than many of my rivals in my new weight. But there are girls more experienced than me, such as Leyla Abbasova from Belarus, whom I lost to in this tournament ", - explained the Ukrainian sambo wrestler.
Anastasia Novikova believes that "the atmosphere at the European Championship in Kazan is excellent, incomparable with youth tournaments".
"It's so much more organized here, there have been created favorable conditions for the athletes. Take the Universiade Village in which we live ... in comparison with what I had seen, that's heaven and earth – Anastasia doesn't hold back her emotions. - While in Kazan, I've only seen the hall for training and the mat. But now I will surely find time to walk around the city, see the local sights. Of course, we'll all support our friends in the team, watch fights and scream at the stands. But I'll make sure to find time in between bouts and preliminary finals. The main thing for the Ukrainian team is to participate in the finals was as much as possible!"