ANTI-DOPING through the eyes of a lawyer
Anti-doping
6 June 2013
Sergei Grishin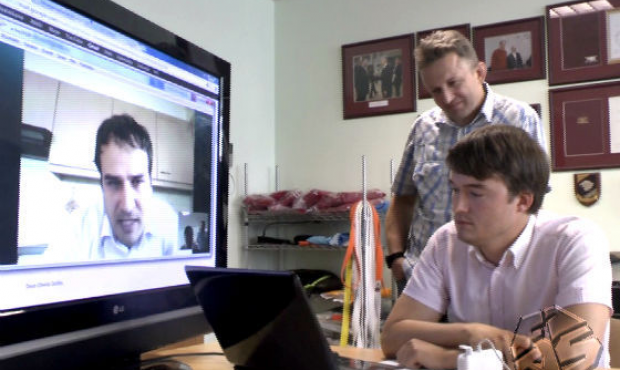 In this report we'll tell you about how the world of law is intertwined with SAMBO and how Head of the FIAS Anti-Doping Committee Alexander Leshchinskis would tell a child about harm of performance-enhancing drugs, as well as how online conference of the FIAS and SportAccord representatives was carried out and why that day WADA commissioners came to Riga.
Yesterday in the Latvian capital Riga FIAS Executive Director Sergey Tabakov held a business meeting with Alexander Leshchinskis – Head of the FIAS Anti-Doping Committee. Alexander is a professional lawyer, head of his own judicial office among the focus areas of which is sports law. So far, in the activities of his organization Leshchinskis has faced only with registration of legal documents of sports federations and organisations. So work with WADA is a new challenge for him and an exciting opportunity for professional growth.
During the business meeting which took place at the office of sports school of Vsevolods Zelionijs on Wednesday, Leshchinskis and Tabakov talked about how these opportunities would be implemented by Alexander as Head of the FIAS Anti-Doping Committee.
The most important thing, which Alexander will engage in a new position, will be connected with the legal support of cases of positive tests that are, unfortunately, still occur in SAMBO, as well as his functions will include the preparation of an array of FIAS legal documentation on anti-doping.
Having in mind that the information which can be simply and clearly explained to a child is set out most accurately, we asked Alexander to tell about how he would explain impermissibility of use of performance-enhancing drugs to a child or teenager. His response was full and complete: "A child should understand that only honest work can lead to success, to the success which you are not ashamed of and need not to be afraid of. Fear kills, honesty, on the contrary, gives strength and freedom."
SportAccord division called "Doping free unit", which cooperates with FIAS, will educate SAMBO youth in matters of performance-enhancing drugs, namely, will conduct educational seminars and distribute professional literature. It is the experts of the organisation together with the FIAS representatives who will hold a series of educational seminars at the World Championship among boys, girls, and juniors in Greece in October. FIAS representatives and the employee of the organisation Davide Delfine talked about how it would be in real-time by means of Skype.
"At the World Championship in Greece it will be the first experience for us. We believe that young people are our reserve. Often, cases of use of performance-enhancing drugs are not due to abuse, but because of elementary ignorance, therefore, we think that the most important thing for us is to educate our young people, to inform them on this issue as much as possible," comments on the results of the online conference FIAS Executive Director Sergey Tabakov.
At the end of the working day, leaving the building of the famous Riga school of Vsevolods Zelionijs, we met WADA commissioners. The purpose of their visit was out-of-competition testing of judoist Konstantin Ovchinnikov, the bronze medalist of the 2012 European Championship and the participant of the Olympics in London, who is currently training under the guidance of the President of the Latvian SAMBO Federation Vsevolods Zelionijs.
Let's remember the words of the tortoise Oogway from Kung Fu Panda cartoon: "Accidents are not accidental". Although some argue that this idea was first voiced by someone Sigmund Freud.
Natalia Yukhareva,
www.sambo.sport