Arman AVANESYAN: "The main rival at the European Championships for me was Viktor Nemkov"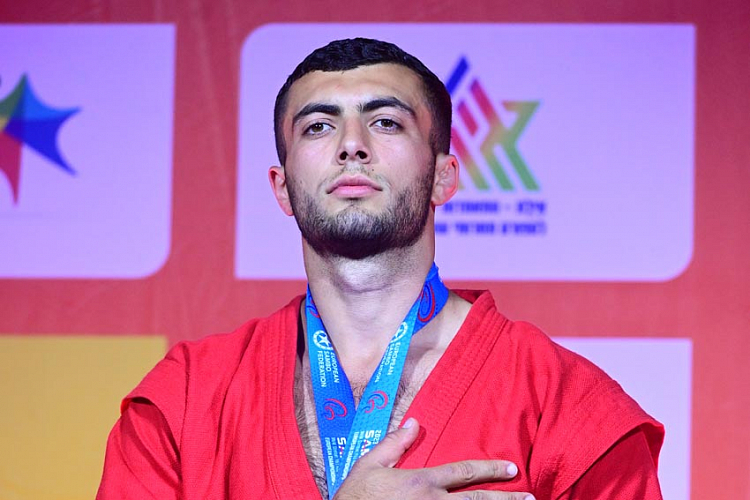 Armenian athlete Arman Avanesyan won a gold medal in the up to 98 kg weight category in Combat SAMBO at the European Championships in Haifa (Israel). In an interview for the FIAS website, he spoke about how he was preparing for a duel with World Champion Viktor Nemkov, what he staked on and how sweet the taste of a gold medal is.
In a duel with Viktor Nemkov, you won a landslide victory with a score of 8:1. How did you do it?
– It is a great honor for me to participate in a tournament of such a high level, I have prepared very hard and diligently for these competitions. It is a great honor to fight such a strong and titled athlete as Viktor Nemkov.
You completed two throws for four points. How did you manage to do it?
– To be honest, initially I did not plan to perform these particular throws, the fight just went according to such a scenario, there was a good moment.
Have you made a bet on the wrestling in this fight?
– Yes that's right. I knew Victor was a strong striker, so I decided to focus on wrestling. In addition, in Combat SAMBO, points are not awarded for strikes, so there was not much point in investing in them.
Did you have jitters before going on the mat with such a titled opponent?
– There were no jitters. To be honest, I don't understand people who are afraid to step on the mat. No wonder they say "to be afraid of wolves – do not go into the forest" (laughs).
The final duel in your weight category did not take place, your opponent did not go to the mat. Has this made the taste of the gold medal less sweet for you?
– The main rival at this European Championships for me was Viktor Nemkov. He is a two-time world champion in Combat SAMBO and, in addition, a very experienced athlete. If I managed to pass him, I knew that I would most likely pass all the others. Therefore, the taste of the medal did not become less sweet.
How did you prepare for the fight?
– This is my first meeting with Victor. Of course, I watched his fights, and it seemed to me that, in general, he uses approximately the same technique. But when you have your first fight in a tournament right away with an athlete of this level, you have to tune in differently. You don't have one or two warm-up fights left. Luckily, I was able to pull myself together and get in the right mood.
This victory qualified you for the World Combat Games in Saudi Arabia.
– Yes, and I would love to take part in these competitions.
This year the World SAMBO Championships will be held in Yerevan…
– And it is a big responsibility for us. We need to perform better at home, we will prepare even more to justify the hopes of the fans.
It turns out that the national selection for the World Championships has already taken place, and you will compete in the up to 98 kg weight category in Combat SAMBO?
– In Armenia, the winner of the national championship goes to the European Championships and the World Championships. So the selection has already happened, so I will perform.
Will native walls help?
– Of course they will help. And native walls, and native fans.