Fernando DIAZ: "SAMBO is an Ideal Sport for a Policeman"
Personalities
28 April 2023
Aleksandr Solomahin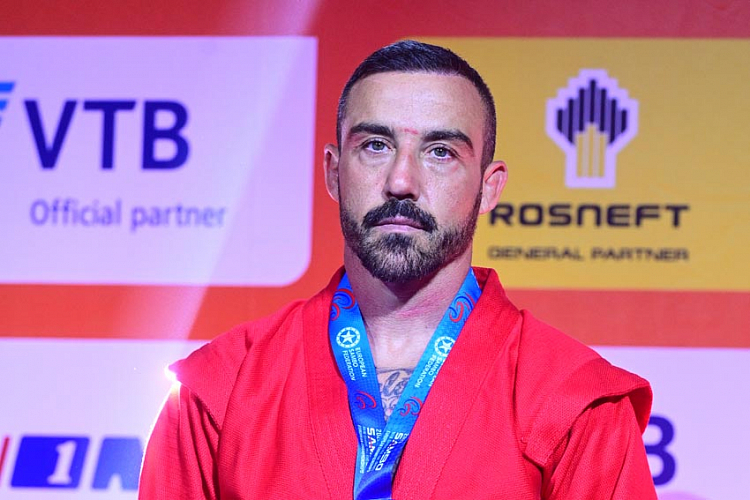 Spanish athlete Fernando Diaz became the silver medalist of the European SAMBO Championships in Israel. He won a medal in the weight category up to 79 kg in Combat SAMBO. In an interview for the FIAS website, Fernando told why he fell in love with Combat SAMBO, what goal he set for himself this year, and how SAMBO helps in his profession as a policeman.
– Combat SAMBO is a completely new sport for me, I tried it for the first time this year. Previously, I participated in judo competitions, then continued my career in MMA, and now I had the chance to try my hand at SAMBO. I am glad that I was able to take full advantage of that chance.
Why did you choose Combat SAMBO?
– I have seen many times that my friends try their hand at SAMBO, and I always wanted to join them. Watching Combat SAMBO competitions, I noticed that this is an incredibly spectacular martial art. In addition, this sport suits me perfectly, because here I can combine my skills from judo and from MMA: throwing technique and punching technique.
Many sambists have become successful in MMA…
– Of course, the whole world knows the names of Fedor Emelianenko, Khabib Nurmagomedov and many other outstanding athletes. They make Combat SAMBO popular, because everyone around understands that Combat SAMBO is the best base for a successful professional career.
You are a very experienced athlete, participated in many tournaments. Share your opinion on the organization and holding of the European SAMBO Championships.
– Indeed, I participated in many championships, I know how everything can be organized and I can say that in Israel everything went at the highest level. It was an incredible weekend full of highlights and I am happy to be at this tournament.
What are your future plans in SAMBO after winning the silver medal?
– My plans are related to the World Combat Games, which will be held in Saudi Arabia in October. My silver medal at the European Championships allows me to claim the right to participate in this tournament. Further, I do not think yet, because I have thoughts of retiring my career as an athlete, but perhaps I will have a desire to compete in some tournaments.
SAMBO is celebrating its 85th anniversary this year. What do you think SAMBO looks like right now?
– Better than ever! For me personally, SAMBO today is much more spectacular than, for example, judo, where there have been many changes in the rules. There is much more freedom in SAMBO, which is why many athletes love this sport. As I see it, SAMBO is getting better and better.
How popular is SAMBO in Spain?
– From what I personally see, many guys from other martial arts are moving into Sport SAMBO, because they see a future in it. I cannot say that this is a mass phenomenon, but the process is underway. As for Combat SAMBO, we still have a long path to go when it becomes more widely known in Spain.
You said that you plan to end your sports career in the near future. Do you see yourself as a coach in the future?
– It's hard to say, because I have a full-time job. I am police officer and I also teach self-defense techniques to my colleagues, I teach them Combat SAMBO.
Have you had to use SAMBO technique during your work on the street?
– Certainly! This has happened many times. SAMBO is an ideal sport for a police officer, because it allows you to quickly neutralize any offender. Using SAMBO techniques, in a matter of seconds, I can twist the criminal and put handcuffs on him. No other sport will provide such an advantage.
[VIDEO] KODZAEV Aslanbek vs DIAZ Fernando. Combat SAMBO 79 kg. European Sambo Championships 2023