Belarusian Par Terre League: Growing Ratings
Federations
3 June 2014
Sergei Grishin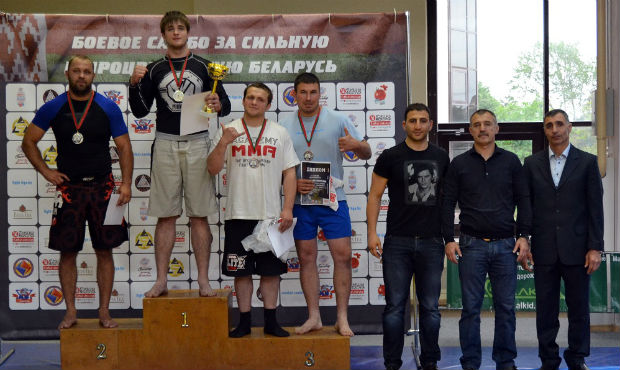 The sixth tournament of the Liga Submission Championship series was held in the capital of Belarus, Minsk. According to the rules of combat sambo, athletes from all over the country compete in the par terre section of this championship and by the end of each tournament ratings and personal records of each athlete are updated. The level of the competition increased significantly since its organisation last year, which is proven by not only the growing number of participants, but also the attendance given by the heads of the National Sambo Federation.
- The idea of the tournament did not appear from scratch. In modern martial arts one of the most important components is ground fighting, par terre. At one time there was a very good ground fighting school in Belarus, which is undeservedly forgotten or lost nowadays. Such famous masters as Magomed Ramazanov, Mikhail Baranov, Vladimir Yaprintsev and many others won a majority of their victories on the ground. This is quite a large section in combat sambo. Today it is obvious that one can use ground fighting techniques to win and to finish the fight faster with minimal losses, and to do it in a really beautiful way. That is why we had enough reasons to hold the Submission tournament, - Vakhtang Sokhadze, combat sambo coach, said about the origin of the championship a year ago in his interview to the FIAS website.
Indeed, many experts say that ground fighting today is one of the key skills for sambo athletes. Athletes who find it difficult to fight lying down, can hardly count on a great success at major competitions. It can be learnt when training, but not always one can work it out during competitions. Belarusians have decided to change the situation and have already achieved some success. Six tournaments of the series in a year, the growing interest on the part of athletes from various clubs in the country and attention of Vladimir Yaprintsev, the Chairman of the National Sambo Federation, to the competitions prove that the initiative is in demand indeed. And the fact that the competitions of the Liga Submission Championship series are now held in the symbolic for Belarusian martial arts Palace of Martial Arts named after A. Medved, evidence the prestige gained.
- What concerns combat sambo, one is not able to participate in tournaments every month. This sport is hard enough, to say nothing of the moral and psychological burden. For a change the Submission is a very good intermediate option, which also allows athletes to consolidate some excellent skills and gain confidence in themselves, - Vakhtang Sokhadze says.
You can see the results of the sixth tournament of the Liga Submission Championship series and ranking points here: RESULTS.