Bibiene Fopa: "I'm proud to honorably represent Cameroon at high-level competitions"
Personalities
7 December 2016
Sergei Grishin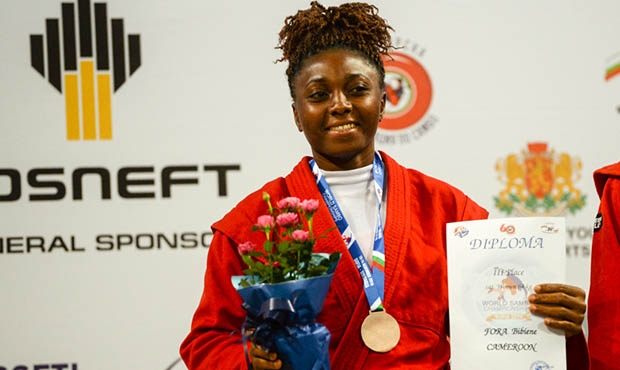 Within a few days, Cameroonian sambist Bibiene Fopa will enter the fight for medals at the World University SAMBO Championships. Almost a month ago, she won a bronze at the main SAMBO start of the year – the World SAMBO Championships in Sofia, Bulgaria. In an interview with the FIAS website, she shared her feelings about her bronze medal, her plans for the University Championships, and also talked about her studies at the university.
"I'm very glad I was able to compete in the World SAMBO Championships in Bulgaria. Of course, I'd been aiming for a gold medal, but I only won a bronze. Still, this is also a good result, and I thank God for it. But I have to keep working to reach the top and win a gold. I'm proud to honorably represent Cameroon at high-level competitions. I'm very grateful to our whole team and my coaches, and I'd like to thank Bulgaria for the hospitality and warm reception. I would also like to thank FIAS for their support," Fopa said.
Now Fopa is aiming at the World University SAMBO Championships in Cyprus and has set a goal of only the best for herself. While training for competitions, she doesn't forget about exams.
"I'm a student at the University of Yaoundé. My major is related to geography, and in future I'll be involved in problems of urban development, population, and environmental issues, among other things. I've always had good grades in geography, and I've always been interested in the subject, so a lot of people advised me to take this route in the future. In the end, I did just that. I have a bachelor's degree, and now I'm studying for a master's. When I see how the world is developing economically and politically, I know that my profession is already very useful and relevant today. And it will remain so in the future," Fopa said.