Bilal BENCHIKH: "I dedicate the gold medal to my country"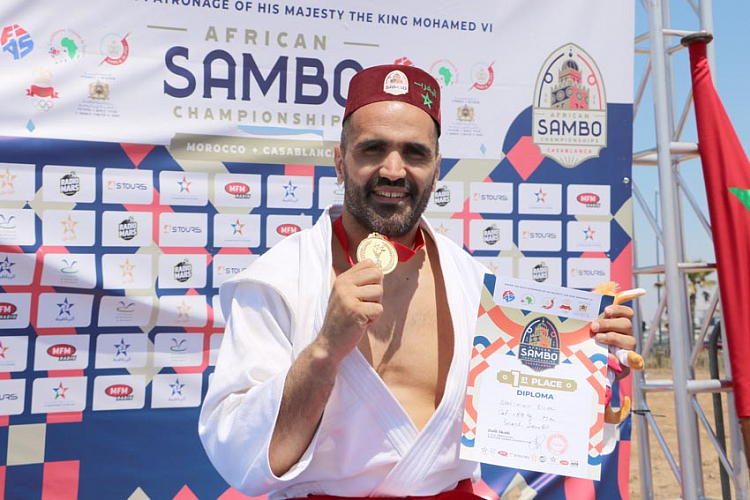 Algerian athlete Bilal Benchikh won a gold medal in the weight category over 88 kg at the African Beach SAMBO Championships held in Casablanca (Morocco) on May 22. Immediately after the victory on the sand, he shared his emotions with the FIAS website.
The final match was really intense. How did you manage to defeat the titled Cameroonian athlete?
– I think, first of all, due to experience. I already became the African champion in Beach SAMBO in 2019, so I know how to fight on the sand, what mistakes to avoid. In addition, at home I live near the beach, and I have the opportunity to train often.
How valuable is this medal to you? Can it be compared with gold in Combat SAMBO or Sport SAMBO?
– For me, this medal is even more expensive, since in the final I fought the 2022 African champion from Cameroon.
The day before, you competed in Combat SAMBO, but lost to a Moroccan athlete in the final. Can today's victory be considered rehabilitation for that defeat?
– Of course, I cannot be satisfied with the result of that fight, but, probably, it was this circumstance that prompted me to give all my strength to win. Today I am very pleased with the result.
Today you have become the African champion in Beach SAMBO. What's next?
– I will build my plans based on the FIAS calendar. The main goal is a successful performance at the World SAMBO Championships in Yerevan, Armenia.
How important was it for you to bring a medal to your country's piggy bank, or is it more your personal medal?
– I was the only representative of Algeria at the Beach SAMBO tournament, and, of course, I dedicate this medal to my beloved country.