ENVIRONMENTAL PROTECTION DRIVE DURING THE WORLD SAMBO CHAMPIONSHIPS AMONG YOUTH AND JUNIORS IN SERBIA
Кaleidoscope
3 November 2017
Sergei Grishin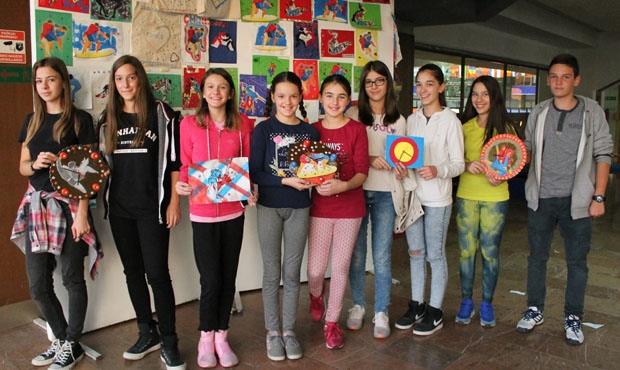 The World SAMBO Championships among Youth and Juniors , which took place in Novi Sad (Serbia) from the 13th to the 15th of October, were not only marked by sporting victories and defeats. An exhibition and a series of master-classes dedicated to sustainable development and environmental protection programme were also organised during the event at the SPENS Arena. Serbian secondary school students and children attending kindergartens were doing fancy crafts on the subject of SAMBO using recyclable materials.
"Bottle caps and corks, plastic bottles, old clothes, paper — none of those is going to trash bin, we would rather use all this stuff for children's creative work, — said Marta Pete and Liliana Lekich, the organisers and the inspirers of this event. When we learned that the World SAMBO Championships among Youth and Juniors would take place in Serbia, we offered to arrange a special exhibition for athletes taking part in the tournament. Students from the George Natushevich School and the Vul Karadzhich School as well as children attending kindergartens accepted the invitation. All of them were arriving at the arena at a certain time during the day to do their crafts".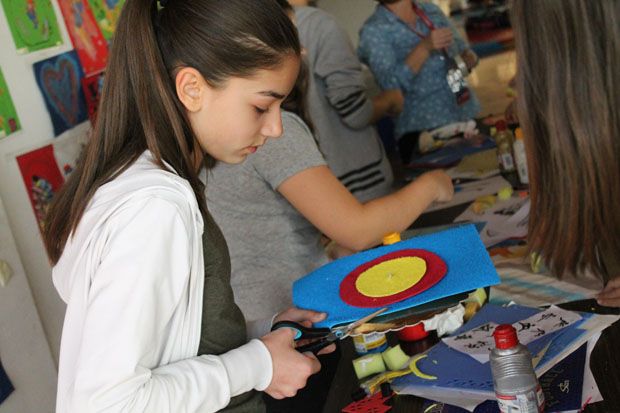 Apart from involving children in sustainable development programme by means of art, the organisers of the event — "Hyperion" and "Romena" institutes in cooperation with SAMBO Federation of Serbia — have also encouraged all the participants of the tournament to develop a good habit. They placed special trash bins for waste sorting so as to recycle all the garbage afterwards.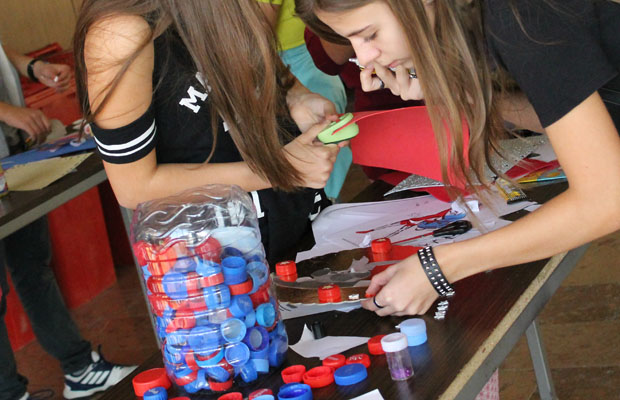 According to Marta and Liliana, during the exhibition athletes were coming by and asking if they could buy this or that. However, Marta and Liliana told them that all the crafts would be handed out to athletes free of charge. Looking ahead, we can say this is exactly what happened.
Teenagers who took part in the exhibition and various master-classes did not just show their crafts but also told FIAS website correspondents about what they were doing to protect environment.
Dunia Berar (14 y.o.) and Maiia Bogishevich (14 y.o.):
"We do our best to save water and try not to use too much of it."
Sara Magazin (11 y.o.) and Iovana Stoishich (11 y.o.):
"We usually go to school on foot and not by car thus reducing the amount of exhaust fumes emitted into the atmosphere."
Vania Durutovich (14 y.o.) and Mikhailo Atcanski (14 y.o.):
"We provide safe areas for people."
Tamara Lazin (14 y.o.) and Kristina Zhelich (13 y.o.):
"We use things that can be recycled."
Anzhela Vidakov (13 y.o.) and Liliana Lekich (13 y.o.):
«We are saving the nature."
The participants of the exhibition and master-classes received special awards and gifts from FIAS. While rewarding children, Sofia Riazanskaia, Head of the FIAS International Department, noted:
– We are very happy to have so many young participants, who are concerned about ecological problems. What makes us even more happy is that young enthusiasts got to be creative here, at the World SAMBO Championships among Youth and Juniors. Every work at this exhibition is distinct in peculiar design and unconventional approach to choice of materials. We hope that our young environmentalists from Serbia will set an example for people from different countries and inspire them to take part in such projects organised by FIAS during various competitions.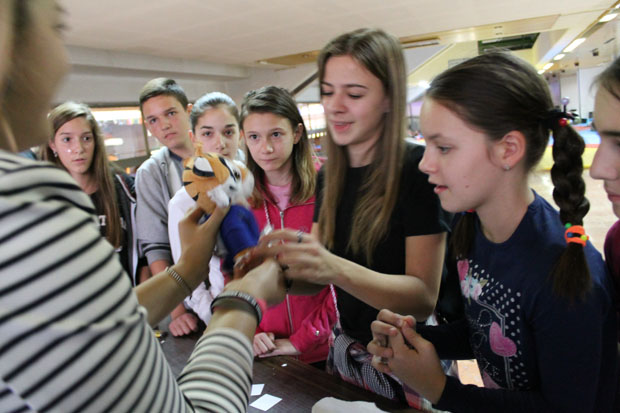 It is to be recalled that the first project of sustainable development was implemented by FIAS in cooperation with the Latvian SAMBO Club Association during the World SAMBO Championships among Youth and Juniors in 2015. The main goals were to encourage people to protect the environment, use natural resources reasonably, to deal with unnecessary environmental pollution and to promote healthy lifestyle and anti-doping campaigns.
FIAS strongly believes that this environmentally sustainable approach will become a part of everyday life of those who are really concerned about environmental protection and inspire other sports organisations to follow the example of FIAS.