African Sambo Championship 2015 in Casablanca: African Sambo Confederation Congress
Competitions
22 May 2015
Sergei Grishin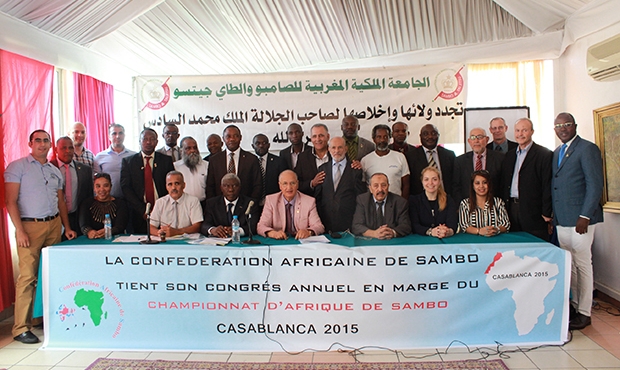 The African Sambo Confederation (ASC) Congress was held today in the Letoral hotel. The meeting of the main body governing African sambo gathered participants from 14 countries of the continent. The ASC Congress in Casablanca is elective: the organization votes for its President, management and Executive Committee members every 4 years. Our today's report from Casablanca covers the recent elections and other news from the ASC Congress.
The Congress was opened with the report presented by the ASC President Dalil Scalli who spoke about the organization's performance in a few passed years. In his speech Mr. Scalli noted that the ACS existed from 2005 for 10 years. The president told about the organization's success and measures taken to promote African sambo within the continent and across the world, mentioned medals won by Tunisia at the 2014 World Sambo Championship and Cameroon's achievements at the 2014 World Cup among students. Mr. Scalli thanked all the Congress participants for the efforts put into developing sambo in the continent. The delegates welcomed representatives from South Africa and Angola who participated in the Congress for the first time. Tomorrow the countries' athletes will take part in the continental sambo championship for the first time ever. The ACS management also noted the positive trend of African samboists to participate in sambo world championships. Just look at the statistics: Morocco was the only one to participate in the 2011 World Championship, while the main world tournament in 2015 gathered more than 10 countries and was marked with landmark success of African samboists who won bronze medals of the World Sambo Championship for the first time ever. 
The ASC Congress in Casablanca elected the President of the African Sambo Confederation. The President of the Morocco Sambo Federation Dalil Scalli will once again take the lead of the organization for the 4-year term. Two new members joined the Executive Committee following the results of the election: Parsad Balkissun (Mauritius) and Rodrig Kpochem (Benin). From now on, the Executive Committee will consist of nine members. Makrem Saanuni (Tunisia) was elected as the Head of the Fight Sambo Committee of the Confederation. 
The African Sambo Championship opens tomorrow at the Mohammad V Sports Complex. News and all results of the competition will be available at the International Sambo Federation web-site. 
The next African sambo championship would be held in Niger. The main continental sambo start of 2017 is planned to take place on the Seychelles.